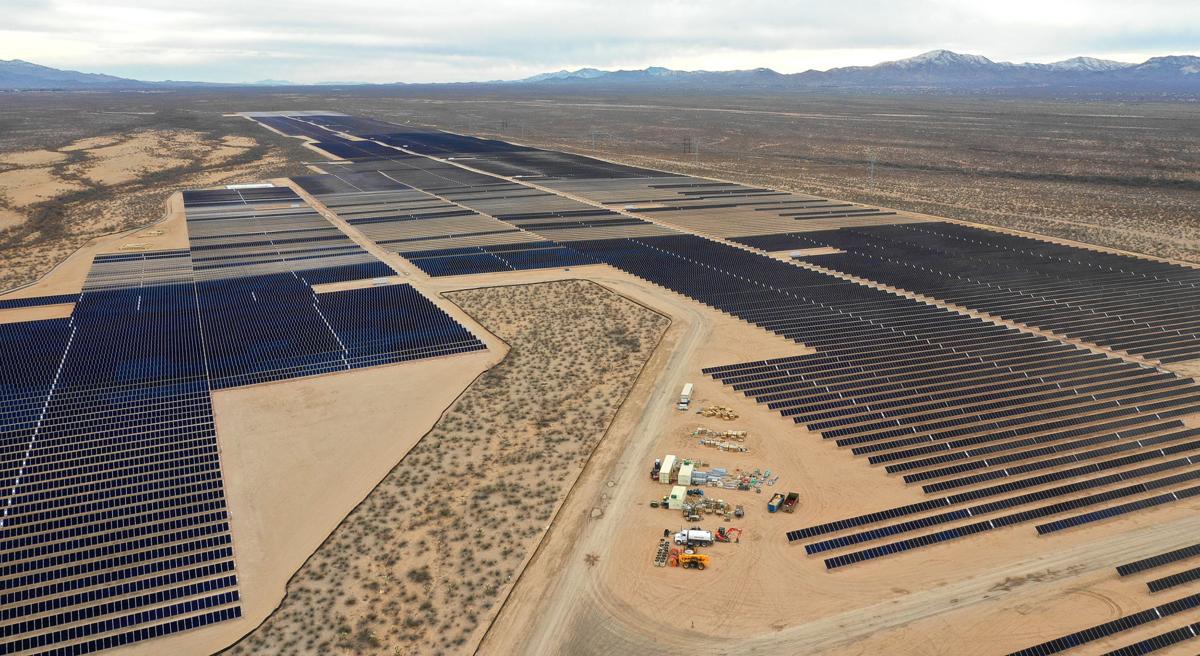 The biggest solar farm built to serve Tucson Electric Power customers is rising from the desert floor south of the city, and in a few months it will be churning out clean energy while the sun shines — and even when it doesn't.
The Wilmot Energy Center, a 100-megawatt AC photovoltaic project with 30MW of linked battery storage, is under construction by developer NextEra Energy Resources and is scheduled to begin operations as early as April, a spokesman for the Florida-based company said.
TEP will buy power from the center — which features 314,000 solar panels on 1,130 acres — under a 20-year contract.
"Once operational, Wilmot Energy Center will create additional revenue for the community and clean, renewable solar energy in Arizona for years to come," NextEra's Conlan Kennedy said. "We look forward to bringing the project online."
Construction on the roughly $145 million project, which began in August, will create about 250 jobs, Kennedy noted.
TEP spokesman Joe Barrios said the company has completed a substation and switchyard on the site, which will be linked to the city's grid with existing and planned transmission lines.
The Wilmot Energy Center is a key piece of TEP's plan to reach 70% renewable energy generation by 2035, Barrios said.
The battery system will allow TEP to bank power for the late afternoon and early evening summer hours of peak demand, when power production from photovoltaic panels starts fading with the sun.
"The Wilmot Energy Center represents another big step for us toward building a cleaner, greener grid," Barrios said. "Solar energy will be generated and stored during peak production hours, then used later during high usage periods to meet our customers' energy needs."
Barrios noted that including two 10MW battery systems TEP installed in 2017, TEP will have about 50MW of energy storage resources by the end of 2021, with plans to expand that to more than 1,400MW by 2035.
Power from the Wilmot Energy Center will be relatively cheap.
TEP made industrywide news when it announced in 2017 that it would buy Wilmot's solar power for less than 3 cents per kilowatt hour, or under 4.5 cents with battery power included — an industry low at the time.
NEW TEP BENCHMARK
Expected to provide enough renewable power to serve up to 21,000 homes annually, the Wilmot Energy Center will be TEP's largest solar energy resource.
It will be TEP's second-largest renewable energy source, after the 250MW Oso Grande Wind Project in southeast New Mexico. The wind farm, which is owned by TEP, is undergoing final testing and is expected to go online very soon, Barrios said.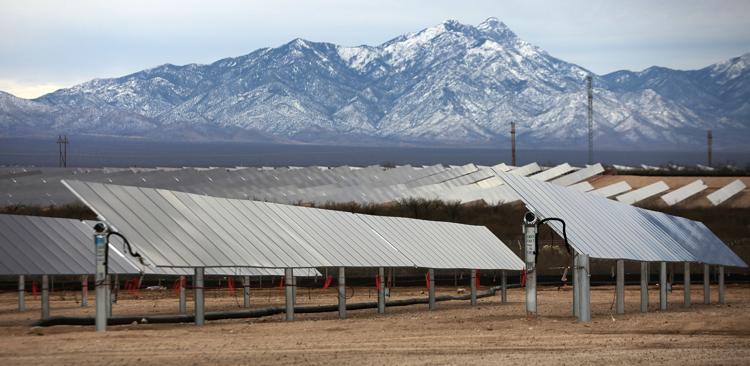 The biggest solar farm now serving TEP is the Avalon Solar I & II installation in Sahuarita, with a combined generating capacity of 45 megawatts, followed by the 41MW Red Horse Solar plant, the 25MW Avra Valley Solar Generating Station, and 20MW Picture Rocks Solar plant in Marana.
Those plants are owned by companies that sell power to TEP under long-term power purchase agreements.
TEP's biggest company-owned solar farm is a 17MW photovoltaic plant at Fort Huachuca in Sierra Vista. The utility also owns an 8.5MW photovoltaic array adjacent to its coal-fired Springerville Generating Station, 6MW of photovoltaic at the University of Arizona Tech Park and a 4.5MW solar farm near Old Vail and East Valencia roads.
AMONG THE STATE'S BIGGEST
The Wilmot Energy Center will be among the biggest renewable-energy plants in Arizona.
The largest solar farm serving an Arizona utility is the Solana Generating Station near Gila Bend, a 280-megawatt concentrated solar power system that serves Arizona Public Service Co.
The plant consists of a rows of trough shaped mirrors that concentrate sunlight, heating up a salt solution used to drive steam generators.
APS also gets solar power from nearly 20 smaller photovoltaic plants, including the 40MW Red Rock solar farm in southern Pinal County, the 35MW Foothills Solar Plant near Yuma and the 32MW Gila Bend Solar Plant.
Arizona's two biggest solar farms — the 400MW Mesquite Solar Project near the Palo Verde Nuclear Generating Station west of Phoenix, and the 290MW Agua Caliente solar plant in Yuma County — sell all their power to California's Pacific Gas & Electric Co.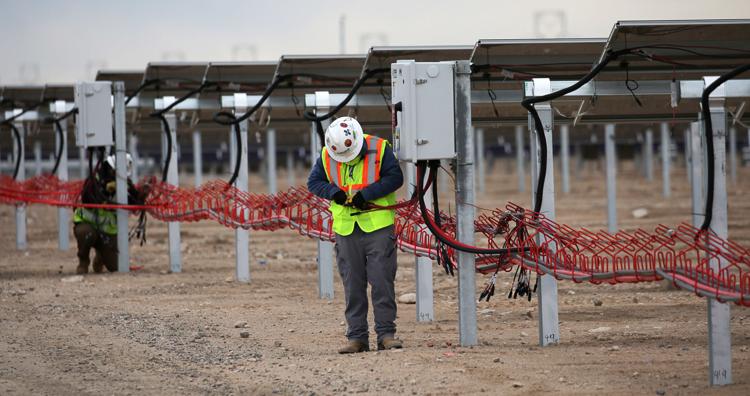 HOOKING IT UP
While TEP will make immediate use of Wilmot's power, planned transmission line projects will help project that power efficiently across the city's grid, and help light up the University of Arizona with clean power.
In September 2019, TEP announced a 20-year agreement with the UA to provide 100% clean energy to its Tucson campus starting at the end of 2020.
TEP agreed to dedicate portions of new wind and solar energy projects, including the Wilmot Energy Center and the Oso Grande wind project, to serving the UA's energy needs.
A new transmission line from the Wilmot Energy Center switchyard to a new substation nearby was approved by state regulators in 2019 and will connect with TEP's H. Wilson Sundt Generating Station on East Irvington Road.
TEP is also working on new transmission lines from the Irvington plant to a new substation on South Kino Parkway, and a line from the Kino substation past the UA and up to a power plant and switchyard near Interstate 10 and West Grant Road.
The preferred route for that line has not been officially proposed to state regulators, but some residents of historic neighborhoods near the UA have objected to a proposed route along North Campbell Ave.