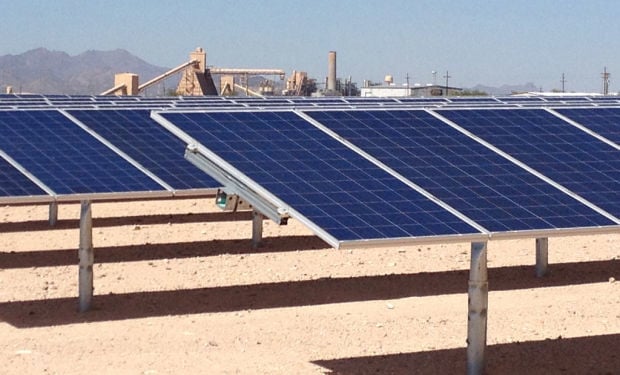 Tucson Electric Power Co. has proposed a small increase to its renewable-energy program budget next year, while bumping up the caps on surcharges customers pay to support the programs.
In a recent filing with the Arizona Corporation Commission, TEP has proposed a 2018 program budget of about $53.6 million, an increase of $1.6 million from this year.
Most of that money will pay for renewable energy from large, utility-scale solar farms, which TEP believes are the most cost-effective way to meet its ambitious renewable-energy goals, company spokesman Joe Salkowski said.
The Corporation Commission has mandated that state-regulated utilities get at least 15 percent of their power from renewables by 2025.
TEP has its own, loftier goal — 30 percent by 2030.
"To get there, we really need to continue expanding our cost-effective community-based solar resources," Salkowski said.
The cost of TEP's utility-scale solar power purchase contracts has dropped from more than 10 cents per kilowatt-hour just a few years ago to 3 cents in TEP's most recent deals.
Along with Arizona Public Service and other state-regulated utilities, TEP has proposed new fees and lower reimbursements for excess power production for customers with their own rooftop solar arrays.
Those issues are still being hashed out in separate Corporation Commission proceedings.
TEP's 2018 renewables plan, which has not yet been set for hearings, doesn't address customer-owned rooftop solar issues since the utility no longer offers upfront incentives for such systems.
Paying for big solar
In the proposed 2018 budget, $44.3 million would pay for TEP's utility-scale renewable generation, including the above-market cost of renewable generation supplied through power-purchase agreements with third-party operators of solar and wind projects.
The budget includes about $7.2 million to pay ongoing performance-based incentives to commercial customers who installed on-site solar energy systems under an incentive program phased out a few years ago.
It also asks for about $2 million for ongoing administrative, educational outreach and testing and research costs.
Surcharge caps
would rise
TEP's proposed budget would not increase the rate of the monthly surcharge customers pay to support renewable-energy projects, keeping that usage-based rate at 1.3 cents per kilowatt-hour. But the utility has proposed raising existing caps on what residential and small business customers pay monthly for the surcharge.
Under the plan, the caps would rise to $5.50 from $5.10 per month for residential customers and to $165 from $160 for small commercial customers. Caps for large commercial, industrial and mining and lighting customers would remain unchanged.
The renewables surcharge would average $4.70 monthly for the typical TEP home customer and $32.87 for the average small-business ratepayer.
TEP estimates that about 68 percent of residential customers and 7 percent of small commercial customers would hit the new surcharge caps.
Rooftop-solar waiver
TEP says its 2018 renewables plan would allow the utility to get 8 percent of its 2018 annual retail sales from renewable resources, meeting the incremental requirement under the state mandate.
But TEP has again filed for a waiver from a requirement that utilities get 30 percent of their renewable energy from "distributed generation," such as customer-owned rooftop photovoltaic arrays. Half of that is supposed to come from residential installations.
TEP formerly collected credits toward its renewable-energy requirements from customers who installed their own rooftop solar arrays, in exchange for cash incentives.
Since those incentives were phased out in 2014, TEP and other state-regulated utilities are no longer collecting the credits, so they've been granted waivers to the rules.
TEP-owned renewables
TEP is not seeking to recover costs in 2018 for any new company-owned renewable generation projects.
Under a Corporation Commission policy set last year, those costs will now be figured into TEP's rate base and recovered through regular rates over time, like any other power plant.
"It's an indication of how well-integrated solar energy development has become for us," TEP's Salkowksi said. "We're building those resources out in the same way we've traditionally built other resources we've used to provide service."
About $100 million in costs from TEP-owned renewables projects were included in the company's main rate case, which was decided in February.
The last funding for a TEP-owned renewable-energy project through the renewable-energy surcharge was $40 million for a roughly 17-megawatt (AC) solar photovoltaic project at the U.S. Army's Fort Huachuca in Sierra Vista, the second phase of which was completed early this year.
However, TEP has budgeted $1.7 million in 2018 for carrying costs, depreciation and operating and maintenance for the Fort Huachuca project.
TEP-owned rooftop solar on hold
Absent from the 2018 renewables plan is TEP's company-owned rooftop solar program, which was launched as a pilot by TEP in 2014. Under the program, TEP installed solar panels on the roofs of some 500 customers and in return, they were guaranteed a flat monthly rate for power.
But a proposed expansion of the TEP Residential Solar Program was put on hold last year amid TEP's rate case and contentious Corporation Commission proceedings on the value of customer-owned rooftop solar.
Solar-industry representatives and supporters have argued that the program poses unfair competition to private solar installers.
Solar proceeding
is postponed
Meanwhile, formal hearings on TEP's proposed treatment of rooftop solar customers have been delayed until at least October.
TEP's plan would cut reimbursements to customers for excess energy their rooftop solar arrays provide, and add new demand charges and meter fees.
The proceedings were originally supposed to start in July but were delayed pending settlement talks that so far have proved fruitless.
Facing a daunting slate of more than a dozen other pending cases, the Corporation Commission's Utilities Division staff asked that the TEP hearings be put off, and the administrative law judge in the case set the initial hearing for Oct. 23.
Until that case is decided, TEP customers can take advantage of current rates and reimbursement for excess power at the full retail rate under net metering.
Contact senior reporter David Wichner at dwichner@tucson.com or 573-4181. On Twitter: @dwichner