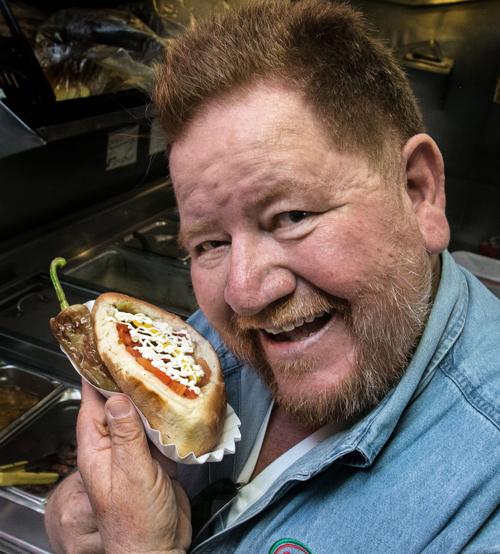 No joke: A Sonoran hot dog just received the highest honor in American gastronomy. Tucson's El Güero Canelo just picked up a coveted James Beard Award on Thursday morning, which recognizes pioneers in the gourmet food world.
James Beard winners are usually highbrow chefs like Thomas Keller of The French Laundry, or Janos Wilder and Phoenix pizza icon Chris Bianco on the Arizona side. But the foundation also has a separate category of American Classics, which honors restaurants with "timeless appeal" that are "cherished for quality food that reflects the character of their community."
El Güero Canelo owner Daniel Contreras said he was surprised when representatives from the foundation called him about two weeks ago. "I didn't know who they are! They asked me for information and they asked me for this and that, and I said, 'Wait a minute, I don't even know who you are and you want my Social Security number. No way, man,'" he said with a laugh.
The Sonoran hot dog joint was included on a list of five restaurants along with Dong Phuong Vietnamese bakery in New Orleans, Sun Wah Chinese barbecue in Chicago, Galleria Umberto Sicilian pizzas in Boston and Los Hernandez tamales in Union Gap, Washington. The American Classics category, sponsored by Tabasco sauce, was introduced in 1998 and includes nearly 100 restaurants across the country.
Honorees were chosen by a committee of food industry experts, writers, restaurant critics and more. To qualify, restaurants must be locally owned and have been operating for at least a decade. El Güero Canelo began as a South 12th Avenue taco stand in 1993, and has expanded to three restaurants across Tucson, as well as a meat market and a location in West Phoenix.
"To me it's a very high honor," Contreras said. "The things we have done, 18 hours a day every day for 24 years, it pays out."
Contreras credits his success to the quality and soft texture of his hot dog buns, which come from El Güero Canelo's bakery in Magdalena, Sonora. "The hot dogs we make, it's the same as the other ones. But I make my own hot dog buns."
In the media announcement for the award, the New York-based foundation praises the bacon-wrapped hot dog of the borderlands, calling Tucson "the American epicenter" of the hot dogs which originated in Hermosillo, Sonora.
"Daniel Contreras is the leading hotdoguero," it goes on. "The original stand is now a destination restaurant, outfitted with picnic tables and serviced by a walk-up order window. Fans converge for bacon-wrapped franks, stuffed into stubby bolillos, smothered with beans, onion, mustard, jalapeño sauce, and a squiggle of mayonnaise."
Contreras, the "cinnamon-haired blond guy" in the restaurant's name, says he plans to travel to Chicago to participate in the awards ceremony May 7 at the Lyric Opera. After that, he's looking toward retirement, and handing over the expanding business to his four general managers. They "wanna roll," he said.
The original restaurant at 5201 S. 12th Ave., was steadily busy on Thursday afternoon, with many patrons high-fiving Contreras as they walked by. A young couple, Amber Arikan and Alejandra Aguilera, were at the front polishing off a plate of the iconic Sonoran dogs with roasted yellow jalapeños on the side.
"This is my first time here in Tucson, and my first meal was the hot dog," Arikan said.
When Arikan got off the plane from her home in Victoria, Texas, the first thing she wanted to do was eat.
"She's like 'I'm starving,'" Aguilera said. "And I'm like, 'I know where to take you.'"