Tucson's hotel industry is still suffering from the effects of the COVID-19 pandemic, but the Old Pueblo is faring better than some peer markets as leisure travel slowly returns.
The Tucson area finished the year with the fourth-highest occupancy rate among a set of 15 competitive cities tracked by Visit Tucson, with a 47% overall occupancy rate for the year, according to figures from the travel-industry research firm STR.
But that's compared with Tucson-area hotel occupancy of 67% in pre-pandemic 2019.
Brent DeRaad, CEO of Visit Tucson, noted that the city has historically been near the bottom of its pack of competitive peers for occupancy — placing 13th in 2019 despite a strong year — so it's done comparatively well during the pandemic.
Visit Tucson compares market data for the Old Pueblo to 14 cities mainly in the West, including Phoenix, Scottsdale, Albuquerque, San Francisco, Denver, Portland, along with San Antonio and Austin, Texas.
"Actually, in terms of our competitive set, we did pretty well," DeRaad said. "We're pleased that we placed that high, but still 47% is a major drop."
Much of the drop in occupancy can be attributed to the shutdown of events and meetings because of COVID-19 restrictions, but Tucson and other markets have seen some gains in leisure travel as people venture out from their pandemic isolation, DeRaad said.
Tucson's high season for tourism generally runs from mid-January to mid-April, but the post-holidays surge in COVID-19 cases in early January prompted a corresponding drop in hotel bookings — suggesting consumers are closely watching pandemic trends and making travel plans accordingly, he said.
"Through the pandemic, our visitation has followed closely with the number of COVID-19 cases in Arizona," DeRaad said. "We look at national travel sentiment industrywide weekly or biweekly, and it's amazing how closely travel tracks with the spread of the virus."
Visitation picked up a little as COVID-19 cases began to drop in late January, and the Tucson market ended the month at 43% occupancy, DeRaad said.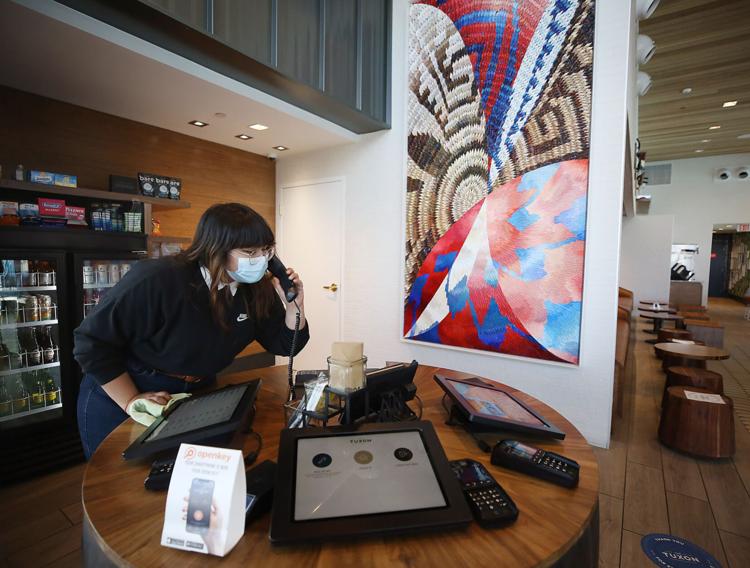 Hotel bookings for leisure stays began to pick up around Valentine's Day as COVID-19 vaccinations became more widespread, though statistics for February were not yet available, DeRaad said.
"Anecdotally, we're really starting to see a pickup in leisure travel," he said. "Demand is really strong right now, as the vaccinations have emboldened people to travel, though the (COVID-19) variants are a concern."
"We're not out of the woods by any means, but we're seeing more travel and more interest in travel than any time over the past year," DeRaad said.
Tucson has benefited as people look for smaller destinations with outdoor recreational opportunities to stay safe, and Visit Tucson has been pushing that theme in marketing efforts including a video touting Tucson's "Open spaces, open hearts."
"What we've marketed throughout the pandemic are the wide-open spaces," DeRaad said.
At the same time, many people seem to be thoroughly investigating hotels in prospective destinations, said an official of one of Tucson's biggest hotel management companies.
"We're seeing more people contacting the hotel directly — people want to know if are you open, and they want to know what you're doing to ensure their safety and health," said SueAnn Lemon, executive vice president of sales and marketing for Focus Hospitality Management.
Like other hotels, the seven local hotels Focus manages suffered from plunging occupancy last year, Lemon said, as a loss of business travel and vacationers was offset somewhat by bookings for people passing through as they relocated and workers in town for major construction projects.
In July, despite the pandemic, Focus opened The Tuxon, a 112-room boutique hotel under the Design Hotels brand, on the west side of Interstate 10 between Congress Street and 22nd Street.
"With a brand-new hotel in the market, the ramp-up period was a little longer," Lemon said, adding that the modern-themed hotel is gaining momentum and visibility.
Overall, Lemon said the company has seen a recent uptick in leisure travel and travelers looking to book short stays at its hotels, which besides The Tuxon include the DoubleTree Suites by Hilton and the Best Western Hotel & Suites at Tucson International Airport; the Comfort Suites, the Hampton Inn and Suites and the TownePlace Suites by Marriott at the Tucson Mall; and the Hampton Inn and Suites at Williams Center.
"Starting this year, we're seeing much higher occupancy on the weekends, as people are having staycations or road trips, just getting out of the house," she said.
"This is the first time since the beginning of the pandemic that I'm feeling confident about travel returning. We're seeing business return that we haven't seen in a long time, we're seeing some small and midsize business, we're seeing some government business come back."
Lemon said Focus Hospitality's local workforce has dropped from about 500 before the pandemic hit to about 200 now.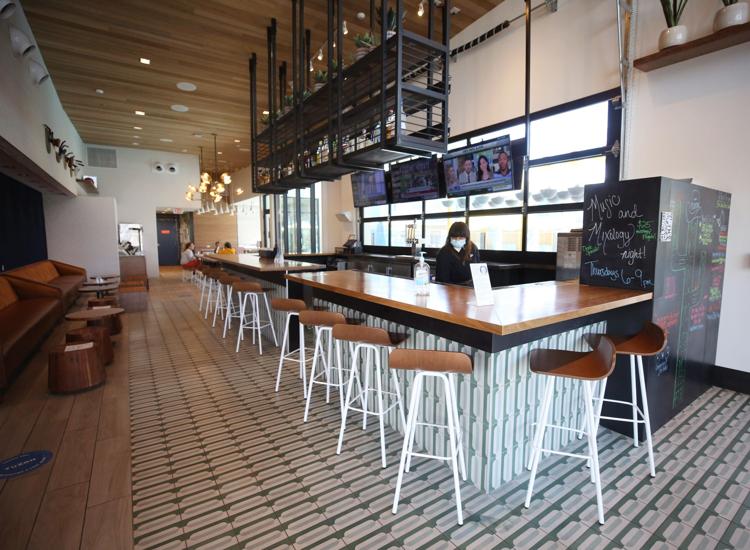 But the company is now hiring for multiple positions at several of its hotels, she said, adding that it has been able to recall many of the workers it furloughed last year.
Looking ahead, local hoteliers are looking forward to a delayed and downsized Tucson Gem, Mineral & Fossil Showcase, the city's largest tourism-related event, bringing in about $130 million each January and February.
The number of shows that make up the showcase hit a high of about 50 last year, just as the pandemic was unfolding.
This year, though the main event, the Tucson Gem & Mineral Show, was canceled, eight smaller shows were held in January and February, and about 30 others are scheduled for two weeks in mid-April.
"We're cautiously optimistic about that," Lemon said. "The big piece that is missing is the international travel. We're not sure what to expect, but typically it's a sellout."
All of Focus Hospitality's hotels benefit from the gem shows, Lemon said, adding that The Tuxon is well-situated near several downtown shows.
Lemon said the hotels also are looking forward to a youth soccer tournament in April and the Visit Tucson Sun Cup professional soccer spring training session from mid-March to early April.
Local hotel gains in bookings are mainly coming from leisure travel, as the convention and meetings business remains scant, DeRaad said.
"Everybody's excited about the pickup in leisure travel, but meetings are still a ways off," DeRaad said.
The resorts are looking for the meetings business to start to return this October or November, he said, noting that conventions are typically booked months or even years in advance.