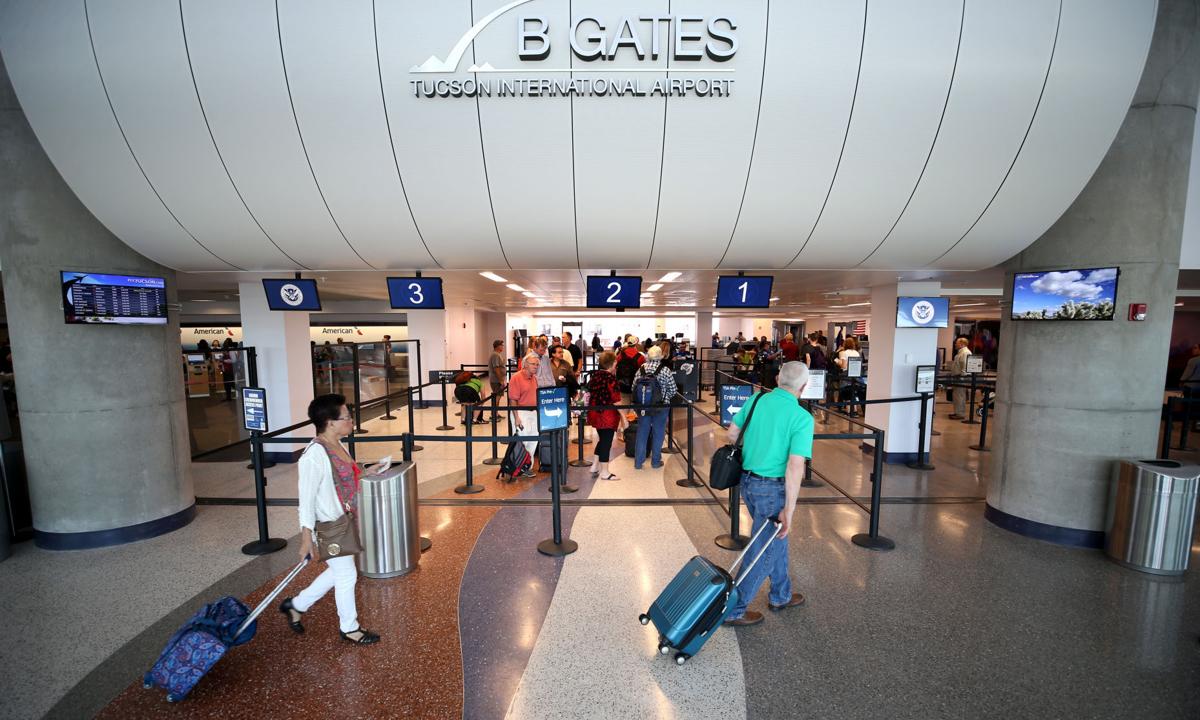 Tucson International Airport saw 4.5 percent more airline passengers in 2017, with more than 3.4 million combined passenger departures and arrivals thanks to higher seating capacity and added flights.
The 2017 results marked the second straight annual increase in passengers at TIA, though it remained far below the record 4.4 million passengers in 2007, before the effects of the Great Recession prompted airlines to cut capacity particularly at smaller airports.
TIA officials said last year's increase was the result of airlines adding seat capacity by flying larger aircraft, as well as the introduction of new nonstop flights.
Alaska Airlines added nonstop service to San Jose in August, and Sun Country Airlines' seasonal service from Minneapolis returned in December.
Beside the annual increase, December's total of 299,752 passengers was up 2.1 percent from 2016, continuing a trend of 18 consecutive monthly increases.
The upward trend could continue in 2018 with the introduction of two new nonstop routes to Austin, Texas, and Charlotte, North Carolina, airport officials said.
The Austin flights began January 18 on TIA's newest airline, Via Air. The airline initially is offering flights three days per week, on Mondays, Thursdays and Fridays.
American Airlines' new Charlotte flight will represent the 20th nonstop destination from TIA when it launches Feb. 15, the airport noted.
It wasn't all positive news on the flight front for TIA last year, however.
American Airlines started a new nonstop route to New York's John F. Kennedy International Airport in October 2016 but dropped it last May after failing to fill enough seats.
LOVALLO ELECTED TAA CHAIR
During the Tucson Airport Authority's annual meeting Monday, members of the TAA elected Cox cable executive and longtime board member Lisa Lovallo to chair the board, replacing Long Cos. executive Tony Finley.
Lovallo has been vice president and market manager for Cox Southern Arizona since 2008. She has been a TAA member since 2011, joined the board in 2014 and served as vice chair last year.
Other TAA Board officers elected for 2018 are vice chair, Taunya Villicana, co-founder and CEO of Affinity Wealth Management; secretary, Bruce L. Dusenberry, president of Horizon Moving Systems; and treasurer, Katherine Ward, principal of GV Strategic Advisors.
Authority members Judy Rich, president and CEO of TMC HealthCare and Tucson Medical Center, and Keri Silvyn, partner in Lazarus, Silvyn and Bangs PC, joined the board.
Michael Hannley, president and CEO of the Bank of Tucson, ended his term on the board; Finley will continue to serve on the board as an ex-officio member along with Bonnie Allin, president and CEO of the airport authority.