So maybe Tucson isn't quite ready for martinis.
On Saturday, just days over 13 months since opening at Tucson Mall, Twigs Bistro and Martini Bar will close. The restaurant at 150 W. Wetmore Road will close at the end of business Saturday, May 19, according to a Facebook posting Wednesday morning.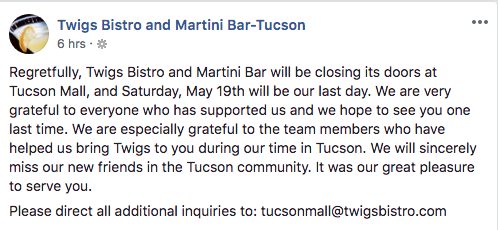 Twigs, specializing in regional American fare from pastas and pizza to osso bucco and crab mac and cheese, was the Spokane, Washington-based chain's most ambitious undertaking. In its 16-year history, the farthest it had ventured was opening an outpost in Salt Lake City. 
When the company announced plans to expand to Tucson in late 2016, they billed it as their most ambitious and farthest flung venture. The company has since opened in Idaho and Texas and has a second Utah location set to open soon. 
Twigs is open from 11 a.m. to 10 p.m. Wednesday and Thursday, and until 11 p.m. Friday and Saturday.