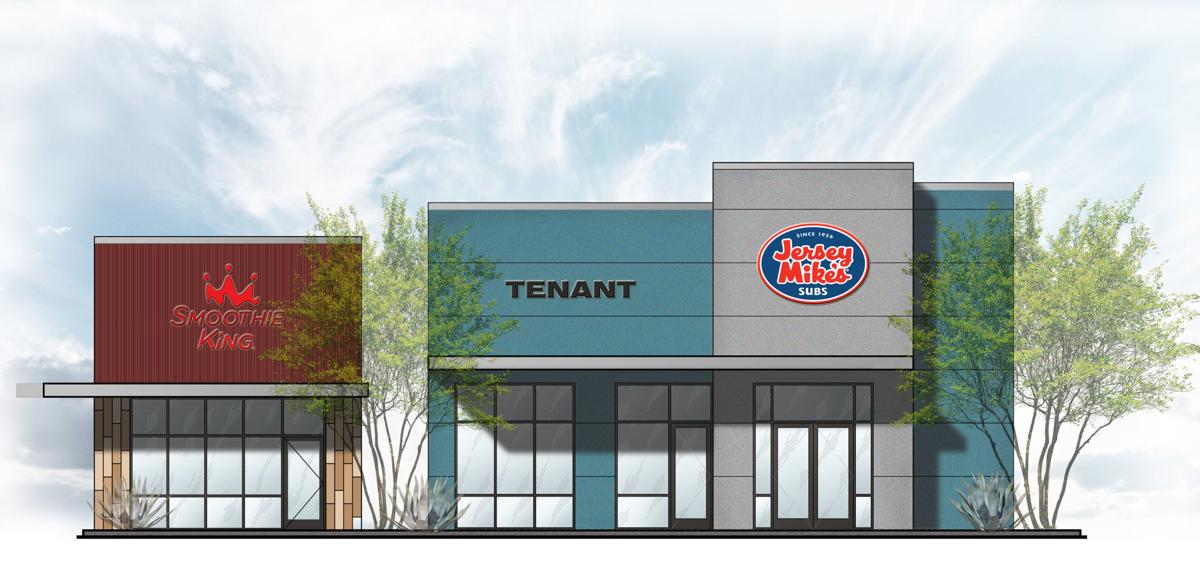 If a sub and a smoothie sound like a tasty combination, two neighboring eateries on the city's east side will soon offer both.
Smoothie King and Jersey Mike's Subs have signed leases for space just west of Park Place on East Broadway.
The vacant spaces are being reconfigured by developers for three retail tenants. The third lease is being finalized, said Brian Johnson, principal with Property Nine Development.
The Smoothie King will have a drive-thru.
The site, in the 5700 block of East Broadway, was originally going to be redeveloped for Red Robin, but the chain changed its mind about the location, Johnson said, so the property was instead divided for three smaller tenants.
Nancy McClure, with CBRE, represented Property Nine.
The new shops are expected to open in early 2020.
Other recent commercial transactions include:
Pantano Tucson Marketplace LLC bought 29,523 square feet at 150-250 N. Pantano Road from Broadway and Pantano Retail LLC for $3.7 million. Robert J. Nolan of Oxford Realty Advisors represented the buyer and John Yarborough of Romano Real Estate represented the seller.
Freeway Clover LLC bought a 32,508-square-foot multitenant business park at 3248 and 3260 N. Freeway Industrial Loop from Long Meadow Ranch Inc. for $2.5 million. Robert C. Glaser with Picor handled this transaction.
ZRYW LLC bought the 8,000-square-foot BMC Mattress in Santa Cruz Plaza, at Ajo Way and Interstate 19, from Santa Cruz Holding LLC and Santa Cruz Center LLC for $894,600. Dave Hammack with Picor and Charles W. Simpson with Cushman & Wakefield Los Angeles handled this transaction.
Winstel Apartments LLC bought Winstel Park Apartments, an 11-unit apartment complex at 3322 N. Winstel Blvd., from David and Mary Bizak for $750,000. Allan Mendelsberg with Picor represented the buyer and Marc Luety, with Keller Williams Southern Arizona, represented the seller.
WMBC Holdings LLC bought a 9,573-square-foot industrial property in Peppertree Ranch Business Park, 7701 N. Business Park Drive, for $700,000 to open Wicked Monkey Brewing Co. Russell W. Hall and Stephen D. Cohen, with Picor, represented the buyer and the seller, 7701 N. Business Park Drive LLC.
Benjys LLC bought the former Park N Fly parking lot on 4.18 acres at 6627 S. Tucson Blvd. from 6627 Tucson Blvd. LLC for $550,000. Robert C. Glaser with Picor handled this sale.
Caldwell Construction LLC leased 2,560 square feet at 3238 E. District St. from Roy H. Rogers GC Trust LLC. Brandon Rodgers with Picor handled this lease.
Cardinal Financial Company LP leased 2,134 square feet at 5151 E. Broadway from KCI-Broadway LLC. Thomas J. Nieman and Richard M. Kleiner, with Picor, represented the landlord and David Montijo, with CBRE, represented the tenant.
Information for Tucson Real Estate is compiled from records at the Pima County Recorder's Office and from brokers. Send information to Gabriela Rico, grico@tucson.com