Tucson's Coffee X Change's longevity is pretty remarkable when you think about it:
A locally owned coffee shop outlasted a bumpy economy and survived the arrival of dozens of local competitors and a behemoth national chain that opened at least two dozen locations and counting. And the local coffee company is marking a quarter-century in business.
It's a notion that owner Keya Tehrani admits he didn't see coming.
"I never thought this thing would have gotten so big and the response from the public, that's the biggest part of it," he said.
But how he survived the odds — that, it seems, was a matter of reinvention.
In 1995, long before there was a Starbucks on every other Tucson corner, Tehrani started serving up mixed and blended fresh-roasted coffees, mochas and macchiatos, and espressos and frozen, sugary drinks.
By the early 2000s, he had seven Coffee X Change stores scattered around Tucson including a popular midtown shop at the corner of North Campbell Avenue and East Grant Road.
And then the economy tanked in 2008 and one by one, Tehrani closed stores until he was left with just two — his flagship Tanque Verde location at 6841 E. Camino Principal and a drive-thru coffee stand at 8501 E. Broadway.
And that's when it sort of hit him: Rather than cave to the market, why not redefine it?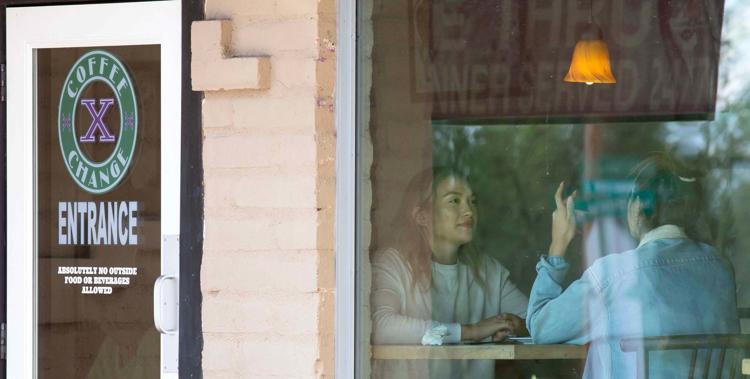 He started by creating a wholesale service, providing fresh roasted coffee and commercial coffee makers to Tucson businesses including offices and retailers. It now has 100 businesses as clients.
"People know the Coffee X Change, they know the quality," said the 61-year-old father of two, who ran a trio of night clubs in Tucson before getting into coffee.
Then two years ago, he and his son/business partner Jonathan turned their attention to the menu of sandwiches and grab-and-go food at the Tanque Verde location.
"When I first started, it was a lot of just breakfast sandwiches and turkey sandwiches, tuna sandwiches," said Jonathan Tehrani, 27, who came on full time after earning his business degree a few years ago from the University of Arizona. "I wanted to try different things, things that set us apart."
So in addition to items like the triple-layered Texas breakfast sandwich — a grilled cheese sandwich on sourdough bread topped with a fried egg, bacon and another slice of toast — he offered customers house-made waffles with syrup inside so you could eat them on the go; a breakfast burrito or breakfast bagel, both made with fresh eggs; a half-dozen meal-sized salads including several with fresh grilled chicken and one with grilled salmon; and nearly a dozen handcrafted gourmet sandwiches including a grilled salmon dressed with fresh pesto on focaccia, a southwest-accented Cubano with jalapeños, and a chicken cordon bleu style sandwich dubbed "Chicken Cordon Who?"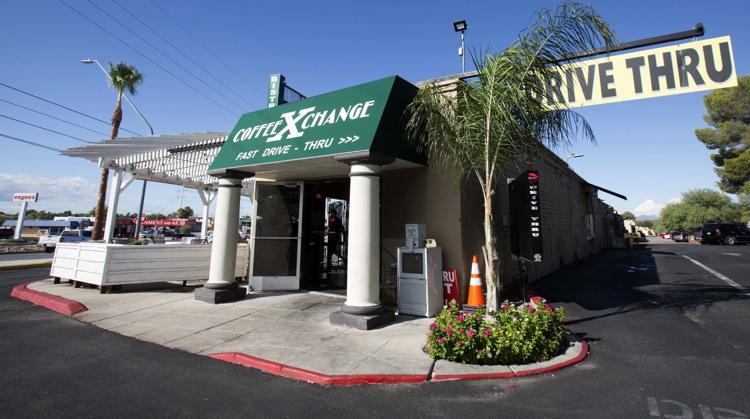 Coffee X Change also has the tuna and the turkey sandwiches on the menu in small print. In bigger print are the drool-worthy descriptions of nearly a dozen Angus beef burgers and black bean veggie burgers that you can get on a bun or in a wrap.
"It's comfort food to the max," said the younger Tehrani, who said his menu is inspired by shows he's watched over the years on the Food Network and from eating at restaurants around the country.
Their latest move: Offering delivery service to customers in a wide arc around the Tanque Verde location.
"It's more like a coffee shop on steroids," Jonathan Tehrani said of Coffee X Change at 25. "It's more of a cafe than a coffee shop."
Contact reporter Cathalena E. Burch at cburch@tucson.com or 573-4642. On Twitter @Starburch