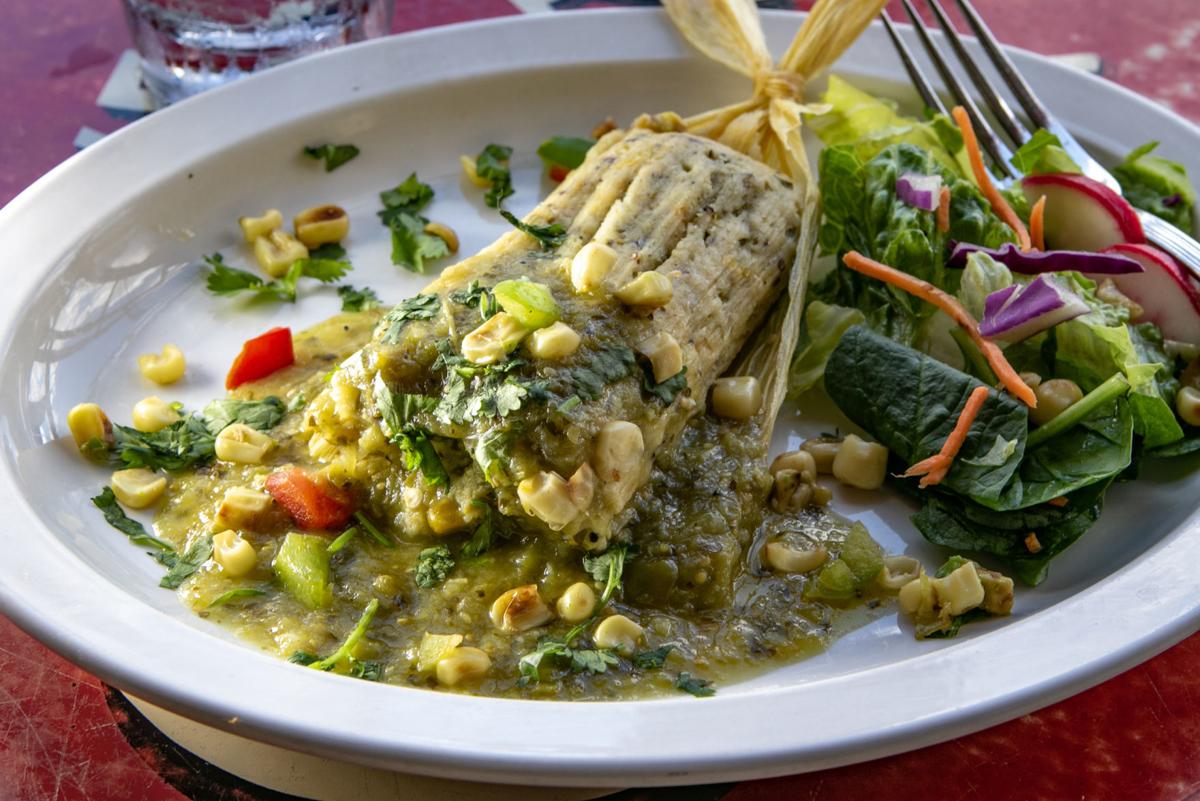 El Charro's newest tamal is dope.
The new Hola Hemp tamal is made from hemp seeds, a cousin of cannabis.
While hemp and marijuana come from the same species, hemp lacks THC — the chemical in pot that makes you high — and is considered a superfood.
Hemp seeds are 33 percent protein and loaded with minerals and essential omega acids.
"It's something that is not intimidating, it's not a drug," said El Charro chef-owner Carlotta Flores, who created the Hola Hemp tamal recipe. "It's just a very good product that is good for you."
Flores came up with the idea for hemp tamales five or six weeks ago almost as a joke with her son, El Charro President Ray Flores. Mother and son, who've had health problems over the years, were talking about foods that boost the immune system.
"There is still something about taking care of yourself through food," she said.
Carlotta Flores suggested incorporating hemp into the tamal recipe, and after testing and retesting the recipe, she hit a perfect combination: hemp, flax and chia seeds, quinoa, olive oil, nopalitos and fresh corn for crunch. The corn also provided the milkiness missing from not using cheese, Flores said.
"The hemp seed has such a nice nutty flavor," Flores said, and the combination of the ingredients creates a complete protein dish.
The tamal comes with tomatillo salsa verde and fresh cilantro, which adds a subtle spiciness to contrast the earthy sweetness of the vegan, gluten-free tamal.
Hola Hemp tamales are on El Charro's special Cinco de 95th Summer Menu celebrating the restaurant's 95th anniversary. Items on the menu, which include a tostada, a torta, and a chimichanga and Sonoran hot dog combo, are $5.95 through Sept. 15 at El Charro's three Tucson locations, including downtown at 311 N. Court Ave.
Flores also added the tamal to the menu at El Charro's sister restaurant, Sir Veza's Taco Garage at the Tucson Mall.
And the Hola Hemp tamales also are being served not far from the White House.
They are on the menu of the newly opened Sir Veza's in the Baltimore-Washington International Airport, which serves the greater Washington, D.C., area.
"They definitely don't know what tamales are here," said Ray Flores, who was in Baltimore last week training the staff there on how to prepare a truncated version of the Sir Veza's menu.
The Baltimore Sir Veza's is affiliated with the Tucson restaurants in name only. Flores said he licensed the concept to the airport's food operators, who also run the concessions at Tucson International Airport — home to a Sir Veza's and El Charro concept.
Contact reporter Cathalena E. Burch at cburch@tucson.com or 573-4642. On Twitter @Starburch.
The business news you need
With a weekly newsletter looking back at local history.