El Rio's 14th clinic is going up near Kino Parkway and 22nd Street.
The 50,000-square-foot Cherrybell Community Health Center will encompass two existing El Rio locations as well as El Rio's teaching health center, said CEO Nancy Johnson.
This site will be a Teaching-Learning Health Center housing medical residents and third- and fourth-year medical students from A.T. Still University's Osteopathic School of Medicine as well as students from the University of Arizona.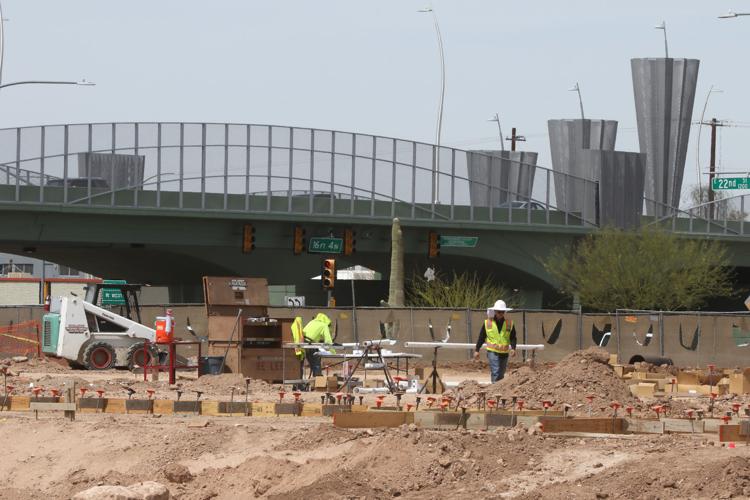 The $14.3 million clinic at 1230 S. Cherrybell Stravenue, will include a laboratory, pharmacy, dental center and full radiology department, including 3D mammography. The new clinic will also feature an adjacent community walking path.
At the end of 2017, El Rio had more than 100,000 patients, Johnson said, and the extra space was needed.
"We take care of some of the most fragile members of the community," she said.
El Rio employs about 1,200 workers and Johnson foresees adding more with the new clinic, which is expected to be ready for move-in by the end of the year.
Other construction activity around town includes:
Sage Senior Desert Living is building a $13 million, 96,000-square-foot facility at 2365 W. Orange Grove Road.
A $1.7 million permit was issued for Banner UMC pharmacy expansion.
Arizona Kidney Disease and Hypertension Center got a $1.6 million permit to build a 2,000-square-foot facility at 3600 W. Tangerine Road.
The City of Tucson is building a $2.5 million, 15,000-square-foot data center at 1151 E. Hermans Road.
A $1.9 million permit was issued for a 22,000-square-foot Goodwill Store at 1703 W. Valencia Road.
Dollar General is going up at 7440 S. Wilmot Road. The $1 million permit is for a 9,100-square-foot store.
A $775,000 permit was pulled for a 6,300-square-foot Aspen Care Assisted Living facility at 1405 W. Roller Coaster Road.
Sonora Quest Labs got $706,000 worth of permits for improvements at 630 N. Alvernon Way.
A new, 4,600-square-foot Circle K is coming to 15935 N. Oracle Road. The permit was for $408,000.