Two local small-business owners looking to grow their individual businesses have decided to become roomies.
Unlike co-working spaces that have become popular in recent years, where independent businesses share common space, the duo entered into a single lease for office space to both grow and cross-promote their businesses.
It was over happy hour when Janet Fischer and Mercedes Flores decided to join forces on their complementary furniture-dealer and design-studio businesses.
"We realized that we needed different space to accommodate our vision of having a working showroom for clients, other designers and architects," said Fischer, owner of Fischer Design Studio.
Flores, principal of Commercial Office Resource Environments, is the lease holder of the space at 698 E. Wetmore Road. Fischer pays her.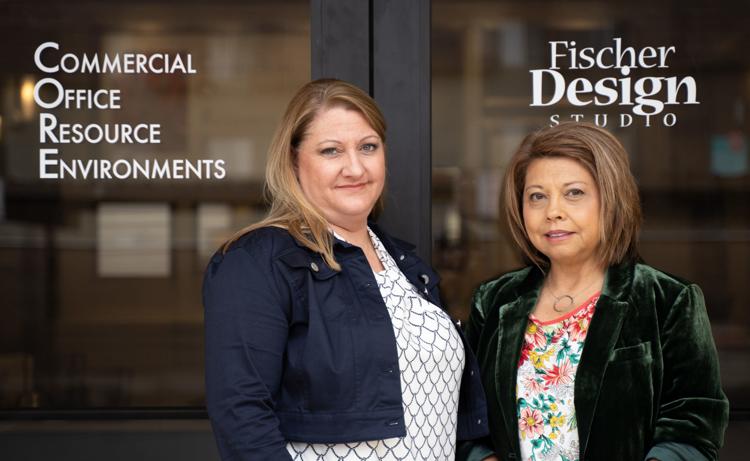 Because the women had worked together on projects before, the merger felt like a natural next step. Finding the right space, however, was not easy.
"Some of the spaces we looked at were too small, too dark, not enough open space, or simply had a landlord that wouldn't let us make the space into what we wanted," Flores said.
The two wanted to be centrally located to accommodate clients and in equal proximity to each of their homes.
"We also soon realized that the space we had envisioned that was within our budget simply did not exist," Fischer said. "Ultimately we found what initially was the most unperfect space imaginable."
The space consisted of a bunch of 8x10 offices and long, dark hallways.
"I found it hard to be enthusiastic, but Mercedes persisted in keeping the vision alive," Fischer said. "The appeal that finally moved us forward was that the property manager was willing to help completely demolish the interior."
After a year of renovations, the open showroom and workspace was complete.
Flores is a commercial furniture dealer providing space planning, design consultation and corporate furniture.
Fischer provides space planning, building and materials specification and cabinetry and millwork design.
The complementary nature of their individual businesses made the arrangement feasible.
"I don't know that vastly different businesses could share an office space the way we do. The commonality of our industries is what makes it work," Flores said. "Our vendors can do joint product updates and training, we can bounce ideas off of each other, and our clients have the advantage of having everything under one roof."
And many of their products overlap.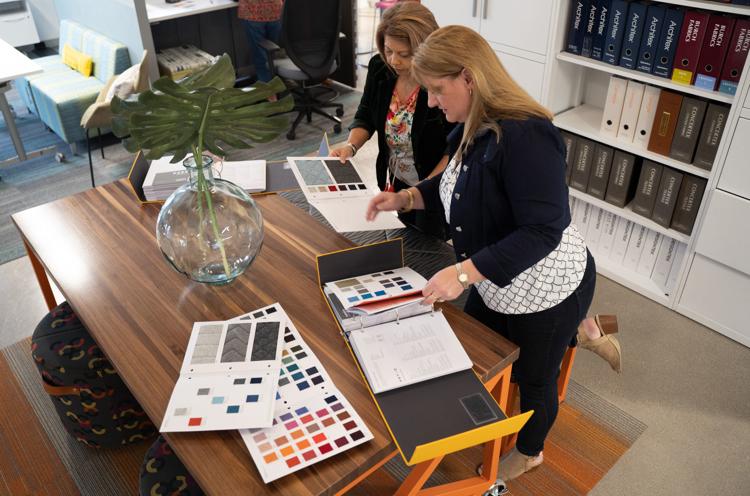 "It makes sense to share and maintain a common resource library. It also makes sense to have and share a showroom that displays not only the products we both specify, but also accessories, wall treatments, unique lighting and interior-design services offered by Fischer Design Studio," Fischer said. "This arrangement probably would not be advantageous for businesses that are vastly different, unless it is for the sole purpose of splitting the rent."
Co-working spaces have become popular in the past years as small-business owners look to keep costs down by renting an office with shared common space and resources, such as receptionists and conference rooms.
Job announcements in recent years have also spurred interest in Tucson, which is leading to higher lease rates of office space, said broker Michael Gross, with Tucson Realty & Trust Co.
Co-leasing arrangements, such as the one created by Flores and Fischer, are most common with accountants, attorneys and physical therapists. More frequently, Gross gets business owners wanting a virtual office, in which an office is shared when meeting or training space is needed and to give the business owner, who mainly works from home, an office address.
Ryan McGregor, a commercial broker with Picor, said he hasn't seen a lot of businesses sharing a lease for territorial reasons, but he has seen nonprofits use that model.
"It's a good idea, especially if the economy tightens up," he said. "If the price of admission in the market gets too high, it's a good idea for tenants and for landlords to help with vacancies."
Flores said the setup she and Fischer has works because they had a previous working relationship.
"This type of arrangement is like a marriage," she said. "You need to have a deep respect for the other person, their expertise and their business acumen."
Common goals and the willingness to help each other succeed are also key, Fischer said.
"We are both women-owned businesses, and although there is always a certain amount of competitiveness that comes with the territory, we both realized early on that we would be able to achieve so much more when we support each other's efforts and dreams," she said.