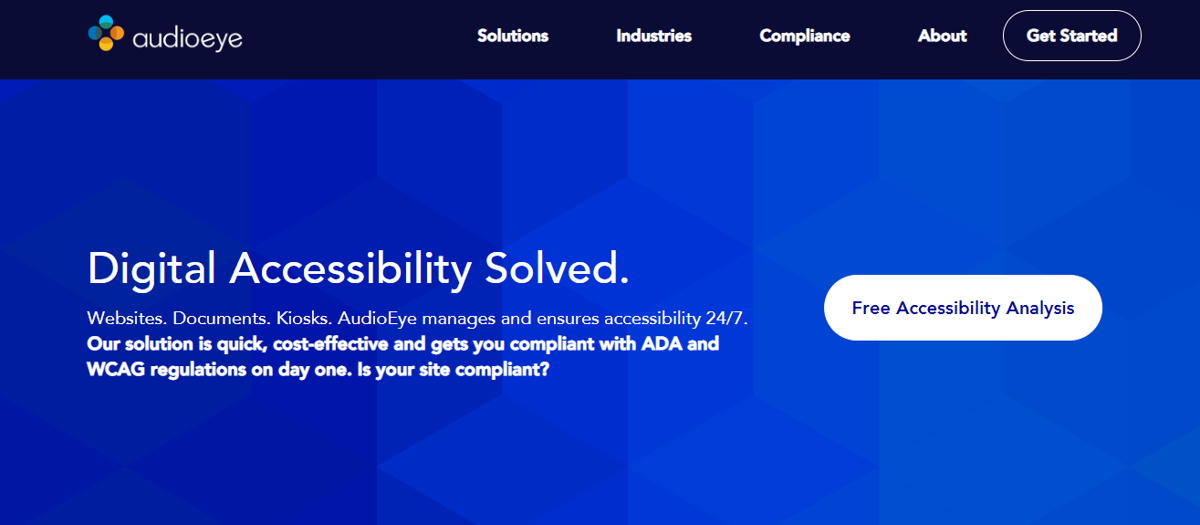 Tucson-based AudioEye Inc. has made a business of making sure people with disabilities can access web content.
And the homegrown company is growing at a phenomenal rate — thanks to a new emphasis on accessibility driven largely in recent years by court rulings holding websites accountable for inaccessible content.
While most people don't think twice about mousing around a website to find information, enjoy entertainment and shop, internet users who are blind or have other disabilities face a much different and often frustrating experience.
Todd Bankofier, CEO of AudioEye, estimates that 90% of commercial websites are not compliant with current standards for accessibility to people with disabilities such as blindness, dyslexia or hearing impairment.
Yet an estimated 20% of the population struggles with internet accessibility, Bankofier said.
"It's an opportunity to take care of a bigger population than most people understand," he said.
That has also created opportunity for the publicly traded AudioEye, which since a major retooling in 2015 has grown from 15 to 81 employees and has at least doubled revenues annually in the past four years.
The company now has more than 1,400 customers, including major companies in banking and e-commerce, schools and government agencies including the Social Security Administration and the Federal Communications Commission.
Founded in 2005 by University of Arizona alumnus and current Chief Strategy Officer Sean Bradley and his brother, Nathaniel, AudioEye was acquired by a Chicago company in 2010, spun off as an independent company in 2011 and went public in 2013.
The company offers website operators a comprehensive accessibility service including website analysis, remediation of accessibility issues, and constant monitoring and updating of websites to make sure they comply with current industry standards.
On the user side, AudioEye provides a toolbar that allows users with disabilities to have text read to them or played automatically —including things like descriptions of images — as well as automatic captioning and voice-enabled site navigation.
Sales pitch: avoiding lawsuits
The tool helps companies and other website hosts make websites accessible not only to improve users' experiences — but also to help customers avoid a growing wave of lawsuits over inaccessible web content.
Advocacy groups such as the National Federation for the Blind began pressing major website hosts for changes several years ago, in some cases suing to prompt improvements.
"They started about six to eight years ago really letting companies know that their sites aren't accessible, and now today you've got companies getting sued because they're just fed up with it," Bankofier said.
In January, the 9th Circuit Court of Appeals ruled that pizza giant Domino's inaccessible website violated the 1990 Americans with Disabilities Act, which doesn't specifically address internet content, Bankofier noted.
Companies including Apple, Amazon, Target Stores, Nike and the NBA also have been sued for inaccessible web content under the ADA.
Accessibility lawsuits have been called a "cottage industry," with several large plaintiffs' law firms attacking large companies and sometimes whole industries, with the number of lawsuits filed jumping from more than 800 in 2017 to more than 2,200 last year.
Nearly 6,000 accessibility lawsuits have been filed so far this year, Bankofier said.
Carr Bettis, a longtime investor in AudioEye and executive chairman of the company, blamed much of the issue with business sites on lack of awareness.
"They think consumers with disabilities have their own tools to make everything accessible because they see accessibility (options) on their Apple or Samsung phones," Bettis said.
"But the publisher of that content, the website host or your newspaper or whatever, has to do things in a very specific way to make that technology even work for the consumer who has a disability."
Meeting current standards
While there is no law specifically requiring websites to be accessible to users with disabilities, the World Wide Web Consortium — the main international standards organization for the internet — has set an evolving industry standard to make content accessible to people with disabilities.
The Web Content Accessibility Guidelines, or WCAG, prescribe that websites present content simply, in a way that can be perceived through alternate means such as audio, make websites easily operable and navigable and work with assistive devices, among other things.
The latest WCAG guideline also includes other things most people don't think about, such as avoiding certain types of flashing displays that can trigger epileptic seizures.
Bettis said AudioEye's subscription-based accessibility service far exceeds the current WCAG 2.1 standard.
The annual cost of the service varies widely based on website complexity, from a couple thousand dollars to a couple hundred thousand, he said.
"We meet the standard first, which is heavy lifting and a lot of what we do, and then we put in the most inclusive solution you can imagine with our toolbar," he said.
For example, the toolbar offers the option of using a special font designed for people with dyslexia; color-blind users can choose different color schemes; and there is a feature that stretches out sentences to help people with autism, Bankofier said.
Growing fast
Bettis said the company has signed up 19 web-hosting platform providers who in turn offer AudioEye services to their customers.
One local web-host customer is Simpleview, a Tucson-based company that is a leader in developing and hosting sites in the tourism industry.
In February, AudioEye announced that it was partnering with Dealer.com to provide accessibility services for the auto-dealers websites it hosts.
AudioEye's message is resonating with website owners and hosts.
The company's contract bookings grew from about $300,000 in 2015, when the company hired Bankofier and embarked on a project to overhaul and refine its product offering, to $1.6 million in 2016 and $6.2 million in 2017.
Last year, the company had contract bookings of $11.7 million and this year and total revenues of $5.7 million, up from $2.7 million in 2017.
"We're growing ridiculously fast," Bettis said. "You're going to find very few companies growing the way we've been. We've had 14 consecutive quarters of revenue increases, and our backlog is growing faster than ever."
AudioEye isn't making a profit, which may contribute to its languishing stock price.
The company posted a net loss of $5 million in 2018, down from a loss of $5.7 million in 2017.
AudioEye went public as an over the-counter stock in 2013 and joined the Nasdaq last fall after a 1-to-25 reverse stock split.
AudioEye's shares, traded on the Nasdaq under the ticker symbol "AEYE," have been trading in the range of $4 to $5, down about 50% so far this year and well off its 52-week high of $12.40.
That doesn't bother Bettis, who said the company is investing for growth, for now, without regard to the bottom line.
"We're very clear about it. One of the things we want our investors to understand is that we are a growth story," he said.
"Being cash-flow positive and (having) net income is not our primary objective. We are trying to grow the top line and do it in a cost-effective way."