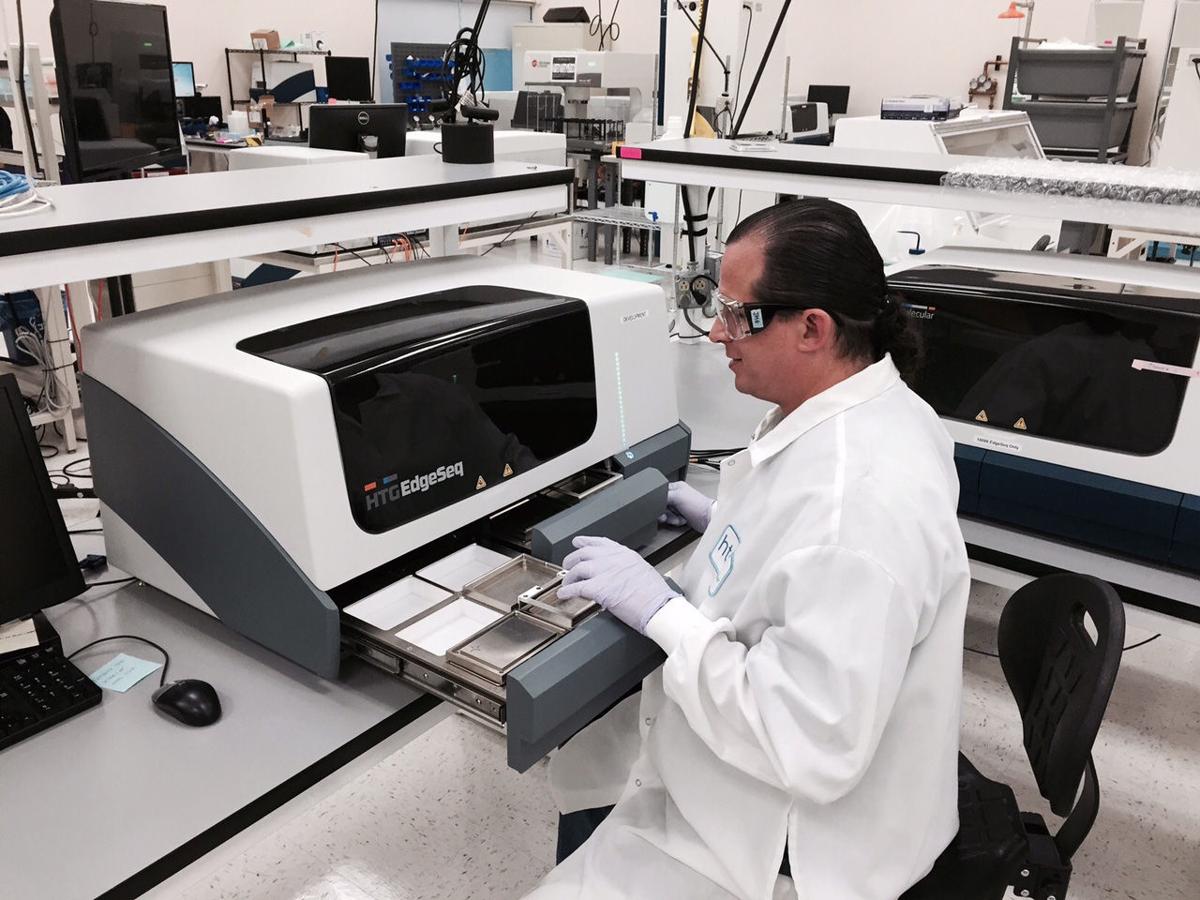 One of Tucson's oldest homegrown biotech companies is changing its top leadership as it vies to become a major player in medical diagnostics.
HTG Molecular Diagnostics announced this week that its longtime CEO, TJ Johnson, will step down at the end of March and move to the role of executive chairman.
John Lubniewski, a senior executive of HTG since 2011 and president and chief operating officer since last April, will assume the CEO post and responsibilities for day-to-day operations.
Johnson, who has been HTG's CEO since 2008, said the succession plan has been in the works for several years and he's happy to be succeeded by Lubniewski, whom he called a "trusted co-pilot" over the years.
"This is the perfect time for me, not to disappear, but to step aside and let other leaders — and we have a very strong bench of leaders here — stretch and grow," he said.
Founded in 1997 as High Throughput Genomics, the company started out making ultra-high-capacity sample plates for gene-based testing, based on its technology for analyzing ribonucleic acid (RNA) activity in tissue and cell samples.
After expanding its scope in the late 2000s, HTG now makes and markets molecular testing instruments for drug research. The instruments are used to identify molecular "biomarkers" to identify disease activity or patients that could benefit from specific drugs.
"They do broad RNA expression profiling of their clinical samples, looking for ways to identify gene expression signatures that can help them match patients to the drugs they are developing," Johnson said.
Though HTG is not yet profitable it expects to report record revenues of more than $20 million for 2018 and is progressing with efforts to widen its research client base and move toward clinical diagnostics.
And though the company is still losing money as it continues to spend big on research and development and sales, it has more than $34 million in cash after a major underwritten public stock offering last year.
The company's Nasdaq stock is trading at around $2.25 per share, less than half its 52-week high, but several analysts rate the stock a "buy," and Johnson said the company's major institutional investors are solidly behind the company's long-term growth plan.
"My comfort in this company being in a really good place led me to discussions with the board," said Johnson, 57, who was a senior executive at Ventana Medical Systems in Oro Valley for five years before joining HTG.
Johnson said that as executive chairman and continuing board member, he will remain an employee and officer of the company and plans to focus on strategic growth and business development for the company.
In announcing the change, Lubniewski said he looks forward to following through on HTG's strategic growth plan.
"We have an extraordinary team and tremendous market opportunity in delivering personalized medicine solutions," he said.
Johnson said the company has seen growth in all of its major business areas, which include providing contracted molecular profiling services to pharma companies; sales of profiling instruments and test materials to drug researchers; and collaborations with other companies.
The company has ongoing research collaborations with drug maker Bristol Myers Squib and another major, undisclosed drug company, as well as a collaborative marketing agreement with German-based test provider Qiagen.
HTG offers seven different tests with its Edge profiling instrument for cancer, for research purposes only.
While none of HTG's tests have been approved for patient diagnostics by the U.S. Food and Drug Administration, the European Union has approved two of the company's diagnostic tests for lymphoma and lung cancer.
HTG recently opened an office in Paris as well as its first European lab in Basel, Switzerland, Johnson said, noting the company plans to start marketing in the Asian-Pacific market by 2020.
Johnson said the company's European diagnostics business will help it prepare for an eventual push to win FDA approval for diagnostic use of its test by doctors and hospitals in the U.S.
"We can get these tests established and effectively validated in Europe, and then use that information to come here and work with the FDA and the payers in the U.S.," he said.
After stepping away from the day-to-day grind at HTG, Johnson said he plans to spend more time with his family, as he and his wife are expecting to become first-time grandparents in May.
Johnson said he also plans to become more active in Tucson's larger biotech community.
The business news you need
With a weekly newsletter looking back at local history.