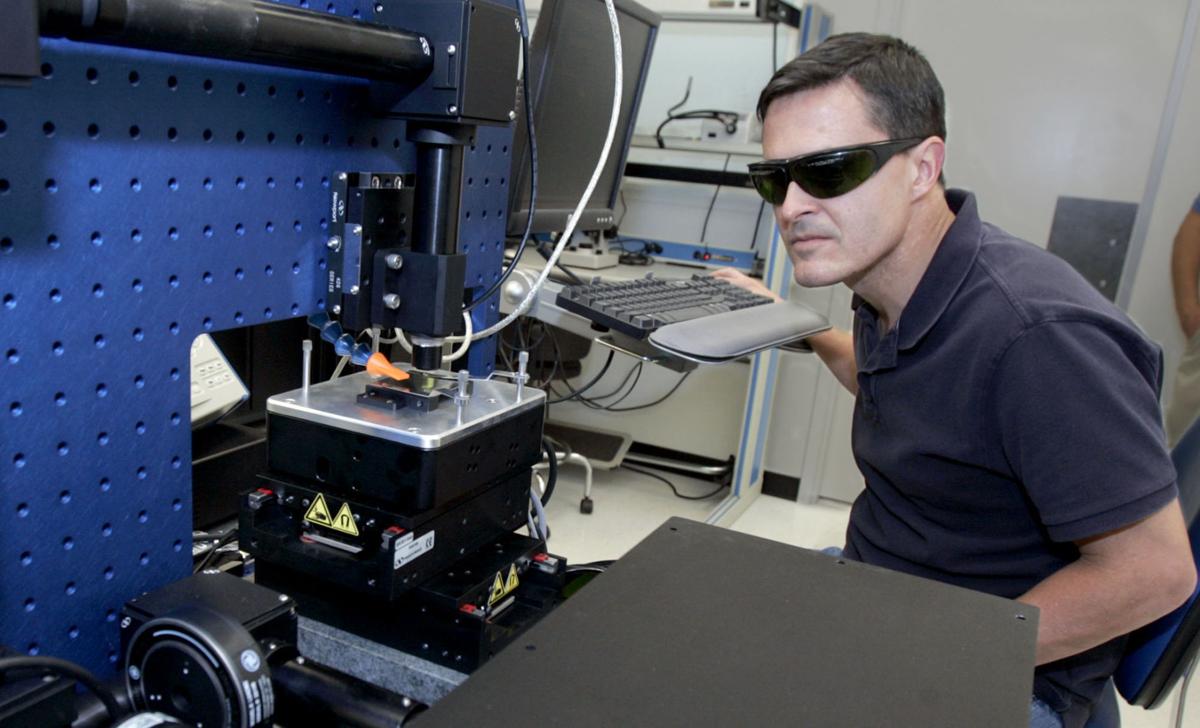 A Tucson company that developed a laser-guided energy device to zap improvised bombs for the U.S. military more than a decade ago is coming back to life.
After announcing in April that it was emerging from "shell company" status, Applied Energetics Inc. recently filed a registration statement with federal regulators to raise $5 million to restart its development of ultra-short-pulse lasers for defense and commercial uses.
Founded as Ionatron in 2002, Applied Energetics won nearly $40 million in military contracts to develop its laser-directed energy technology to defeat improvised explosive devices, or IEDs.
The company's bomb-zapping system was tested by the Marine Corps in Afghanistan, but after the Corps canceled its last contract in 2011, the company said it would refocus its research on fast lasers for commercial applications.
In 2014, the company suspended its business activities and became a "shell company" under federal securities rules. By then, Applied Energetics Nasdaq stock had plunged to just pennies, from a high of about $14 in 2006.
Applied Energetics CEO George Farley said efforts to revive the company started in mid-2015, when a major defense contractor expressed interest in the Tucson firm's technology.
Farley reached out to Stephen McCahon, a co-founder and former executive at Applied Energetics who was mainly responsible for its technology development and holds more than 30 patents in optics and directed energy.
"It looked to me at the time that maybe it made sense to get together and try and reactivate the business, since there was some interest there," said Farley, who joined Applied Energetics' board of directors in 2004 and was named CEO in 2016.
McCahon — who had co-founded another Tucson company, Applied Optical Sciences, in 2010 — agreed and developed a new research and development plan for Applied Energetics and a teaming agreement with his company to carry the work forward.
The company enlisted a new scientific advisory board to restart work on the next generation of ultra short pulse lasers, which are used to make a path for electricity as part of a directed-energy system.
The company's science advisors are Ph.D. optical scientists with decades of experience, including Gregory Quarles, chief science officer for The Optical Society; and L.A. Schlie, a former senior scientist for Air Force directed-energy programs.
Applied Energetics' immediate goal is to increase the power of advanced ultra short pulse lasers, while decreasing their size, weight and cost.
The company plans to develop lasers of increasing power and is currently working on a 10-watt system with plans to follow with 100-watt and 1-kilowatt systems.
Applied Energetics says it plans to seek additional research funding from defense contracts from the Navy or other branches, as well as through strategic alliances with other companies pursuing industrial and medical-laser applications.
Farley said the company's earlier efforts to develop military applications were stymied when Pentagon outlays for directed-energy research were slashed amid federal budget woes following the Great Recession.
To counter IEDs, the military has mainly focused on new vehicle designs and armor, robotic bomb defusers and jamming technologies.
"It's been difficult to raise money because of the complexity of the technology and the fiscal problems in Washington," Farley said.
But there has been renewed interest in directed-energy weapons in recent years.
In 2014, the Navy formally fielded one, 30-kilowatt laser system designed to shoot down drones or destroy small attacking boats, AN/SEQ-3 Laser Weapon System, aboard the amphibious dock ship USS Ponce, and is working to test a 150-kilowatt system.
The Army is testing a vehicle-mounted directed energy weapon, the Air Force is developing a missile that can deliver pulses of power to disable electronics, and the Missile Defense Agency is looking to develop a laser-based weapon to destroy enemy missiles early in their flight.
Commercial applications for ultra short pulse lasers include surgical lasers and precision materials processing.
In 2011, Applied Energetics entered a partnership with Missouri-based Laser Light Technologies to develop and market a laser micromachining system.
In a stock registration statement the company filed with the U.S. Securities and Exchange Commission on Sept. 22, the company said it plans to raise $5 million by selling about 99 million shares — about half newly issued and half previously sold in private placements — at a price of up to 10 cents per share.
The resurrection of Applied Energetics could be good news for shareholders, after the company's stock price sank from more than $14 in 2006 to less than $1 by 2008 and to just pennies per share in the past few years.
Longtime shareholder Howard Hudson, a Marine Corps veteran and retired portfolio manager who lives in Florida, said he bought about 200,000 shares in the company largely to help fund new technology to protect troops.
Hudson said he'd like to see the company succeed.
"From my standpoint, it will be a miracle if they revive themselves," he said. "That would be a surprise bonus at this point."
Contact senior reporter David Wichner at dwichner@tucson.com or 573-4181. On Twitter: @dwichner
The business news you need
With a weekly newsletter looking back at local history.