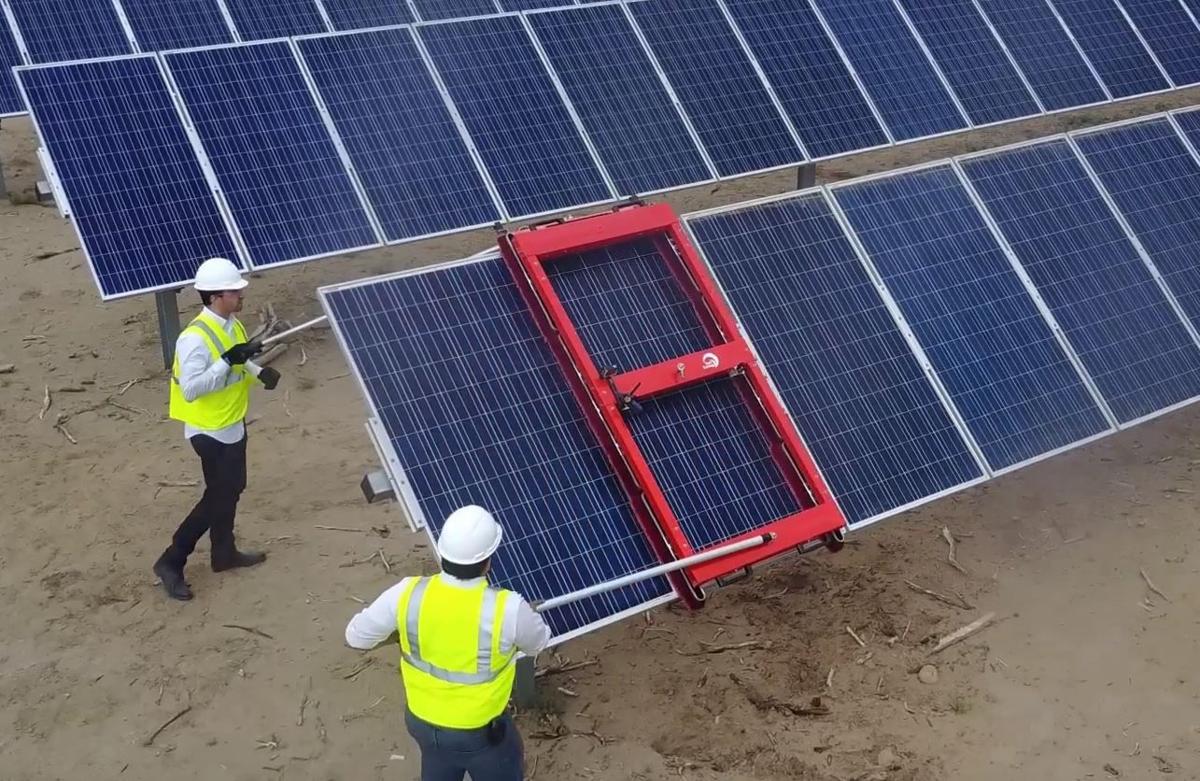 Solar panels don't require much maintenance as they silently turn sunlight into electricity, but a layer of dirt can cut their energy output.
SunSweep LLC, a Tucson-based startup launched out of the local tech-development firm Aztera, is offering a relatively simple, low-cost panel cleaning device to ensure photovoltaic solar panels keep churning out maximum power.
As the market for solar power system maintenance has grown, industry players have come up with an array of panel cleaning systems, ranging from broom-like devices with water sprayers to autonomous robotic cleaners.
But SunSweep has taken a low-cost, low-tech approach aimed at big, utility-scale solar farms.
Its MiniMax system is essentially a heavy-duty frame mounted with soft brushes and rollers that ride along existing solar-panel rack frames, sweeping dirt away as it is pulled along by maintenance workers.
That simplicity translates into low cost, making SunSweep's system a wise choice for operators of big solar farms, the company says.
"It's a very elegant approach," said Manny Teran, president of Aztera. "You look at it, and it makes sense … it's super-simple but highly effective."
SunSweep launched in 2015 after a major Arizona solar-panel manufacturer tapped Aztera to develop a solar-panel cleaning system in a collaborative development effort, Teran said.
After a development effort spanning a year and a half, the solar partner — whom Teran declined to name — decided not to take the development further, so SunSweep licensed the design and is plowing ahead on its own.
The company's MiniMax cleaning device is modular and designed to accommodate common panel sizes and configurations, with prices starting at about $3,500 for a smaller size, said Philip Rahm, SunSweep's business-development manager. The company also offers panel-cleaning crew services in North America.
"Our aim is to keep it cost-effective and to keep the consumption of water down for the operations and maintenance crews," Rahm said.
Unlike some powered systems that require installation of guide rails, SunSweep's MiniMax devices are sized so that they will roll easily along existing frames.
SunSweep is still new on the market, but it has already sold its MiniMaxes to solar-farm customers in Arizona and globally in Jordan, the United Arab Emirates, Africa and Chile and has generated leads from potential customers in India, Spain, Greece and Central America, Teran said, estimating revenues so far at about $250,000 annually.
SunSweep's primary market is very dusty climates, where a 25-megawatt solar farm can lose $4,000 to $6,000 worth of power production per day, he said.
Solar-panel cleaning companies say their services can boost energy production, with estimates of improvement ranging from 10 to up to 35 percent, depending largely on local climate conditions.
But some solar-industry experts say normal rains are enough to keep solar panels operating without significant performance losses, and that potential savings from cleaning must be weighed against the costs.
Meanwhile, several research papers have found the loss of performance or corresponding efficiency increases from cleaning in the single-digit percentages.
Those include a 2013 study by the University of California-San Diego that showed panels that went uncleaned for 145 days lost 7.4 percent of their efficiency, while a University of Arizona study of panels in the Tucson area the same year showed an efficiency improvement of only about 1 percent after cleaning.
Rahm said SunSweep generally sees an efficiency improvement of 10 to 15 percent after cleaning with its device, depending on the level of soiling.
Teran said that even Arizona's minimal rainfall is enough to keep panels relatively clean most of the time, but there are solar farms in much dustier places.
An operator in the United Arab Emirates that cleaned its panels monthly for three years with SunSweep cleaners saw an efficiency boost of about 30 percent, Teran said.
"The ideal customer for us is dusty, with low-water (availability) and cheap labor costs," he said adding that SunSweep will continue to target solar farm operators in dusty climes around the globe.
Rahm said the company recently completed design and fabrication of seven custom, dry-brush cleaners and a matching storage trailer for a solar farm in Burkina Faso in West Africa, and the company is courting a solar operator in Jordan.
Teran figures the global market for SunSweep's cleaning devices at about $30 to $40 million annually, and he's expecting that to reach $55 to $60 million by 2020.
SunSweep, which has three employees, has been promoting its technology at trade shows including the Intersolar North America show in San Francisco in July and Solar Power International in Las Vegas in September.
The company has raised some seed capital from local investors, but Teran hopes sales will drive the company's growth.
"Ideally, the best way to grow is with customer money," he said.