Pima County officials didn't have any immediate comment on the news last week when the stratospheric balloon company World View Enterprises laid off 10 workers in what the company described as a workforce reorganization.
But this week, Pima County Administrator Chuck Huckelberry issued a memorandum saying he's not concerned about the layoffs, saying he believes it is part of "normal staffing adjustments by a growing company" as it shifts from prototype assembly to full production.
Since 2017, World View has been building its proprietary, steerable stratospheric balloons at a headquarters and factory building Pima County built for it south of Tucson International Airport under a $15 million lease deal.
World View's "Stratollite" balloon craft can persist for long periods at high altitudes and are sold as a cheaper alternative to satellites for commercial and research uses. The company also is planning to fly paying tourists to the stratosphere in special balloon-borne capsules.
The company said the layoffs were part of a larger restructuring.
"After a comprehensive evaluation process, we've identified the need to retool our personnel to align our resources with skill sets we'll need for the future," World View said in a written statement.
The company said it has 89 employees following the furloughs, and it is hiring for 14 open positions.
There was no discussion of the World View cutbacks at Tuesday's supervisors meeting, and nothing related to the company was on the agenda.
Pima County Supervisor Ally Miller, a staunch critic of the World View lease deal, was quick to pounce on the layoff news, tweeting, "Crony capitalism at work."
But Huckelberry in his memo to the supervisors said he met with World view officials in January and was told the company was reorganizing as it transitions from research to production.
He said World View was not required to report the layoffs under its agreement with the county, which requires the company to employ an average of 100 employees with minimum annual salaries of at least $50,000 in the first four years of its lease and stepping up in five-year increments to 400 by 2032.
In its most recent required quarterly report, World View reported 83 full time employees at an average salary of $86,397.
Huckelberry said World View is having trouble hiring software engineers and other tech workers who are in short supply nationwide.
"Based on the company's current staffing and recruiting efforts, and recent conversations with World View leadership about company progress and growth, I am not overly concerned about this recent reduction announcement and believe it to be normal staffing adjustments by a growing company," he wrote.
World View has flown more than 50 balloon missions for NASA and other customers from the adjacent Spaceport Tucson balloon launch pad and other locations.
The company completed six launches in the second half of 2018 but paused in December and January to complete subsystem design improvements and planning, spokesman Andrew Antonio said.
World View will be testing those improvements with flights in the months to come, Antonio said, adding that customer demand remains high.
"We're definitely plugging away and are making good progress," he said.
Ground-based AMRAAM advances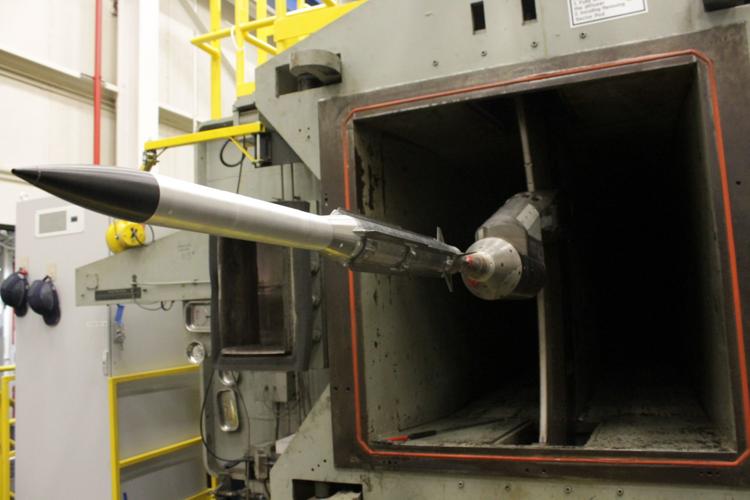 Tucson-based Raytheon Missile Systems hit a key milestone recently in its development of a longer-range version of an air-to-air missile for use with a ground-based air defense system.
The company, the Tucson region's biggest employer, said this week it successfully completed more than 1,700 wind-tunnel tests on the AMRAAM-ER, an extended-range variant of the Advanced Medium Range Air-to-Air Missile, or AMRAAM.
The testing is a major step in the missile's adaptation to the National Advanced Surface-to-Air Missile System, a system co-developed by Raytheon and the Norwegian defense company Kongsberg.
The NASAMS system, which now uses current versions of the AMRAAM, is deployed by the U.S. to guard the Capitol area in Washington, D.C., and is also used by Norway and seven other allied nations.
The AMRAAM-ER is based on the motor section of Raytheon's Evolved Sea Sparrow ship air-defense system with the guidance system of the AMRAAM, the main medium-range combat weapon of the U.S. and its allies.
Raytheon says the AMRAAM-ER will have about 50 percent longer maximum range and 70 percent higher maximum altitude than the standard AMRAAM, the latest version of which has a reported range of about 98 miles.
Stroke drug from NuvOx shows promise
NuvOx, a Tucson-based company developing oxygen-delivering drugs, has published promising early results of a drug being tested for treatment of stroke.
In a randomized, Phase Ib/II clinical trial, patients given the highest dosage of NuvOx's drug candidate NVX-208 showed improvement in how independently they can live after a stroke at 30 and 90 days, while the safety of the drug was shown in patients at all three dosage levels.
The results were published in early February at the International Stroke Conference in Honolulu.
The trial, sponsored by the University of Arkansas for Medical Sciences, shows that expanded trials are fully warranted, the company said.
Founded by University of Arizona radiologist Evan Unger, NuvOx is in clinical trials with a related drug for treatment of patients with brain tumors and is conducting preclinical studies for ailments including traumatic brain injury, heart attack and hemorrhagic shock.