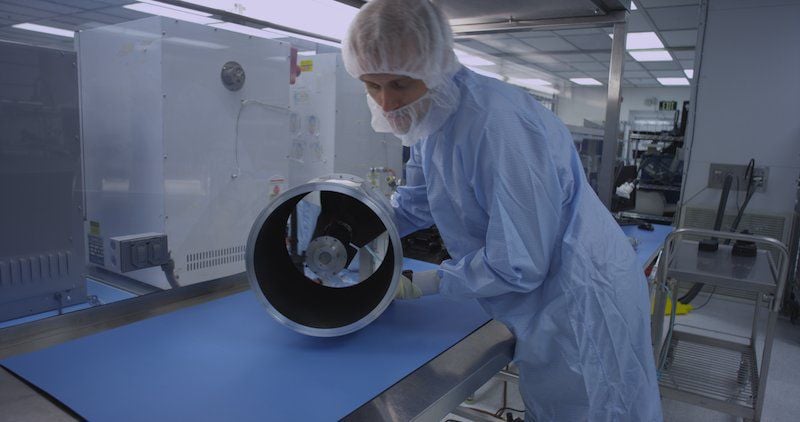 Not to be left out of the new era of small satellites, Tucson-based Raytheon Missile Systems has built two tiny satellites for the U.S. Department of Homeland Security to help search and rescue teams locate emergency beacons in the arctic and other remote areas.
Teaming up with Virginia-based Millennium Engineering and Integration, Raytheon assembled the small satellites for Homeland Security's "Polar Scout" program at the company's advanced missile production plant in Tucson.
DHS is working with the U.S. Coast Guard to evaluate satellite technologies that could help detect shipboard search-and-rescue beacons in arctic regions, where harsh conditions mean every second counts.
Besides Millennium, Raytheon said it worked with Rincon Research, a small Tucson-based research firm, and Space Dynamics Laboratories to develop and produce the Polar Scout satellites. The small-sats are scheduled to be launched into lower Earth orbit later this year.
The project was led by the U.S. Air Force Operationally Responsive Space program, to show how small sats can be built efficiently and cost effectively, Raytheon said.
Raytheon Missile Systems got into the small-satellite game in 2012, when it won a contract from the Defense Advanced Research Projects Agency to design small, disposable satellites for a system to allow troops on the ground to get high-resolution satellite images of the battlefield via smartphones or other hand-held devices.
DARPA's Space Enabled Effects for Military Engagements, or SeeMe, program was supposed to launch its first satellites in 2016 on SpaceX's Falcon rocket.
But SpaceX suspended operations after a launch-pad explosion in September 2016, and SeeMe later ran out of funding.
By then, Raytheon had modified part of its production area in Tucson to enable production of small satellites and said it would welcome small-sat partnerships with other companies.
"With our automated production lines, Raytheon can produce highly reliable, small satellites quickly and affordably," said Thomas Bussing, Raytheon Advanced Missile Systems vice president, in announcing the Polar Scout delivery.
"Because our advanced manufacturing facilities are flexible, we can build small satellites or satellite components designed by Raytheon or another company," Bussing said.
Less costly and quicker to build than bus-sized geostationary satellites, small satellites can operate from lower orbits to perform missions normally accomplished by larger satellites, the company said.
UP, UP AND AWAY
Tucson-based World View Enterprises conducted another successful launch of one of its Stratollite high-altitude balloon vehicles from Spaceport Tucson on Wednesday morning.
The mission carried "a research payload for a government customer," but the company offered no other details.
For those counting, Wednesday's launch was the fifth from Spaceport Tucson since an inaugural mission in October, and the second since a grounded, hydrogen-filled balloon exploded Dec. 19 in an incident that damaged World View's county-leased building.
UA SPINOFF AVERY HONORED
Avery Therapeutics, a startup company developing a tissue-engineered heart graft based on technology developed at the University of Arizona, has created a buzz at the national level.
Avery was recently named one of two winners of the "Buzz of Bio" awards, which are handed out ahead of the BIO International Convention in Boston in June.
The convention, which expects more than 16,000 attendees from 74 nations, is hosted by the Washington, D.C.-based Biotechnology Innovation Organization (BIO), the world's biggest biotech trade organization.
Avery, was a winner in the "Technologies of Tomorrow" category, while North Carolina's Biomarck Pharmaceuticals was honored in the "Pipelines of Promise" category. The winners each receive one convention pass and the opportunity to present their technology to convention attendees.
Avery's lead product, MyCardia, a tissue-engineered heart graft developed to treat heart failure, is in the preclinical development phase.
Avery was co-founded in 2014 by cardiologist Dr. Steve Goldman of the UA's Sarver Heart Center and Jordan Lancaster, who earned his UA doctorate in physiology while working in Goldman's lab.
In February, Avery was selected by the Flinn Foundation to take part in the 2018 Bioscience Entrepreneurship Program and was awarded $30,000 in funding support and program services.