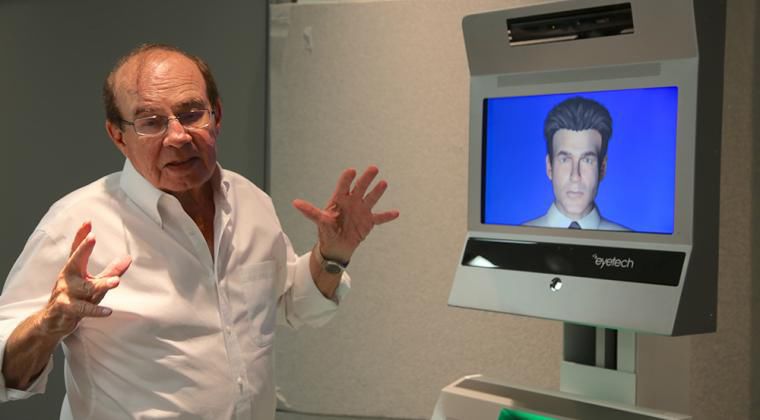 You can't hide those lying eyes from AVATAR, an invention spun out of University of Arizona labs and recently licensed to a startup company that aims to take the device to market.
The "deception detection technology" records a person's facial expressions and body indicators like vital signs and uses sophisticated computer algorithms to judge whether the subjects are fudging.
AVATAR — Automated Virtual Agent for Truth Assessments in Real-Time — was developed by researchers in the UA Eller College of Management Management Information Systems program. It was recently licensed to local startup Discern Science International Inc., one of 16 tech startups spun out of the UA through Tech Launch Arizona during the fiscal year ended June 30.
Jay Nunamaker, a UA Regents professor who holds the Soldwedel Chair in Management Information Systems, led the yearslong development of AVATAR and serves as president and CEO of Discern Science.
Tech Launch Arizona, the UA's tech-commercialization arm, worked to patent the technology and collaborated with Nunamaker and local tech investor and entrepreneur David Mackstaller to license it to the startup company.
With the AVATAR system, users stand before a video kiosk and answer interview questions posed to them by an "interactive electronic interviewer."
The system records facial expressions in high-definition video while sensors measure and record thousands of signals from the subject's voice, body and eyes.
The data is routed through a complex analytical algorithm and the results are produced almost instantly: green means the subject is clear to pass; yellow means there are some issues to be investigated; and red means there are serious issues that require deeper investigation.
The inventors say their research has shown that the system is 70 to 92 percent accurate depending on the application, while studies have shown that humans can catch deception only 54 percent of the time.
The AVATAR technology was originally developed at Eller in the early 2000s and advanced through the National Center for Border Security and Immigration, a consortium of 18 institutions led by the UA and the University of Texas-El Paso under a $16 million Department of Homeland Security program launched in 2008.
The Department of Defense, the National Science Foundation and the European Union's FRONTEX border-security agency also have backed research on AVATAR, which has been tested at the Nogales border crossing as well as in Canada, Poland and Romania.
"It had to allow innocent people to quickly pass through the border, while simultaneously identifying those attempting deception — and do it all in about 30 seconds," Nunamaker said.
While the initial applications have been around border security, the company's plan is to commercialize the AVATAR technology across a broad range of fields.
Researchers who have collaborated with Nunamaker over the years to create AVATAR include Judee Burgoon, UA professor and director of human communication research for the UA Center for the Management of Information; Douglas Derrick, former graduate student in Nunamaker's lab and now assistant professor of IT innovation at the University of Nebraska at Omaha; and Aaron Elkins, former graduate student and now director of the artificial intelligence program San Diego State University.
Researchers are still training AVATAR, which uses artificial intelligence "learning" to improve its performance over time, and they are designing studies to boost that learning, Nunamaker said.
TECH-TRANSFER BOOST
Tech Launch Arizona plans to release its full annual report this fall but recently announced it ended the 2018 fiscal year with further gains in its efforts to bring faculty inventions to market.
The agency said it processed 275 invention disclosures from faculty members, up from 261 in fiscal 2017.
The UA filed for 352 patents, an increase from 334 in 2017, and it executed 112 licenses and options, up from 105 the prior fiscal year.
Besides Discern Science, startups based on UA technology in fiscal year 2018 and their technologies (some of which have been featured in earlier columns) are:
, which is developing drugs based on gene expression;Omniscient, dual-view imaging technology for colonoscopies and other medical and non-medical uses;Regulonix, non-opioid-based drugs to treat chronic pain;
Urbix Resources, various graphite-related technologies including an environmentally-friendly purification technique;
FreeFall Aerospace, new technologies for spacecraft communications and observation;
Botanisol Analytics, molecular-detection instruments for use in forensic, pharmaceutical, agricultural, manufacturing, threat-detection and clinical diagnostic applications;
Aqualung Therapeutics Corp., an antibody to treat ventilator-induced lung injury;
Triangle Biotechnology Inc., nanodroplet technology with applications in medical imaging, diagnostics and clinical therapy;
Guia, a system to monitor the health of miners and other workers;D3Sciences Inc., tools for improved tissue sampling to expand cancer diagnosis, therapy and research;Iluminos Therapeutics, new drugs for the treatment of Alzheimer's disease and other neurodegenerative and cognitive diseases;MCR Therapeutics, therapeutics for skin cancer and the treatment of pigmentary disorders;Intuitive Measurement Systems, a portable device to automate the collection of respiratory rates in sedated laboratory animals;
NorCon Technologies, techniques and elements for flexible curved reflectors;
GenetiRate, a test to measure metabolic rate to predict growth rate in aquatic plant and animal species.
The business news you need
With a weekly newsletter looking back at local history.