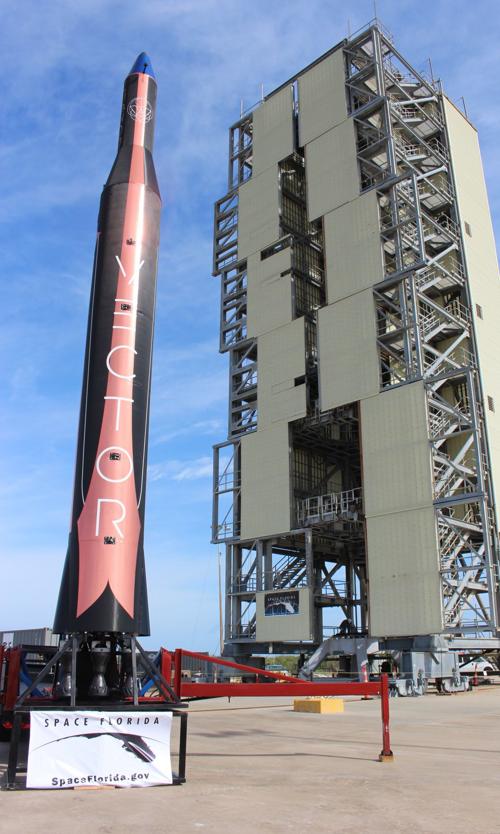 Tucson-based small-satellite launch startup Vector has inked an agreement with a United Kingdom-based company for five orbital launches on its Vector-R rocket between 2019 and 2023.
Vector co-founder and CEO Jim Cantrell said the agreement with Open Cosmos, a space-launch services company, aligns with his company's aim of providing simple, low-cost launch solutions for small-satellite customers.
Open Cosmos is described as a "one-stop-shop to orbit" that allows companies to have dedicated nanosatellite missions for remote-sensing payloads, information and telecommunication services, scientific research, or space technology in-orbit demonstrations.
The company manufactures its satellites in-house, procures launch services from partners like Vector, and operates fleets using its own satellite operations system.
Open Cosmos deployed its first nanosatellite into low Earth orbit in April 2017 aboard an Atlas V rocket.
Vector is looking to start construction on its rocket factory south of Tucson International Airport this year and is planning its first orbital launch in July.
Vector plans to ramp up to 100 small-sat launches per year, which suits Open Cosmos.
"Vector's launch cadence and aggressive prices allow us to provide increased affordable schedule certainty to our time-to-market-sensitive customers," said Rafel Jorda-Siquier, CEO and founder of Open Cosmos.
Besides Cantrell, a founding member of Elon Musk's SpaceX team, Vector is led by new-space and software industry veterans from Virgin Galactic, McDonnell Douglas, Boeing, Sea Launch and VMware.
In addition to its launch services, Vector plans to deploy a satellite-based software network to host customer sensors and data, with a company led by Cantrell's son planning to deploy a cryptocurrency on the satellite platform by 2019.
TRACKING TEP
Tucson Electric Power Co. has launched a new webpage where visitors can view the output of most of TEP's utility-scale solar and wind resources.
The new dashboard, at tep.com/solar-dashboard, displays the output of 15 solar arrays and two wind farms and show how the systems' combined output compares to customers' energy usage and individual system production. The data is updated every three minutes.
TEP's renewable resources produce enough energy to power 115,000 homes, and the company is working to deliver 30 percent of its power from renewable energy by 2030.
About 11 percent of TEP's power came from renewables last year, above Arizona's 7 percent requirement for 2017.
AZBIO APPLAUDS BILL
The Arizona Bioindustry Association applauded the passage of legislation sponsored by Rep. Kyrsten Sinema, D-Ariz., that would extend exemptions for "emerging growth companies" from certain provisions of the Sarbanes-Oxley Act.
Such startups are exempt from certain regulatory requirements for five years after their initial public offering of stock, including a requirement that public companies obtain external audits.
The Fostering Innovation Act, co-sponsored by Indiana Republican Rep. Trey Hollingsworth, extends the Sarbanes-Oxley exemptions for an additional five years for a emerging growth companies with annual average revenue of less than $50 million and less than $700 million in public stock float.
The legislation was passed by the House as part of a package of regulatory bills but still must navigate the Senate.
Joan Koerber-Walker, president and CEO of AzBio, said the legislation would help Arizona tech companies grow.
As an example, Koerber-Walker specifically cited Tucson-based HTG Molecular Diagnostics, a publicly traded biotech startup that has developed a proprietary high-capacity platform for testing gene expression.
Contact senior reporter David Wichner at dwichner@tucson.com or 573-4181. On Twitter: @dwichner