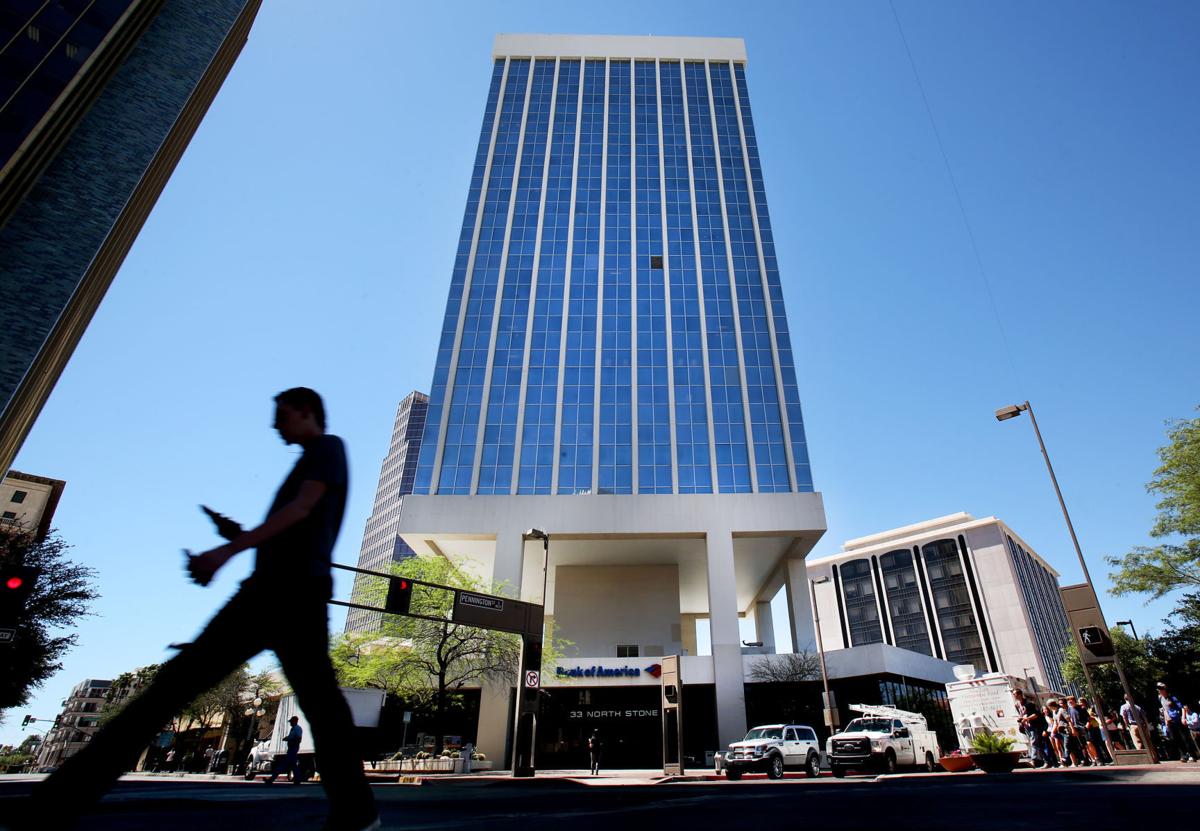 Bank of America is taking the bank out of the Bank of America building in downtown Tucson.
And soon, BofA's name will be gone from the iconic, white office tower on stilts at 33 N. Stone Ave.
On June 20, BofA plans to close its financial center at the Bank of America building — Tucson's second-tallest building — and merge its operations into a branch less than a mile north, at 902 N. Stone Ave.
Colleen Haggerty, a BofA spokeswoman, said the decision is "driven primarily by clients' changing behaviors" as more customers bank online and on their phones.
BofA's lease with Pima County, which bought the building for $24 million in 2006, also expires this year, she added.
Haggerty said the bank mailed letters to customers in March, informing them of the change.
Customers can still access all deposits and account services through mobile and online banking, or at other branches, and the closure does not impact automatic deposits or bill pay withdraws.
BofA doesn't plan on keeping an ATM at 33 N. Stone Ave. after the branch is moved, she added. Besides the other branch at 902 N. Stone, the next nearest BofA ATM location is a standalone machine on North Fourth Avenue.
"Tucson remains an important market for us," Haggerty said, noting that BofA will continue to operate 23 financial centers in town along with more than 80 full-service automated tellers.
Meanwhile, 33 N. Stone Ave. is due for a name change as Bank of America's naming rights to the building will expire with its lease, a county official confirmed.
"We have started discussions about the possible renaming of the building after the Bank of America moves out," said Lisa Josker, Pima County facilities management director, adding that for now the county plans to refer to the building by its street address.
Josker said the building is about 88 percent occupied, with tenants including several county departments, Baggin's Gourmet Sandwiches, Quik Print, De La Warr Investment Corp. and Roasted Tea & Coffee.
Contact senior reporter David Wichner at dwichner@tucson.com or 573-4181. On Twitter: @dwichner