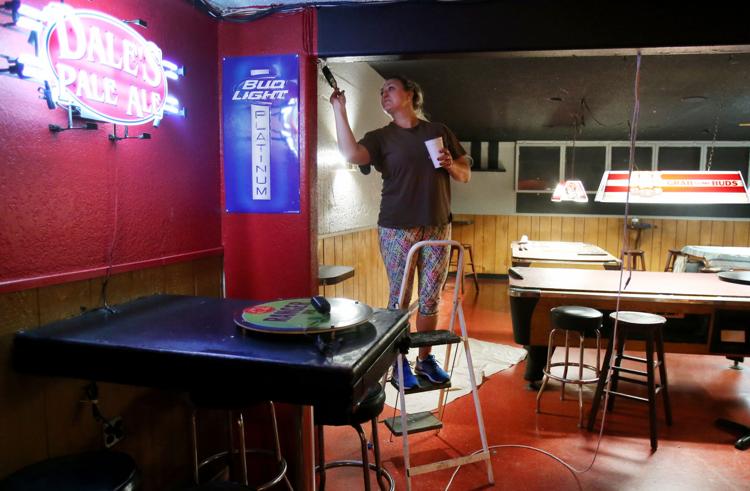 In Tucson's bar universe, when one comes, one leaves. And this weekend, that will literally occur within hours.
At the end of business Sunday, Feb. 19, in the wee hours of Monday, Nancy Kuhlmann and her staff will wipe down the bar and turn off the lights for the last time at her 16-year-old namesake Fort Lowell Pub, 746 E. Fort Lowell Road. Ten hours later, around noon Monday, Feb. 20, she'll open the doors of her new joint, Nancy's Boondocks, around the corner at 3306 N. First Ave.
"We have zero downtime," said Kuhlmann's daughter April, who manages the bar with her sister, Jodey Bingham.
The Kuhlmanns have been painting the interior of Boondocks and making minor fixes since buying the property three weeks ago, April Kuhlmann said. They also are updating the kitchen and plan to begin serving food — breakfast, lunch and dinner — in about a month. The menu will include popular Nancy's Fort Lowell Pub fare as well as burgers, fries and a few other items, Kuhlmann said.
Nancy Kuhlmann became interested in buying the Boondocks not long after it was put up for sale in October, weeks after longtime Boondocks operators Bill and Cathy Warner closed the bar. The Warners, who ran Boondocks for 20 years and turned it into a vital live blues venue, now manage the Hideout Saloon East near East 22nd Street and South Pantano Road.
April Kuhlmann said her mother had always wanted to own her own property and not be beholden to a landlord. The sentiment goes back to her experiences with the Chaparral Lounge, which she ran for nearly 20 years from 1980 to 1998 at Oracle and Magee roads before Oro Valley annexed the area. Kuhlmann's bar became outlawed under town zoning ordinances that required that bars serve food.
April Kuhlmann said her mother then bought 18 acres in the middle of nowhere — beyond SaddleBrooke and the fork in the road at Oracle Junction, where Arizona 179 heads toward Florence. Nancy Kuhlmann cleared the land, put up a horse arena and a 5,000-square-foot building, and 13 years ago opened the Cadillac Chaparral Steakhouse & Saloon off South Highway 79 and East Ballesta Road, her daughter said.
She opened Nancy's Fort Lowell Pub but kept a distant eye whenever a building nearby would go up for sale. They bid on a couple locations to no avail, until the Boondocks came up.
"The bar we're in now literally has one bathroom for the men, one bathroom for the women, two pool tables and a juke box," April Kuhlmann said. "When that opportunity became available, we became really excited."
Kuhlmann said plans for the Boondocks are still a work in progress. Eventually, they would like to host live music much like the Warners did, but that will have to wait until they find their business rhythm in the new place and can afford the American Society of Composers, Authors and Publishers (ASCAP) licensing fees.
Kuhlmann said they plan to keep the landmark Chianti bottle sculpture that has graced the Boondocks since it was an Italian restaurant in the mid-1970s. She said they decided to keep "Boondocks" in the name because "it's historic; everybody knows it."
Contact reporter Cathalena E. Burch at cburch@tucson.com or 573-4642. On Twitter @Starburch