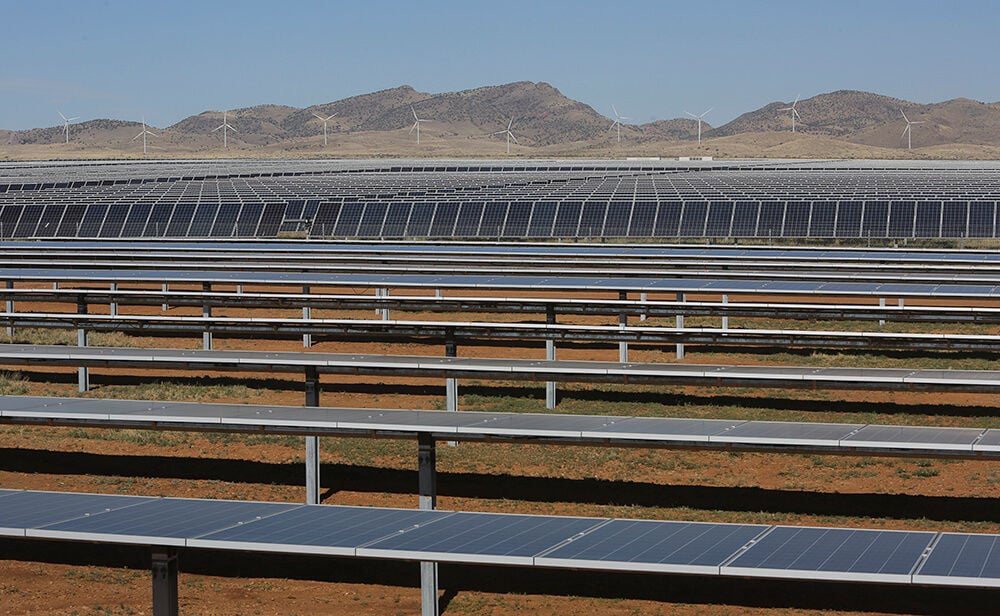 Tucson Electric Power Co. will buy solar energy at its lowest cost yet from a planned solar farm big enough to power about 21,000 homes.
The new 100-megawatt solar array and an accompanying 30-MW energy storage system will be built by an affiliate of Florida-based NextEra Energy Resources and are expected to be in service by the end of 2019.
Excluding the cost of storage, TEP will buy the system's output for 20 years for less than 3 cents per kilowatt hour — less than half of what TEP has agreed to pay under similar contracts in recent years, the utility said.
TEP and a NextEra Energy Resources affiliate also recently signed a power purchase agreement to build a new 100MW wind facility that is expected to begin producing power for TEP customers by the end of 2019.
Together, the NextEra solar and wind projects are expected to provide enough clean energy each year to serve the needs of nearly one out of every three Tucson homes
In announcing the new solar project, TEP stressed that the utility now pays nearly four times as much for most excess energy from rooftop solar power systems, under existing rules requiring TEP to pay full retail rates under net metering.
That factored into a controversial decision last December by the Arizona Corporation Commission to abolish net metering for new rooftop solar customers and to initially replace it with a new "export rate" based on the cost of energy produced by utility-scale solar farms.
While the cost of power from large-scale solar arrays has fallen nearly 75 percent over the last five years, the rate at which TEP compensates rooftop solar customers for excess solar energy has "risen to historically high levels," TEP says.
"Focusing our resources on the development of cost-effective community scale systems allows us to provide more solar energy to more customers for less money," said Carmine Tilghman, senior director of energy supply and renewable Energy for TEP.
In a case pending before the Corporation Commission, TEP has proposed paying new rooftop solar customers TEP a solar export rate of 9.7 cents per kilowatt-hour, based on the cost from utility-scale systems, compared with current net-metering rate of about 11.5 cents.
The plan would not affect customers with existing rooftop solar systems and would apply to customers who applied to interconnect their systems after the new rates go into effect, likely by late summer.
That export rate is subject to adjustment based on a five-year weighted average of the cost of utility-scale solar power, so the export rate could go down significantly as the NextEra solar farm and other projects come online. Eventually, the export rate will be based on detailed cost studies by each utility.
NextEra will build, own and operate the system on a site owned by the city of Tucson, inside TEP's service territory along South Wilmot Road, south of Interstate 10.
When it goes online, the system will become TEP's largest dedicated renewable energy resource, topping the 80MW Red Horse wind and solar system near Willcox.
NextEra also will build and operate a long-duration battery storage system on the site that will help integrate renewable energy resources into TEP's local energy grid. The system will be capable of providing up to 120 megawatt-hours of power.
TEP says it is working to deliver at least 30 percent of its power from renewable resources by 2030, which would double down on a state mandate that renewables equal at least 15 percent of retail power sales by 2025.
Earlier this year, NextEra completed construction of a 10-MW lithium ion battery storage system at a TEP substation near Interstate 10 and West Grant Road, where it is providing voltage support to improve system reliability.
Contact senior reporter David Wichner at dwichner@tucson.com or 573-4181. On Twitter: @dwichner