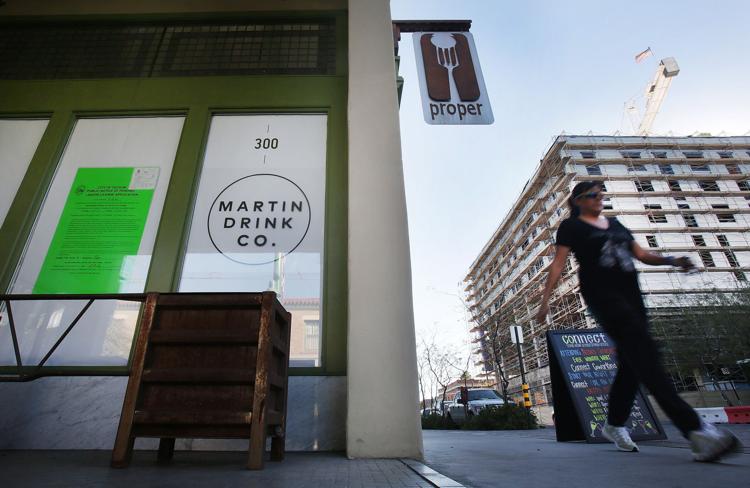 Downtown Tucson is about to get a pop-up bar.
Martin Drug Co. lounge is expected to open in mid-February and stay open about six months while owner/developer Scott Stiteler and his partners create a full-fledged restaurant in the space at 300 E. Congress St. The bar will then be incorporated into the restaurant concept.
The idea is to create a space holder for the restaurant, whose opening will be closely tied to Stiteler's neighboring AC Hotel by Marriott on East Broadway and South Fifth Avenue. On Tuesday he said the hotel's construction is on schedule for an August opening.
The space, formerly occupied by Proper, has sat empty since the Flagstaff restaurant closed in June. Stiteler said that by opening the lounge he is "reactivating" the space during the height of Tucson's tourism season.
"I can't stand walking by and seeing stuff closed when there are so many people downtown exploring," said Stiteler, whose other downtown ventures include the Hub Restaurant and Ice Creamery and Playground bar.
Whatever restaurant concept he creates for the space will carry the Martin Drug Co. name and the history of the original drugstore that sat at that corner until the 1940s or '50s.
"There's just a treasure trove of old photos of … Martin Drug Co. I get chills when I think about it," said Stiteler, who plans to decorate the walls with old black-and-white photos from the 1930s and '40s at the second location of pharmacist George Martin's pharmacy. The Martin family operated nine drugstores in Tucson from the late 1800s through the mid-1900s, several of them along Congress Street downtown.
"That's the history we're pulling from," Stiteler said. "Tucsonans and visitors are going to come in and absorb the space. I can already imagine people sitting in there and looking up at all the work that's gone into that space and the leaded glass and the way the stoplights glow and say, 'This is a really special space.'"
Work already is underway to renovate the interior including building a temporary wall to divide the dining room from the old Proper bar that faces Congress Street. The bar opens onto Congress, and an outdoor patio will be extended to wrap around South Fifth.