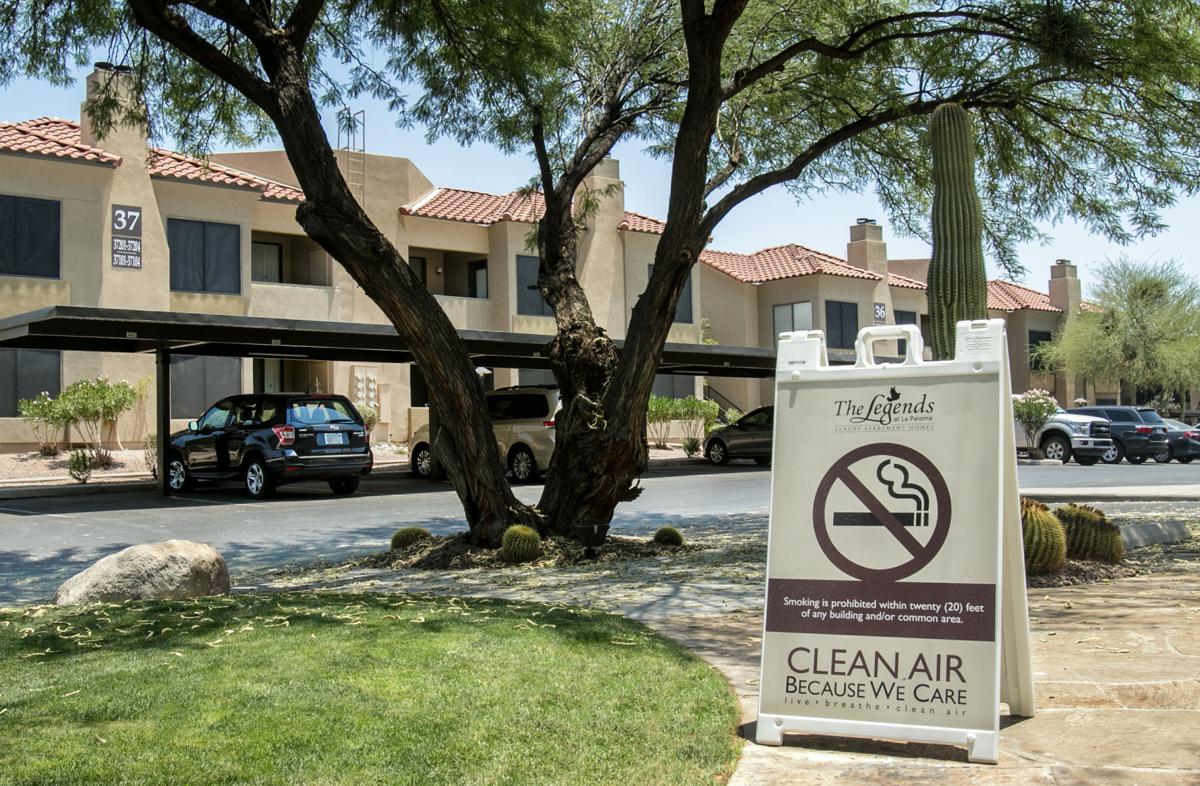 Smoking is prohibited in most public spaces in Arizona. Some Tucson apartment complexes are now extending this policy to their residential units, patios and common areas.
Four apartment communities, owned by NALS Apartment Homes, have banned smoking within 20 feet of their residential buildings and common areas as of April 1.
"The policy was passed primarily to protect the health of our residents, staff and guests," said Lisa Sandahl, Tucson district manager of NALS Apartment Homes. "Second-hand smoke is a Class A carcinogen; it can travel through doorways, windows, plumbing and even light fixtures."
Smoke-free policies are legal because smoking is not a constitutional right, according the U.S. Department of Housing and Urban Development.
While smoke-free housing can save on property maintenance costs in terms of cleaning and painting stained walls and ceilings, and repairing burn marks left by smoking, the trend has not necessarily caught on locally.
HSL Properties, one of Tucson's biggest apartment management companies, does not plan to ban smoking entirely but is testing designated smoke-free buildings in one of their newer northwest side complexes, Encantada at Tucson National.
"There is a plan to expand the program," said Omar Mireles, president of HSL, which serves more than 19,000 residents across their 32 Tucson complexes. "As far as having any single property fully smoke-free, we do not have that in motion.
"There's a lot of different residents living in these properties; we figure the best solution for the properties were to designate whole buildings within properties as smoke free, but not excluding folks that choose to smoke."
Sandahl, who oversaw the policy implementation at all NALS Tucson sites, said they acquired a 100 percent smoke-free property in Colorado in 2015, which prompted them to expand to all of their Tucson properties.
NALS, a Santa Barbara-based real estate investment firm, considers Tucson a "test region," as they had yet to implement the policy at all of their apartment complexes in a concentrated area.
NALS plans to extend the policy to the majority of their multi-state apartment properties on Sept.1.
Joyce Van helped her son Trent move into The Legends at La Paloma, 3750 E. Vía Palomita, last week and said she was happy he was moving into a smoke-free community.
"When you move into an apartment that's been smoked in, you live in the smoke of the prior resident," she said.
Sandahl said it is too early to know if the policy has saved the company cleaning and maintenance costs or if it has contributed to shifts in occupancy rates at the four sites.
Thus far, occupancy rates at the complexes have not been negatively impacted.
Three of the properties experienced increases in occupancy from June 2016 to June 2017. The other saw a decline of about 1 percentage point.
Prohibiting smoking in apartment units may also have a safety benefit.
Since April, the Tucson Fire Department reports that it is probable that eight fires have been started by smoking materials.
Across the country, the National Fire Protection Association found that smoking materials, including cigarettes, pipes and cigars, started an estimated 17,200 home structure fires in 2014 — the latest data available.
Those fires, the findings show, resulted in 570 deaths and approximately $426 million in property damage.
The NALS smoke-free policy falls in line with a 2006 Arizona law, prohibiting smoking within 20 feet of any public building or place of employment. There were several exemptions to the law including private residences and outdoor patios, according to the Arizona Department of Health Services.
The University of Arizona became a smoke-free campus in August 2014, prohibiting anyone on campus from using tobacco or nicotine products, such as cigarettes, cigars and hookahs. In February, the ban extended to e-cigarettes, as a university task force found them to be an emerging problem on campus.
Sandahl said the NALS policy does not encompass e-cigarettes or vaporizers, it only applies to "combustible items."
Clarisse Markarian is a University of Arizona journalism student who is an apprentice at the Star. Contact her at starapprentice@tucson.com.