TuSimple is hitting the accelerator on its effort to develop a fleet of self-driving commercial trucks in Tucson, adding trucks to meet early demand even before its trucks go fully autonomous.
The San Diego-based company, which has operations in China and its main research and development center on Tucson's southeast side, showed off its technology and updated its progress last week at the 2019 International Consumer Electronics Show in Las Vegas.
TuSimple announced that in response to growing commercial demand, the company plans to have 40 trucks in fully-autonomous "Level 4" operation — with a safety driver in the seat — by June, up from 11 now.
The company, which has more than 100 local employees and is planning to add some 500 over the next two years, says it already has 12 undisclosed contracted customers, "including Fortune 100 and large international companies."
Its trucks are making three to five fully-autonomous trips per day for customers on three different routes in Arizona.
Company officials have said they hope regulations to allow completely driverless, Level 5 autonomous trucks, at least in some areas, will be formalized in the next couple of years.
An additional route from Arizona to Texas will come online in early 2019, the company said.
At CES 2019, TuSimple displayed a Navistar International LT semi-truck, highlighting the company's self-driving perception system and showcasing what TuSimple trucks "see" while driving autonomously.
TuSimple also announced it is working with top suppliers, including global truck-engine maker Cummins Inc., to link truck powertrains with autonomous technologies.
TuSimple showed off an autonomous Peterbilt tractor at last year's CES.
"Exactly one year after debuting our prototype system at CES 2018, we're now running up to five commercial trips a day in Arizona, expanding our fleet and moving quickly toward our goal of creating the first commercial self-driving truck," said Xiaodi Hou, TuSimple's founder, president and chief technology officer.
TuSimple's trucks use an innovative camera-based perception system that has a vision range of 1,000 meters — farther and with greater visibility than any other autonomous perception system today, the company says.
Most driverless systems can only "see" optimally up to 150 meters ahead of the vehicle, TuSimple says.
The company's self-driving trucks can also see 360 degrees around for a finely detailed picture of the visible environment, enabling the vehicle to have three-centimeter control precision, rain or shine.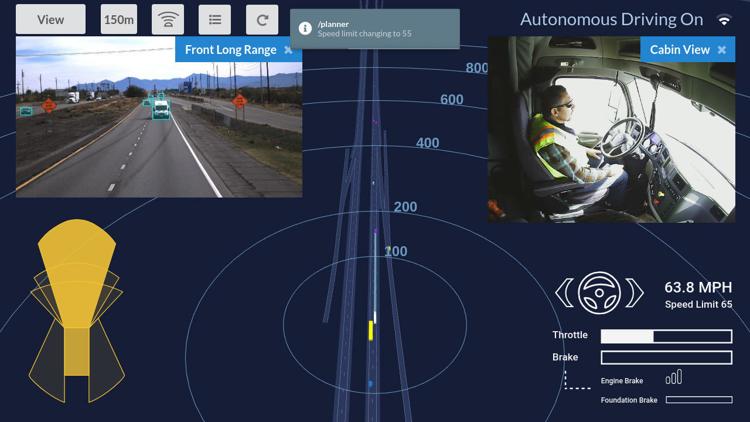 This year, TuSimple wasn't the only self-driving truck tech on display at CES.
German automaker Daimler, which makes Freightliner trucks, showed off its self-driving technology and announced it would invest $570 million in the development of Level 4 autonomous long-haul trucks, with testing in the U.S. starting this year. The company also said it would begin North American production of a Freightliner model with semi-autonomous controls in July.
Udelv, a San Francisco-based startup, showcased a new version of its self-driving small delivery vehicle, based on a Ford Transit Connect van. Walmart recently announced it would test the vans in the Phoenix area this year.
Truckmaker Peterbilt, which has collaborated with TuSimple, showed off a self-driving semi-truck last year, but at this year's CES focused on its electric trucks, unveiling new, medium-duty electrics.
Meanwhile, farm equipment maker John Deere — which already offers tractors with semi-autonomous features — showed off a self-driving tractor and a combine harvester aided by artificial intelligence.