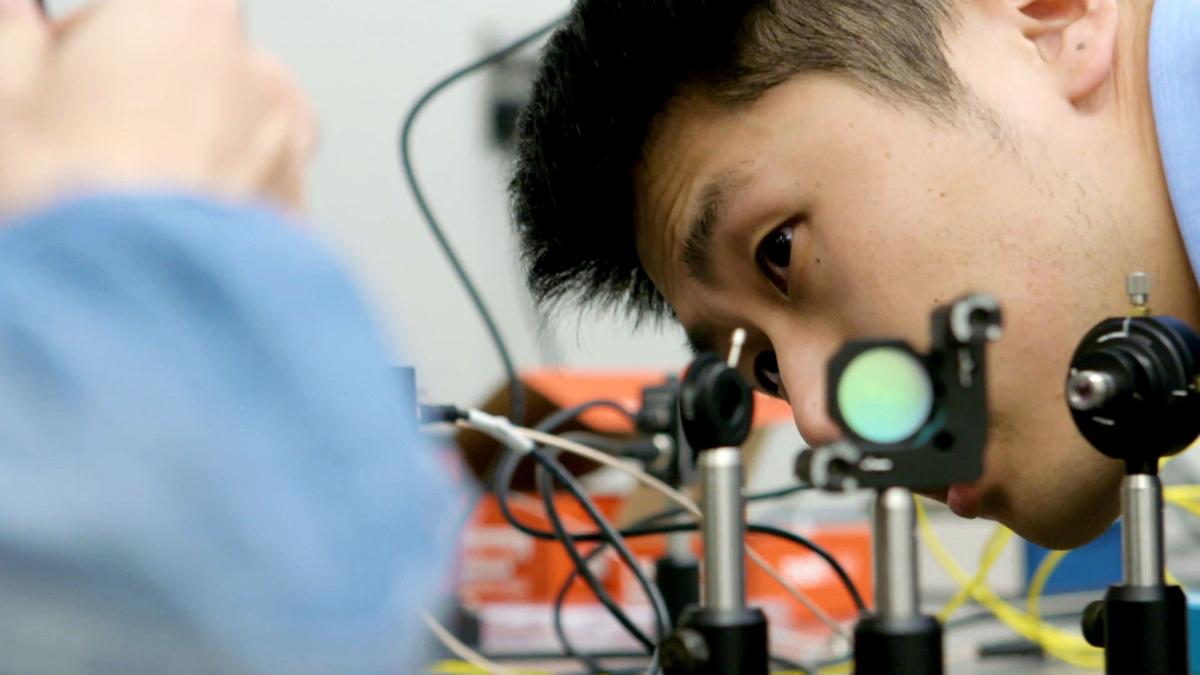 The University of Arizona will lead a new effort to lay the foundations for the "internet of the future" based on the emerging science of quantum computing.
The UA has been awarded a five-year, $26 million grant from the National Science Foundation, with an additional five-year $24.6 million option, to establish and lead a new NSF Engineering Research Center — called the Center for Quantum Networks — with core partners Harvard University, Massachusetts Institute of Technology and Yale University.
The aim of the new center — the third such NSF-funded engineering center housed at the UA — is to develop the underpinnings of the "quantum internet," expected by many experts to revolutionize how humans communicate.
The research is based on the use of quantum computing, which promises to vastly increase computer processing power in the future. The Center for Quantum Networks will be led by UA Associate Professor of Optical Sciences Saikat Guha, who after earning a Ph.D. from MIT in 2008 spent nearly a decade specializing in quantum information processing at a major research firm.
Though practical quantum computers are still years away, they promise to power exciting advances in various fields, from materials science to pharmaceuticals research.
Companies such as IBM and Google are developing experimental quantum computers, and some companies are already experimenting with them to develop things like better batteries for electric cars and new drugs.
Guha likened the UA center's mission to the creation of ARPANET — a precursor to today's internet initially developed by the U.S. military — in the mid-1960s and early 1970s.
"Since there's been so much national and industrial investment in quantum computing, what I want to do is sort of revisit what was happening in the mid-60s," he said. "I think it is the right time to start an initiative like that for quantum computers."
Powerful processing
Quantum computing can achieve greater processing power by using quantum data bits or "qubits," typically comprised of subatomic particles such as electrons or photons.
In today's classical computing, information is stored and transmitted in bits that are encoded in a binary number system representing 0 ("off") or a 1 ("on"). Computers decipher and process that binary code to create text and images, for example.
In quantum computing, qubits are not only capable of the 0 or 1 states, they also are capable of another state, called a "superposition" — consisting of both the 0 and 1 states at the same time.
That, along with the ability of one qubit to recognize the state of another in a phenomenon known as "entanglement," allows quantum computers to solve problems so complex that it would take an impractical amount of time for a classical computer to solve.
"Just by virtue of these qubits being able to stay in these superposition states through the computation, it lets quantum computers compute things that a classical computer cannot," Guha said.
A major focus of the UA center will be research to advance quantum materials and devices, linking quantum and traditional processing at a network level, and to develop quantum network communication protocols and architectures.
"Our center is not about building quantum computers; it's about building networks that can connect quantum computers," said Guha, principal investigator under the NSF grant.
The center plans to build a quantum network test bed and aims to demonstrate the first U.S.-based quantum network that can distribute quantum information at high speeds, over long distances, to multiple user groups.
Cross-campus effort
The UA was picked from a field of hundreds of initial university applicants, said Guha, who joined the faculty of the James C. Wyant College of Optical Sciences in 2017 amid an effort to boost quantum research at the school.
Guha has deep experience in the area.
Before his UA appointment, Guha spent nearly a decade at Cambridge, Massachusetts-based BBN Technologies, which Raytheon acquired in 2009.
Founded in 1948 by two MIT professors, BBN Technologies became known for its work at the Advanced Research Projects Agency (now the Defense Advanced Research Projects Agency or DARPA) in areas including acoustics and computer science, and the company led efforts to create ARPANET.
The new center will leverage faculty research across the campus, including specialists in quantum technologies hired by several UA colleges in recent years.
"The University of Arizona has been fortunate to attract key talent in quantum optics, materials and information sciences," UA President Robert C. Robbins said in prepared remarks.
Led by the James C. Wyant College of Optical Sciences, the center will include the College of Engineering, the James E. Rogers College of Law and the College of Social and Behavioral Sciences.
Other UA faculty involved in the Center for Quantum Networks include Linran Fan, project co-principal investigator and assistant optical sciences professor; Zheshen Zhang, testbed co-lead and assistant professor of materials science and engineering; Jane Bambauer of the College of Law, co-deputy director of societal impacts; Allison Huff, director of the center's engineering workforce development program and assistant professor in the College of Medicine–Tucson; and Justin Walker, innovation director and associate UA dean for business development and administration.
Besides core partners Harvard, MIT and Yale, the center also includes scientific and educational leaders at Brigham Young University, Howard University, Northern Arizona University, the University of Massachusetts-Amherst, the University of Oregon and the University of Chicago.
Guha said the Center for Quantum Networks will begin its work Sept. 1 in a space at the Meinel Optical Sciences Building, with plans to move to the new Grand Challenges Research Building, also on the main campus, when it is completed in 2022.
The other two NSF-sponsored engineering research centers at the UA are the Center for Environmentally Benign Semiconductor Manufacturing in the College of Engineering; and the Center for Integrated Access Networks, led by the College of Optical Sciences.
---