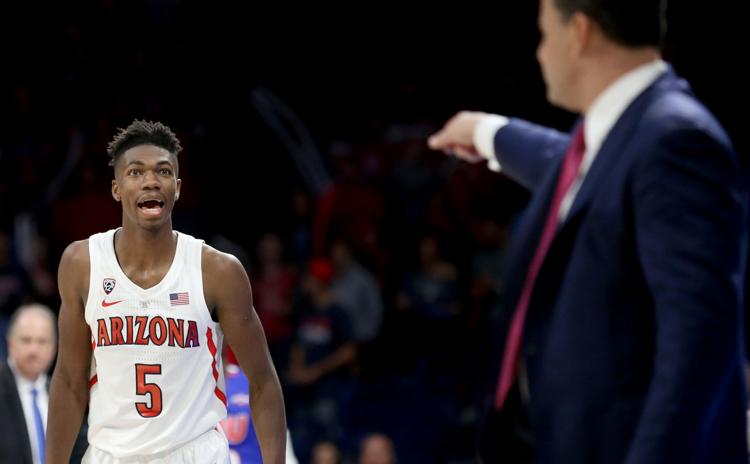 By pumping in 25 points on Wednesday against Houston Baptist, Arizona Wildcats sophomore wing Brandon Randolph made it clear he's jumped head-first into a completely different role this season.
Randolph averaged just 3.7 points and 11.6 minutes per game last season, a role player on a team that relied heavily on Allonzo Trier and Rawle Alkins for wing scoring.
"Brandon is a great example of an improved player," UA coach Sean Miller said. "A lot of these guys practiced very hard a year ago they were playing against some great talent … They learned our system and then they followed that up with a very hard-working offseason."
But as the Wildcats wade into their final two home tuneups before the ultra-competitive Maui Invitational, hosting Cal Poly on Sunday afternoon and UTEP on Wednesday, just about everybody else is still settling into completely different roles.
Not only do the Wildcats have four new players plus newly eligible transfer Chase Jeter but also, because they lost all five starters, all returners are being asked to move up at least a bit. That even includes former walk-on Jake DesJardins, who was given a scholarship and is now serving emergency post player duties.
Junior Dylan Smith is the only returnee so far with a somewhat similar role — the top guard reserve — and even he's added significant leadership and defensive responsibilities.
"It's just a little different," Smith said. "Coach Miller is expecting a few more things out of me, guarding the team's other best player when I'm in, and just being more vocal. The leadership aspect is big."
Smith said fellow returnees Emmanuel Akot, Alex Barcello, Ira Lee and Randolph have all improved considerably, too.
"They've grown from last year and their roles are bigger so we're gonna need them to do good," Smith said. "What Brandon is doing right now is great for our team and hopefully he'll continue to do it. Everybody is really contributing. It's not that it wasn't more of a team last year but it's that everybody has a role and more people have bigger roles."
Here's one look at how the Wildcats' individual roles break down, between what they had last season and what they are trying to jump into now: