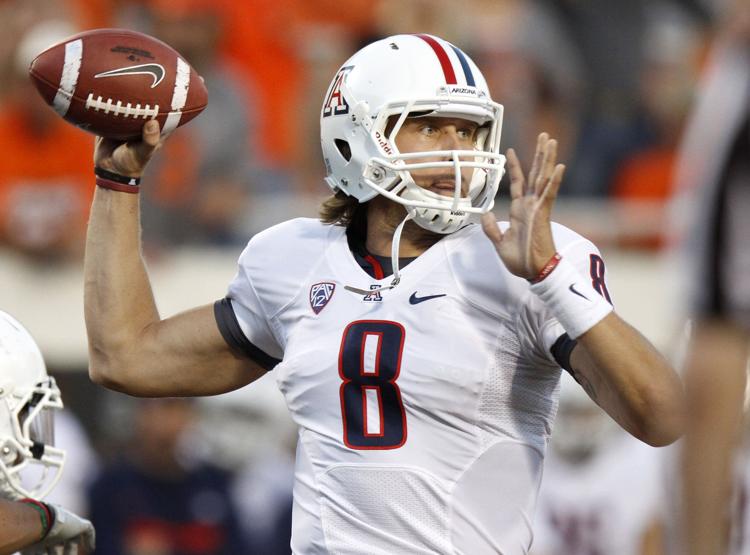 Three sports observations for the week:
1. Former Arizona State quarterback Jake Plummer was elected to the College Football Hall of Fame last week. Plummer was sensational in 1996, leading ASU to the Rose Bowl. But how much better, if any, was Plummer than Arizona's Nick Foles?
Foles had more college passing yards, 10,068, to Plummer's 8,626. Foles threw more touchdown passes (67) than "Jake the Snake" (64). And it's not that Plummer was a scrambler; he rushed for minus-113 yards at ASU.
The difference is that Plummer had better teammates in one season, 1996. Over his first three years at ASU, Plummer went 15-18. Foles went 19-19 his three Arizona years.
But Plummer got a fourth year and the Sun Devils went 11-1. Thus is a Hall of Famer born.
The UA's next serious Hall of Fame candidate should be All-America cornerback Antoine Cason, who became eligible to be included on the ballot this year.
2. Arizona athletic director Dave Heeke is fully on board with Tucson attorney Ali Farhang's attempt to get the Oakland Raiders to play the 2019 NFL season, or part of it, at Arizona Stadium.
"It's been terrific to be an active partner with Ali in this," Heeke said last week. "I love the 'why not us?' attitude. It's right in line with what President (Robert) Robbins and I are driving for."
The one big negative in attempting to get the Raiders to play at Arizona Stadium is the inescapable reality of NFL afternoon games in September and October. It's just too hot for most fans. But the Arizona Cardinals did so at Sun Devil Stadium for 18 years and survived.
3. Joe Batiste was Tucson's first world-class athlete, a sprinter and hurdler of such note that he would've likely been America's gold medal hope at the 1940 Olympics, had not World War II wiped out the 1940 and 1944 Olympics.
The Tucson High School grad hasn't been forgotten. The High School Track and Field Hall of Fame will induct Batiste into its Class of 2019, the second-ever class inducted. The inaugural Class of 2018 was predictably impressive, including Steve Prefontaine, Jim Ryun, Allyson Felix, ex-Wildcat 800-meter runner Kim Gallagher, Bob Mathias and Jesse Owens.
For Batiste to be part of the second group reflects just how good he was, 1936-40, before he entered the military service, effectively ending his world-class hurdling days.