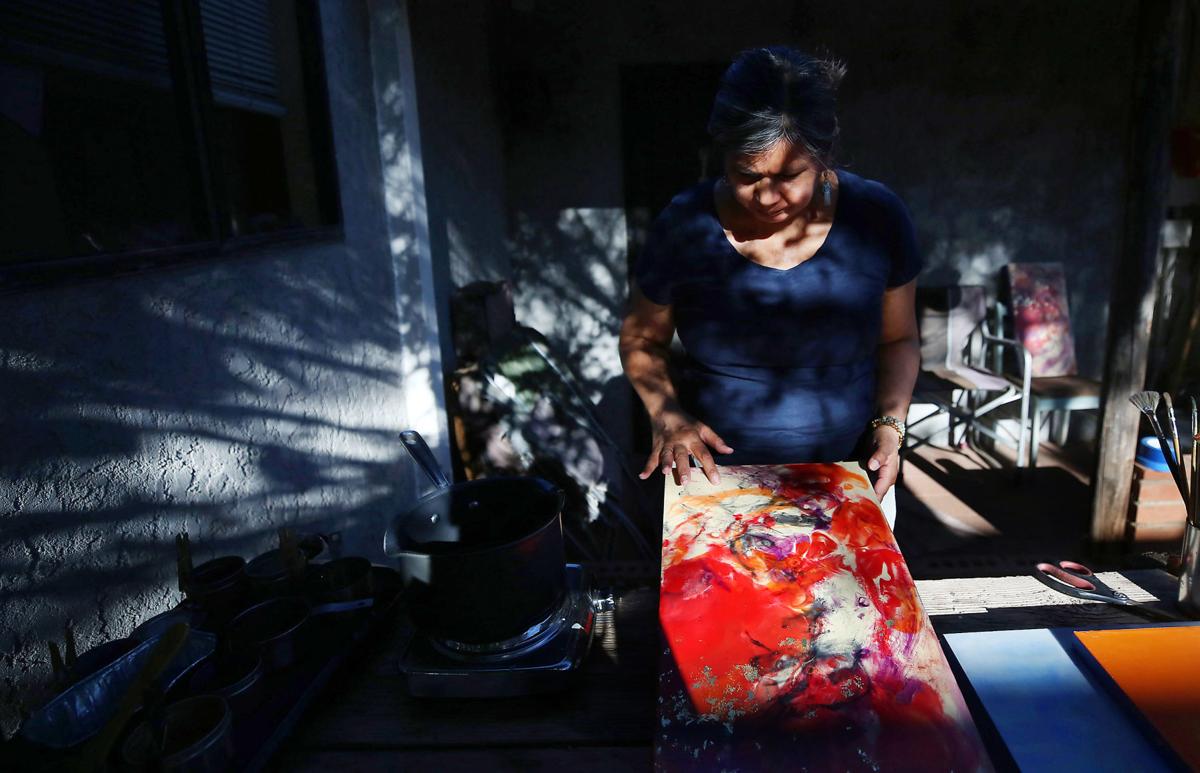 December means gifts — for Christmas (Dec. 25), Hanukkah (Dec. 22-30) and Kwanzaa (Dec. 26-Jan. 1).
And gifts mean wrapping paper.
Have we got some wrapping paper for you, all designed by Tucson artists.
Every day, starting Sunday, Dec. 1, through Thursday, Dec. 12, the Star will reproduce a piece of an artist's work on a full page as part of our 12 Days of Cheer project. Pull it out and wrap your gifts with paper you can't buy in stores.
Each piece will also be available to download and print at the bottom of this article.
Helping us provide these 12 Days of Cheer are the following artists:
Greta Ward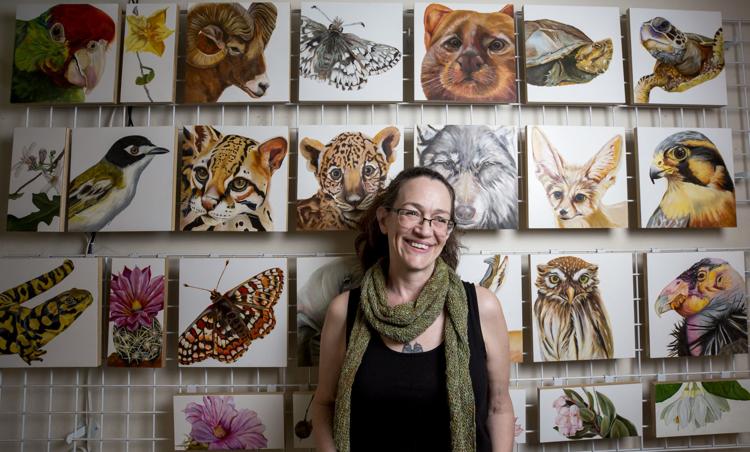 Greta Ward's art is in collections throughout the country. While she works primarily in oil, she also uses cold wax, watercolors, assemblage and even stained glass. "I'm so fascinated by different mediums," she says.
Her style is just as eclectic: abstract, representational and landscapes. Among her subjects are animals, plants, botanicals and people.
Ward, who received a degree in piano performance, has always done visual art. She found that when she began to lose her hearing, it "became my way to communicate with the world."
She is profoundly affected by the environment, and a little more than a year ago it dawned on her how devastating the wall along the border will be to wildlife.
"Their habitat will be destroyed, food sources will be gone," she says.
That prompted her to start a series she calls "Critical Habitat," 12-by-12-inch oil portraits of the endangered animals. She's up to 50 now. There will be an exhibit of the works March 6-April 12 at the Tubac Center for the Arts.
She kicks off the Star's 12 Days of Cheer with "Critical Habitat: Imperiled Wildlife Along the Border," a collection of 15 of the portraits.
Kume Bryant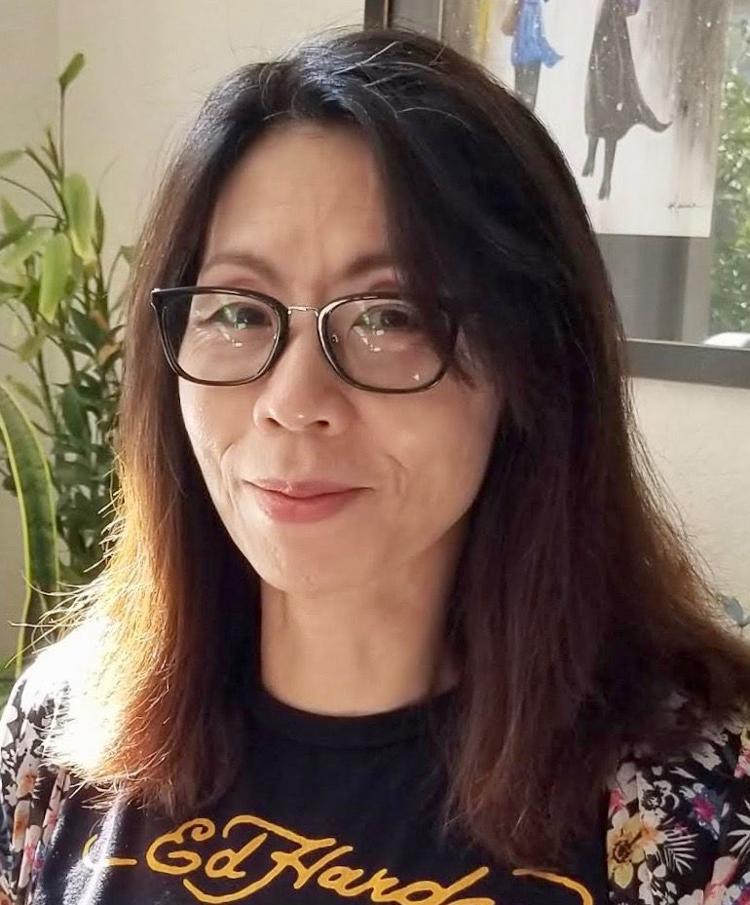 Kume Bryant left a graphic art career behind to paint her nature-inspired abstract acrylics.
Graphic art, she says, "is a job that takes control and precise execution of each project, while fine art can be free and enjoyable without restrictions."
Her goal with every painting: joy.
"I use cheerful colors to create art that resonates with you," she says. "I like my art to be a positive experience."
Bryant's contribution, "Dragonflies Having Fun," is a 30-by-48-inch abstract acrylic painting.
"I love dragonflies because they remind me of my childhood," she says. "My siblings and friends, we played in the sun, chasing dragonflies all through my childhood. Not a care in the world. The dragonflies make my heart happy whenever I see them fluttering around."
Lawrence Lee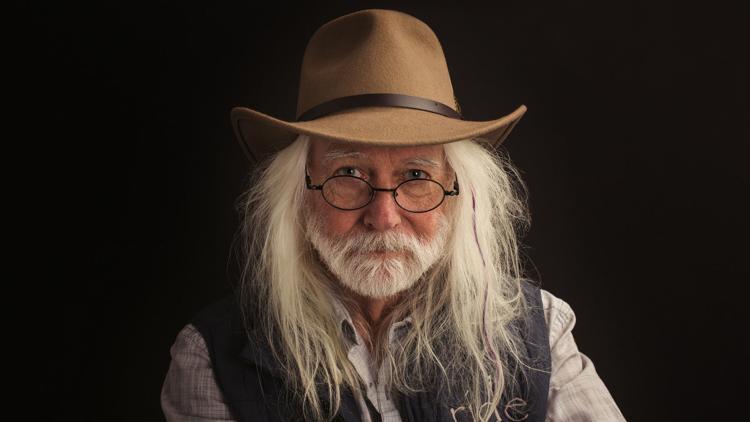 Lawrence Lee has a reputation and following for his powerful shaman paintings, but he switched subjects about four years ago when he returned to landscapes, which he painted early in his career.
"Happily, I soon discovered that lessons learned from painting shamanistic figures for nearly 50 years gave me an entirely new set of approaches to landscapes," he says. "I call them 'unearned memories' because — although they are imaginary — they clearly evoke a sense of my having seen them at some point during the hundreds of hours I've spent driving through the desert southwest."
Lee created "Adagio Dawn," a 24-by-12-inch acrylic, specifically for the Star's 12 Days of Cheer project. Unlike many of his landscapes, this one is based on an actual place.
"I wanted to do something with a wintry feel, and though I've visited Monument Valley several times, I've never painted the rock formations there," he says. "As is often the case, the painting ended up being both less and more than I imagined when I started.
"The formations are fairly accurate in profile, but they became more and more impressionistic as I painted, moving ever further from the reality of the scene and into the separate reality of the painting itself."
Angela Pittenger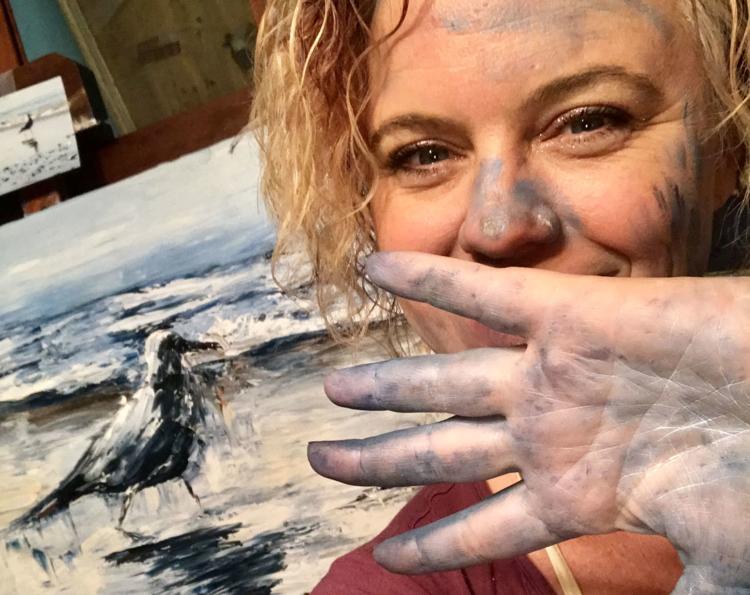 Former Star reporter Angela Pittenger was taught to paint by her grandmother.
"I used to go to painting class with a bunch of old ladies," she says with a laugh.
But it was about 10 years ago that she started painting more seriously. And her grandmother still influences her: She generally eschews a paint brush for a palette knife.
"My grandma always painted with a palette knife," she says. "When she died I got her paint box and there were her knives and some photos she had planned to do."
Pittenger picked up the knife and began paintings of those photos.
"It was a way to connect with grandma," she says.
And she fell in love with the knife. "It's more messy, like life," she says.
She gravitates toward water and sunset scenes, but her wrapping paper, a collage of four oil paintings, is culled from a series of wildflowers she has been working on. "It was sparked by an amazing wildflower season," she says. And she wanted to challenge herself.
"I've always had a hard time painting flowers," she says. "Most of them I scraped off and redid about four times."
Jacqueline Chanda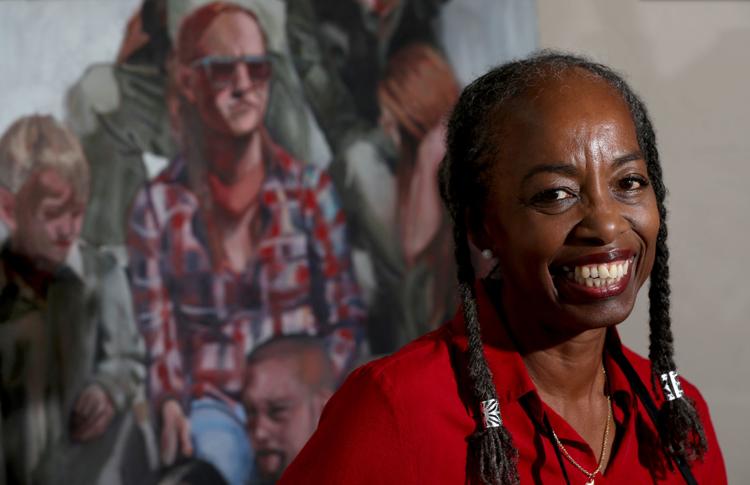 While Jacqueline Chanda studied studio art, she also studied art education and art history, which landed her a career in academia (including a stint at the University of Arizona from 2006-2009). But she longed to return to the canvas.
"Teaching and working in various art departments and colleges of fine arts in university and college settings, I was always drawn to the practicing artist," she says. "I was quite envious of them because in my heart that is what I wanted to be: a practicing artist. So I promised myself that I would become a full-time artist upon leaving the academic circle."
She did that in 2014, studying during a six-week stint in Paris, before moving back to Tucson.
While she does animals, still lifes and landscapes, her real passion lies with figurative work.
"They are about slices of life where people are in motion, engaged with themselves or others," she says. "It is not my intention to idealize society; instead my work addresses itself primarily to the mundane, common world of people, a place where a narrative can be discovered."
Chanda's wrapping paper is a collage of two of her oil pieces inspired by a trip to the Tucson rodeo last year: "Black Beauty," a 30-by-24-inch painting, and "Red Dun Barrel Racer," which is 36-by-24 inches
"The thing that impressed me the most at the rodeo were the barrel racers — their speed and the way they maneuvered the horses to make them complete the cloverleaf pattern around preset barrels."
Jennie Norris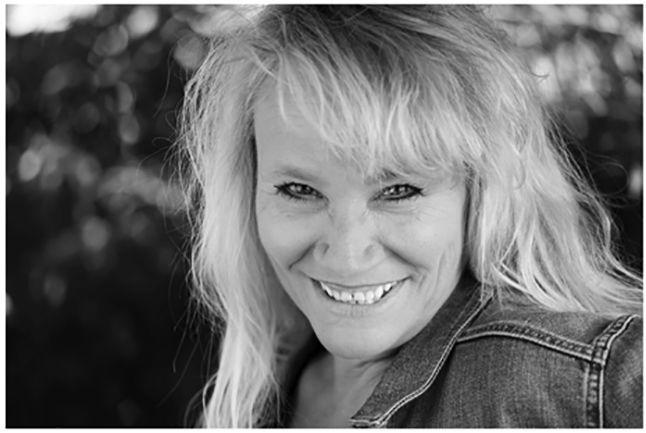 A stint as a volunteer at a raptor rescue center was an ah-ha moment for Jennie Norris.
"When I first started, I didn't know what I wanted to draw," she says. "I started volunteering and it changed everything for me. I loved the birds. It's what I love to draw the most."
Norris, who is a graphic designer at the University of Arizona, works primarily in pencil and liquid graphite when she is creating her fine art. "It's what I'm comfortable with," she says.
But she has dabbled in color and watercolors. You see that in her wrapping paper contribution, "Guardian Spirit," an 18-by-18-inch watercolor of a sleepy owl with a halo around his head.
"I absolutely love portraying animals as saints, especially birds and owls," she says. "I believe we all have guardian angels helping us along. After I painted him I couldn't part with him. It is the only watercolor I haven't sold. He sits in my studio and watches me work. He is definitely my guardian spirit."
David Fitzsimmons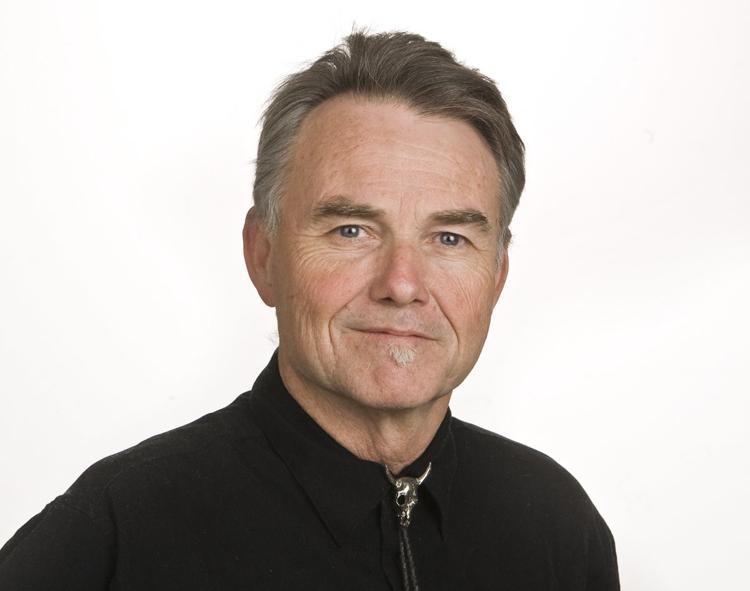 The Star's editorial cartoonist, David Fitzsimmons, doesn't just stick with political cartoons.
The University of Arizona graduate also loves working in his desert garden with his exotic succulents and cacti and doing stand-up comedy.
His work for the paper and on his own often incorporates his irreverent humor.
Take his wrapping paper, for instance. It's packed with woozy quails, smiling saguaros in sunglasses and cow skulls decked out in Christmas ornaments. "I love the desert and yes, the eternally cheerful wise guy quail is a self-portrait."
When he isn't creating visual art, he's dabbling in radio theater. His annual Arroyo Cafe Holiday Radio Show, a hilarious, song-and-comedy-filled extravaganza, will be taped at 1 p.m. Saturday, Dec. 7, in front of a live audience at the Rialto Theatre and will be broadcast on Christmas Eve on Tucson's NPR station, KUAZ-FM 89.1.
Special guests include "Triple Threat", Crystal Stark, Piano man Sly Slipetsky from the Gaslight, former Mayor Jonathan Rothschild, MSNBC Star Frank Figliuzzi, Mayor Regina Romero and musical satirist Mark Russell. If you want tickets, do it quickly: they sell out fast. Tickets are $20 at tucne.ws/arroyocaferadio.
Maria Arvayo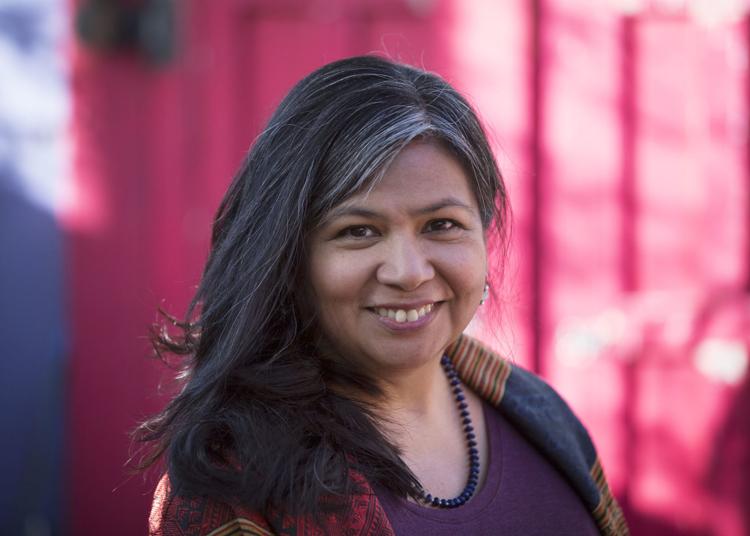 "Art has been a constant companion," says Maria Arvayo, who has a degree in studio art.
You'll find her working in a variety of mediums, but she gravitates toward encaustic paintings (melted beeswax infused with colored pigments).
Encaustic "has such a unique surface and texture," she says. "I love the way the surface glows, and the transparency of the layers."
She is such a fan that she teaches classes in encaustic painting at The Metal Arts Village, where she has her studio.
The Arizona native spent nearly two decades in California before returning to the state.
She finds the country seeps into her abstract and landscape paintings.
"I love the variety of geography and flora in the Southwest, and I find the warm light and colors inspiring," she says.
Arvayo's "Red Bloom," a 24-by-24-inch encaustic with gold leaf, makes for a bright and bold wrapping paper.
"'Red Bloom' is inspired by large red poppy blooms," says Arvayo. "This abstracted image explores the vibrance of the colors as well as the ethereal quality of this beautiful vibrant flower."
Kelly Presnell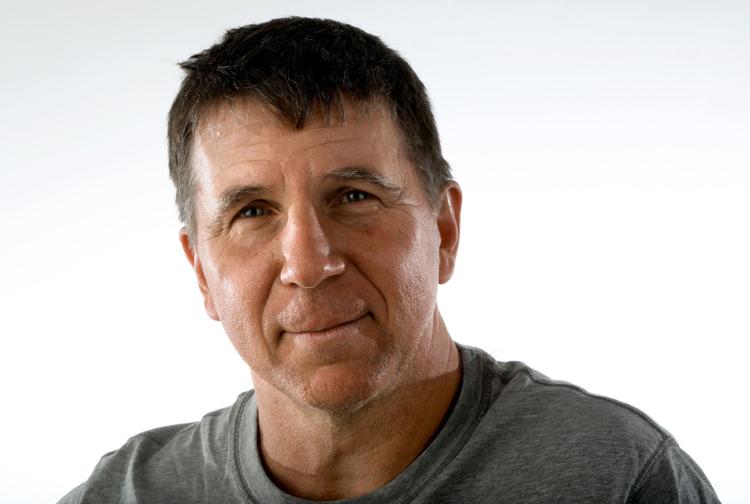 Whether it is a football game, a dance or a breaking news event, Arizona Daily Star photographer Kelly Presnell has a sharp and artistic eye.
Don't take our word for it.
He was named Photographer of the Year by Arizona Newspapers Association's 2019 contest, and was named the 2018 News Photographer of the year by the Arizona Press Club. His honors from multiple photography contests go back years.
Presnell, who has been at the Star since 2003, was studying art in graduate school when he nailed a job as a photographer at a newspaper. He was hooked.
Presnell's contribution to the wrapping paper is a photo he took of a sunset sky seen from Saguaro Park East on June 6, 2018, in Tucson.
Joe Pagac
Joe Pagac is all over Tucson; his murals are, anyway. You can find them around the country, too.
"I've done hundreds of them now," he says. "I'm most known for the big ones around town and the rotating murals on the side of the Rialto theatre."
Pagac put an "artist for hire" ad in the paper when he graduated from college more than a decade ago and business took off.
His works have an irreverence and are packed with humor. It's no surprise that he cites Salvador Dali as one of his main influences.
His wrapping paper: a digital art piece he calls "Ride Wild," a series of desert critters riding bicycles. It's modified from a poster he created and is now on sale at Why I Love Where I Live (whyilovewhereilive.com).
"I love cycling and I love nature, so I have been doing more and more of these cycling desert creatures lately," he says. "This is just a scrambling and winterizing of a scientific-style poster I recently drew up. I was trying to design something I would want to hang on my wall, but I eventually shopped it around and Why I Love Where I Live was cool enough to let me print up copies and sell them in their store."
— Learn more: joepagac.net; price range: $10-$50 per square foot for private murals
Eldon Ward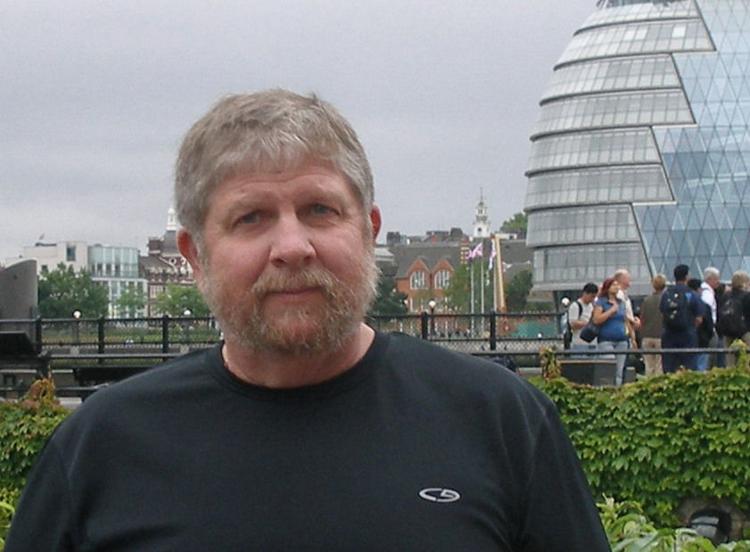 In spite of an art degree, Eldon Ward abandoned painting for 30 years as he worked as an urban design consultant. He returned to it in 2008 with a vengeance.
"My artwork in the 1970s and '80s was almost entirely geometric and non-representational," he says."Clever geometry was more challenging in those pre-computer graphic years. When I returned to artwork in this century, I specifically avoided compositions that would be better done on a computer. I want to create handmade, yet fairly precise, works."
He moved from Fort Collins, Colorado, in 2018, and his new environs are reflected in his art. "I've inevitably been influenced by the local environment and cultures," he says.
Color was and still is central to his work, and you can still see his attraction to geometric forms. His "canvas" is recycled building materials, including panels from salvaged hollow-core doors, and he paints with water-based materials.
Ward's wrapping paper is his "Agave in the Sky with Lizards," a 36-by-36-inch acrylic on panels. It "focuses on an interesting local plant form, takes it out of its 'real world' color and context, and provides a solid framework layer between the plant and sky," he says. "The lizards are mostly for grins, although that does not diminish the fact that this is a better painting because they are there."
Chiara Bautista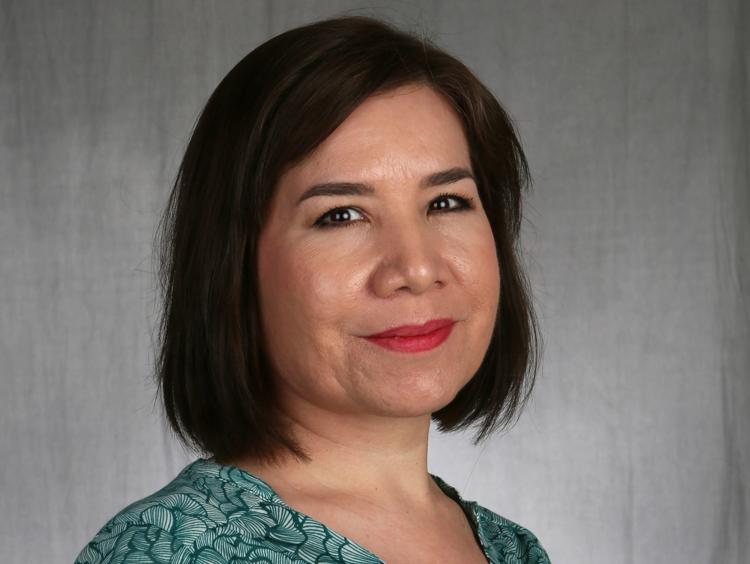 Chiara Bautista is the Star's graphic artist and the creative force behind the wrapping papers that have graced the paper the last few decades.
But it's her illustrations that she does outside of the newspaper that have won her more than 700,000 fans on Facebook. Her pieces are full of fantasy-inspired characters and tell a story.
Her wrapping paper is packed with desert cacti and other plants, all screaming holiday cheer.
"I've lost count of how many wrapping paper designs I've created for the Arizona Daily Star through the years, but I always enjoy it like it was the first time," says Bautista. "Desert plants are the main elements of my design, combined with Christmas ornaments, which creates a fun contrast between the typical 'white Christmas' and the warmer holidays Tucsonans enjoy."
Kathleen Allen covered the arts for the Star for more than 20 years.