For the first time in 23 years, Geoffrey Notkin isn't gearing up for Tucson's massive gem showcase.
Notkin, owner of meteorite company Aerolite Meteorites, started attending the gem show first as a visitor and enthusiast.
The showcase made him "utterly smitten with Tucson," eventually leading him to move from New York to Tucson in 2004.
"For me, Tucson is inexplicably linked with the gem show," he says. "Even when the gem show isn't running, I'll drive down I-10 and say, 'That's where the fossil guys are.' In my head, the map of Tucson is built around the gem show."

But this year is different. Many shows in Tucson's Gem, Mineral and Fossil Showcase, which would normally be happening right about now, have postponed until April.
Lucky for Tucsonans, though, the Old Pueblo is filled with year-round shops that can help fill the void of this winter's missing event, which draws thousands from around the world in search of gems, minerals, fossils, jewelry and other interesting finds.
Arizona Lapidary and Gem Rough
Linus and Lesli Keating dub their shop, Arizona Lapidary and Gem Rough, "Tucson's year-round gem show."
Their venture started on eBay in 2005 — eventually taking over a closet, leading the Keatings to open a location on Pima Street and later a larger space on Broadway, where the shop currently sits.
"I've wanted to have a gem shop since I was about 5 years old," says Linus Keating, a University of Arizona graduate who has his doctorate in geology. "And Lesli's family has a mining background, and she liked to go out digging."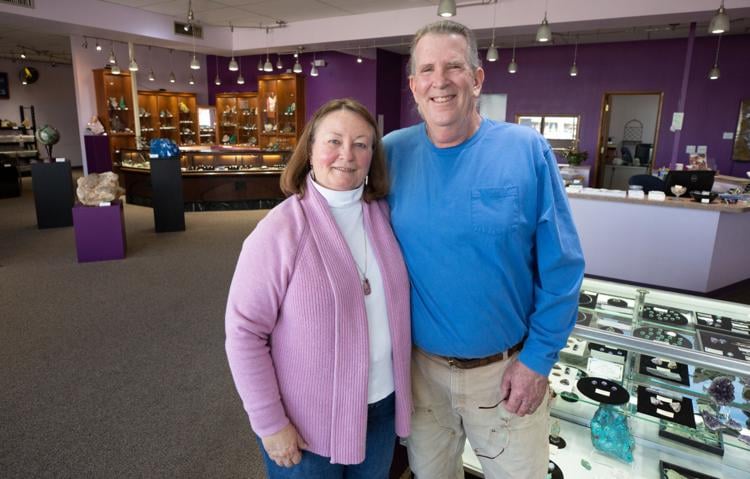 Though the shop puts an emphasis on local items such as handcrafted jewelry made by artist John Poole, Arizona Lapidary also sells rough rock that comes from all over the world. Also in the shop: cabochons, mineral specimens and a selection of metaphysical products.
"The beauty that comes out of the Earth — it's just astounding. It's amazing," says Tucson native Lesli Keating. "We get a lot of people who come in here, and they don't know about rocks and they're just like, 'Wow, this comes out of the Earth? This is natural?' "
DAH Rock Shop
Mike Davis took over his stepfather's rock shop — which has been around since 1972 — about 35 years ago.
"I had no idea what rocks were when I got here. I had no idea what this was," Davis says. "I had to study from Day 1."
His stepfather, though, was a mining engineer and loved rocks and minerals, starting DAH Rock Shop as a hobby shop in a Quonset hut.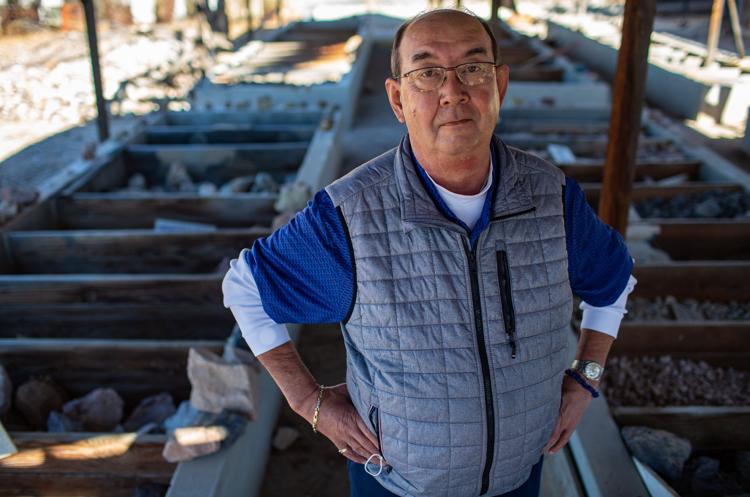 "It was a hobby shop, but then I said, 'Come on, let's make it into a business,' " Davis says, eventually expanding the shop to what it is now.
Davis, who grew up in Japan and lived in California before moving to Tucson, also changed the name of the shop — which was then called Discount Agate House. But Davis kept the acronym, which also happens to be used as "the" in Hawaii.
The shop feels like a mini gem show — from the pyrite and rose quartz sitting on shelves to the fossilized coral and oysters. There's also jewelry, an outdoor lapidary and finds such as Himalayan salt lamps.
"We're really happy to be here," Davis says. "We know people that came here when they were small, and now they come with their kids who are small."
Tucson Mineral and Gem World
When Richard Ratkevich was about 10 years old, his dad had a rock shop in the basement of their Long Island home.
The family eventually moved to Tucson, where Richard Ratkevich's dad — Peter Ratkevich — opened Tucson Mineral and Gem World in what used to be a house.
Richard Ratkevich took over the family business — which has now stood for 57 years — about 30 years ago, after his dad died.
Richard Ratkevich says he always has had an interest in natural science — from working at a museum to digging for fossils in Wyoming as a high schooler.
"We've never, for any extended length of time, not been around natural science," Richard Ratkevich says of himself and his brother.
"It's the love of nature," Richard Ratkevich says. "It's fun. You're looking at something, and it's real."
Tucson Mineral and Gem World sells everything from aragonite and malachite to necklace pendants to dinosaur teeth to geodes — big and small, inexpensive and more pricy.
Spirits Child Metaphysical Gift Shop
When Aitreyia Reifsnyder opened Spirits Child in 2002, her goal was to create a space for people to get away from the world, complete with a meditation room for visitors to unwind.
Spirits Child focuses on metaphysics with an emphasis on people's health and wellbeing. The shop hosts events and classes such as discussions about planetary effects on our energies, energy grids with crystals, meditation and tarot.
The shop sells crystals, jewelry, incense and other natural products.
Reifsnyder says she gets to know her vendors personally — many of which are local or small, she says.
But more than anything, Reifsnyder hopes Spirits Child is a "respite place" for Tucsonans.
"To us, it's not about 'let me sell you something,' " Reifsnyder says. "It's about 'here, let me help you feel better.' "
Aerolite Meteorites
Geoffrey Notkin has been involved in the meteorite world for about 25 years as a collector, hunter, writer and host of "Meteorite Men," a TV show that aired in all seven continents.
It all began when Notkin was a kid in London who loved to visit a geological museum. He was fascinated by the fossils and gems, but the "whole allure was always the meteorites," he says.
"I found it utterly astonishing you could see — in real life — these rocks that had journeyed here from outer space," he says. "I have always tried to share that experience with others."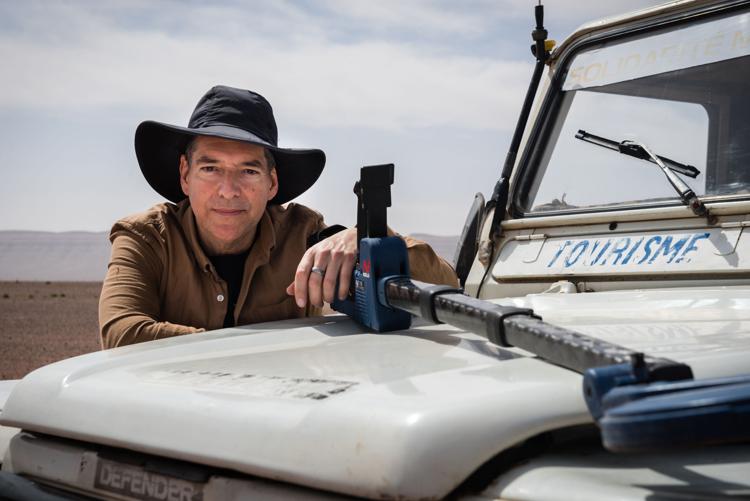 Notkin started Aerolite Meteorites in Tucson in the early 2000s as a way to generate funds to cover the costs of meteorite expeditions and research.
Aerolite Meteorites sells and trades meteorites of all types, in addition to meteorite jewelry, knives, cuff links and other finds.
"Typically, in many people's minds, there is this idea that meteorites are unaffordable, and only scientists would have them," he says. "I wanted to change that perspective."
While the business does sell high-end meteorites, Notkin says he also wanted to offer meteorites for as low as $10.
"When I was a kid, I dreamed of having a meteorite — and it was not possible for me to get one," he says. "I wanted to make the dream that I had come true for other kids."
Notkin, who also has an art background, says he also wanted to improve the "visual perception of the field."
"I want to accurately present the wonder of this collectible to people and share this fascination I have in a sophisticated way," he says.
Although Notkin, who is also active in the space flight world, won't have the gem show experience this winter, Meteorites will be hosting a series of virtual events in February. Visit facebook.com/AeroliteMeteorites for details.
Tucson Turquoise
In 1990, Dwight and Christy Schannep opened an antique shop, later attempting to join one of Tucson's antique malls.
"We went to join, but there was a two-year waiting list," Dwight Schannep says.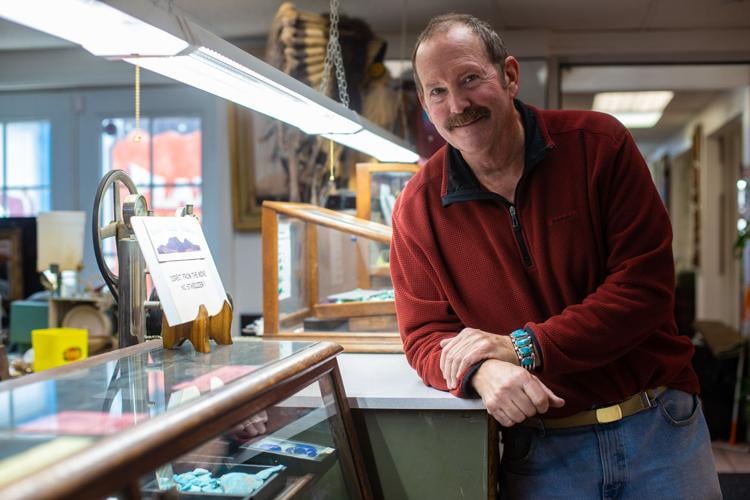 Instead of waiting, the couple opened an antique mall of their own — American Antique Mall.
The mall is home to Tucson Turquoise, which the Schanneps also own. The store sells all kinds of turquoise from Arizona, Nevada, Colorado and Mexico. In addition to rough rock, there are cabochons and turquoise jewelry — and lots of vintage finds.
"When I grew up, I collected rocks, and my family always thought I was going to be a geologist," Dwight Schannep says. "It's kinda like gold fever. People can't get enough of it. I'm kinda like that with turquoise."
BeadHoliday
David Smith remembers his first bead experience.
"We were poor, and (my mom) liked to travel," says Smith, owner of bead store BeadHoliday. "We would camp up the coast of California and go from campground to campground to campground. She had three kids with her and she had to keep us busy.
"So we went into a bead store in like 1974," he says. "She probably thought, 'I can keep these kids busy for like $3.'"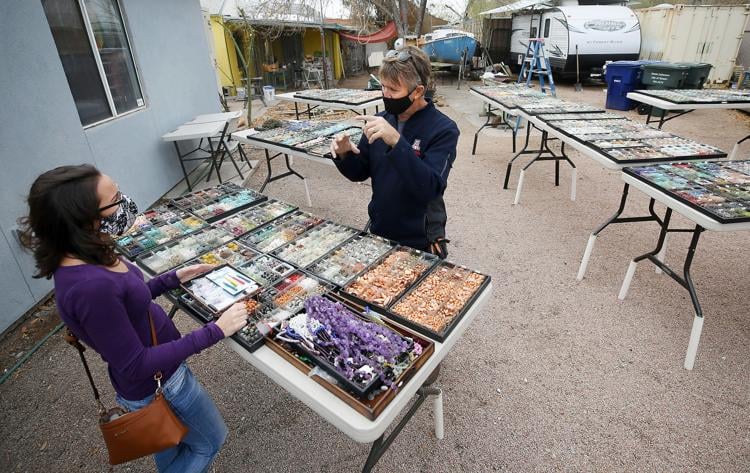 Smith created a necklace with the beads he selected.
"Now, just to look back and see what I had on my neck and where it's from and the history of it, it's kinda like going full circle," he says.
When Smith started selling beads 26 years ago, he traveled in a camper, selling to stores in 42 states.
"That was pre-internet," he says. "So, I would stop at a library, and they would have a rack of Yellow Pages for all over the country. I would look on the map and say, 'OK, I'm headed into Georgia,' and find all the pages along my route and look up (bead stores). And I couldn't take a picture with my cell phone, so I had to write them down, then go to a pay phone to call them."
Smith, an Arizona native, eventually stopped traveling and decided to open a retail store. He estimates that BeadHoliday sells around 40,000 unique items from around the world, from vintage beads to beading supplies — even interesting finds like Boyz II Men pendants.
"To me, that's my art — to find that amazing bead and curate this amazing collection," Smith says.
Little Toro Designs
Tawney Weir started jewelry business Little Toro Designs in 2013 when local art markets opened her eyes to the "possibilities of making a living at this craft," she said in an email.
Weir works mostly with metal, handcrafting and selling bracelets, earrings, rings and necklaces.
"My style of taking simple shapes but ramping the design up with size and color, I would describe as minimal maximalism," Weir says.
Weir finds herself inspired by the desert — "I think it's difficult to live and create here and not somehow be influenced," she says.
"But I also find the cultural fabric of our community to be equally inspiring," she says, adding that modern art and design is also a source of inspiration.
Mac's Indian Jewelry
In the 1970s, Mac and Karen McPherson started selling Native American jewelry at the Tanque Verde Swap Meet, leading them to eventually open a brick-and-mortar shop.
The majority of the jewelry sold at Mac's Indian Jewelry is handcrafted in Arizona or New Mexico by Indigenous artists.
The jewelry selection ranges from rings and bracelets to belt buckles and watch bands. But the shop sells more earrings than anything else.
"Everywhere I go — Sedona or Scottsdale or Tucson or Tubac — Native American jewelry is everywhere," says Mac and Karen McPherson's son Shane McPherson, who now owns Mac's Indian Jewelry.
"I think of the Southwest, and I think of Native American jewelry — and cactus."
Photos of the Tucson Gem, Mineral, and Fossil Showcase through the years
Tucson Gem, Mineral, and Fossil Showcase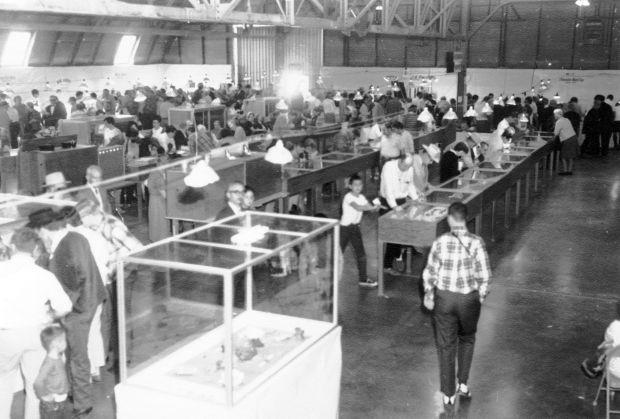 Tucson Gem, Mineral, and Fossil Showcase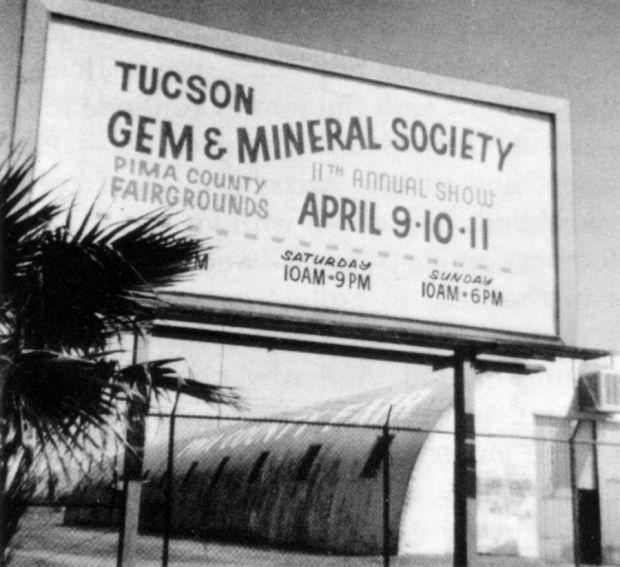 Tucson Gem, Mineral, and Fossil Showcase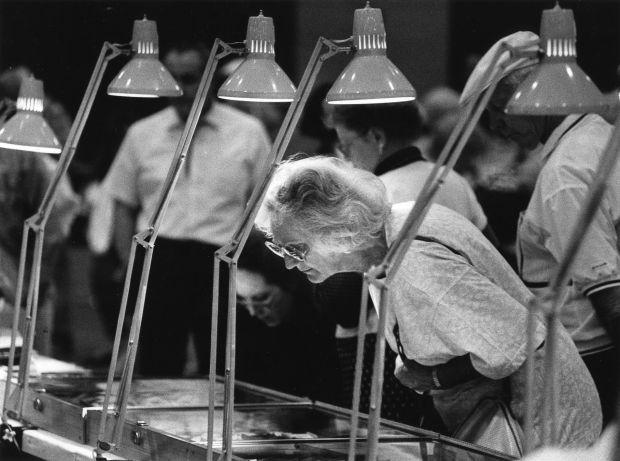 Tucson Gem, Mineral, and Fossil Showcase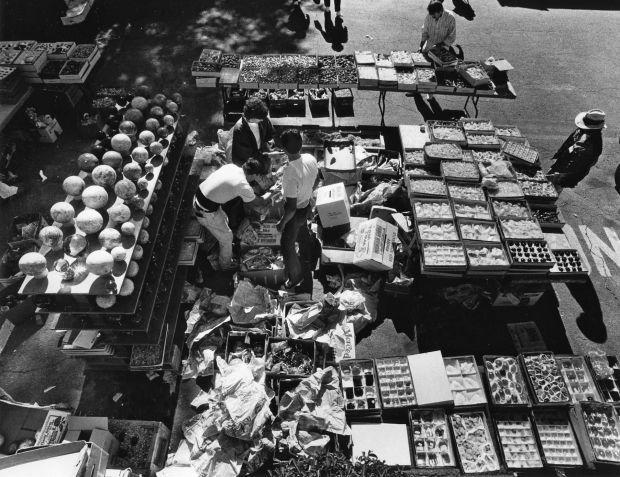 Tucson Gem, Mineral, and Fossil Showcase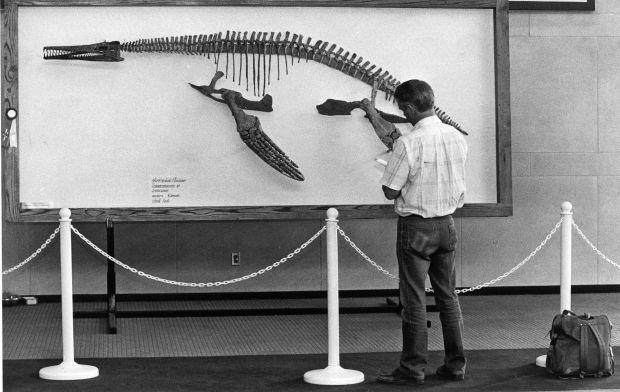 Tucson Gem, Mineral, and Fossil Showcase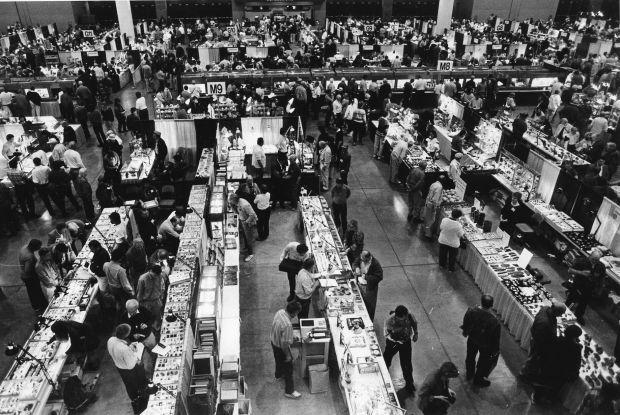 Tucson Gem, Mineral, and Fossil Showcase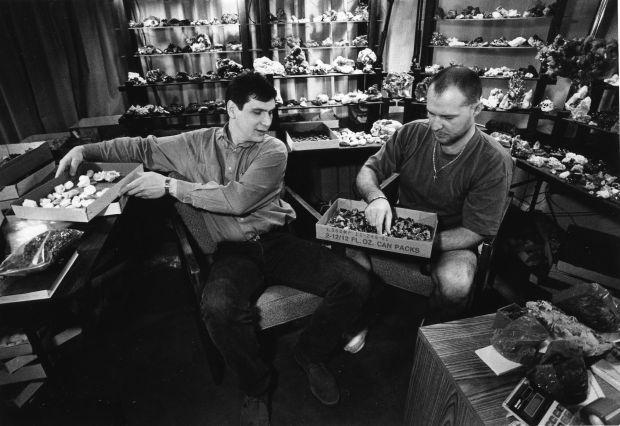 Tucson Gem, Mineral, and Fossil Showcase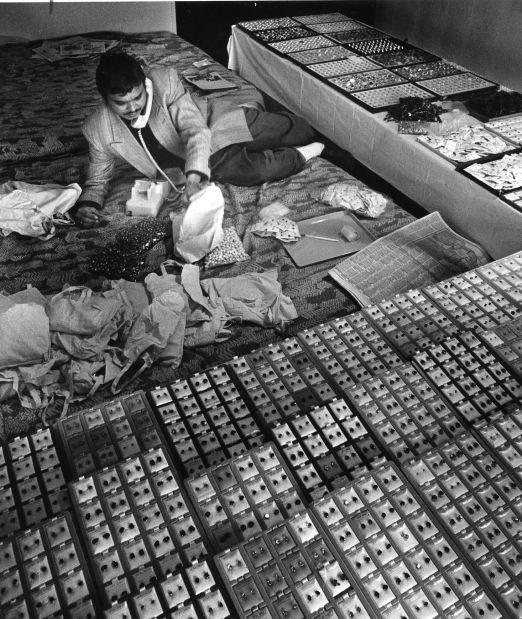 Tucson Gem, Mineral, and Fossil Showcase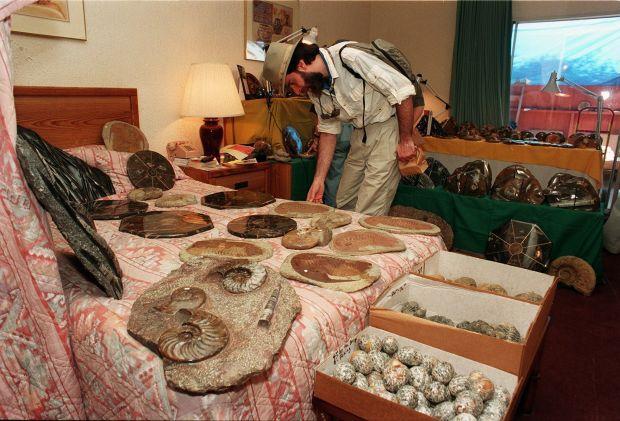 Tucson Gem, Mineral, and Fossil Showcase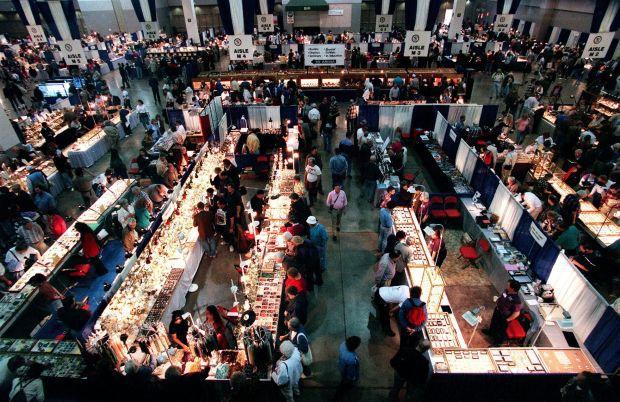 Tucson Gem, Mineral, and Fossil Showcase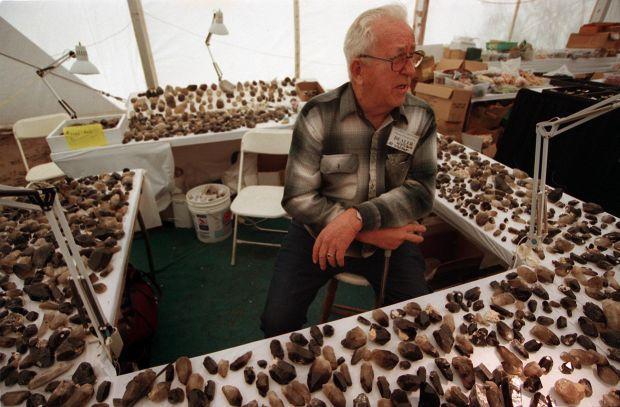 Tucson Gem, Mineral, and Fossil Showcase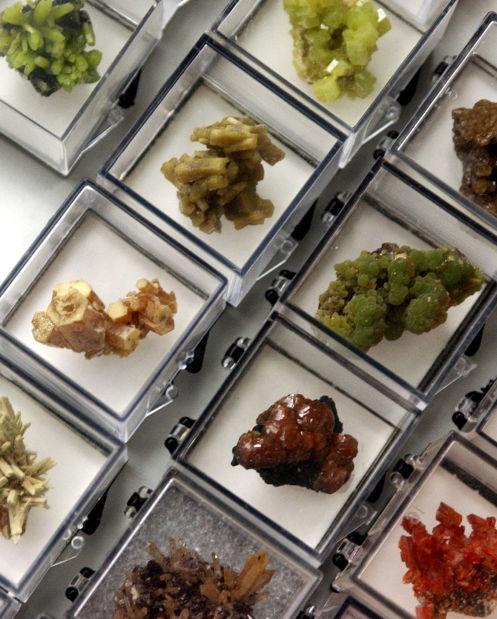 Tucson Gem, Mineral, and Fossil Showcase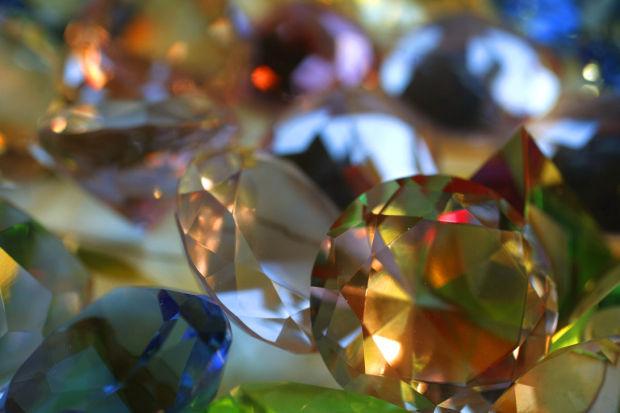 Tucson Gem, Mineral, and Fossil Showcase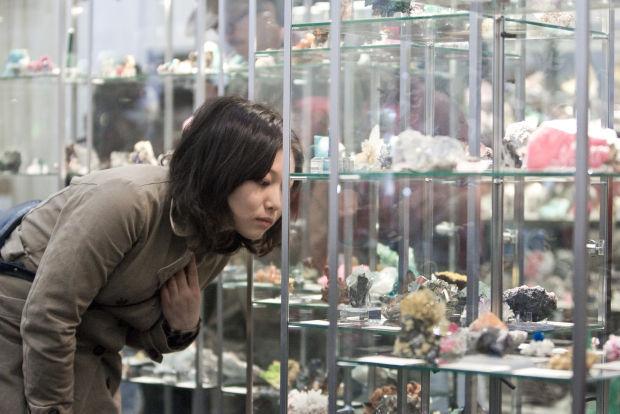 Tucson Gem, Mineral, and Fossil Showcase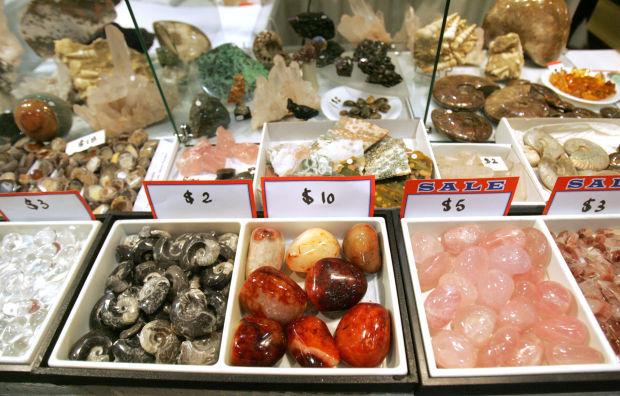 Tucson Gem, Mineral, and Fossil Showcase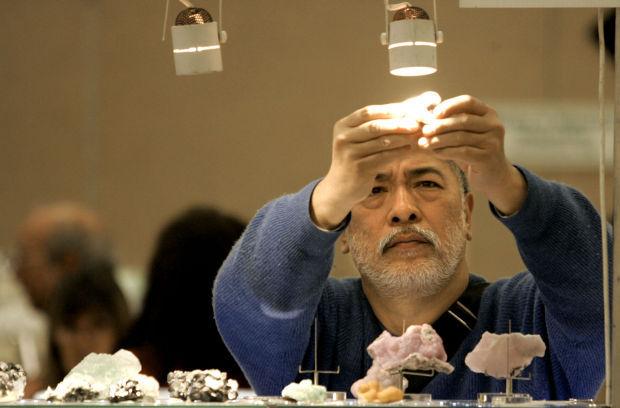 Tucson Gem, Mineral, and Fossil Showcase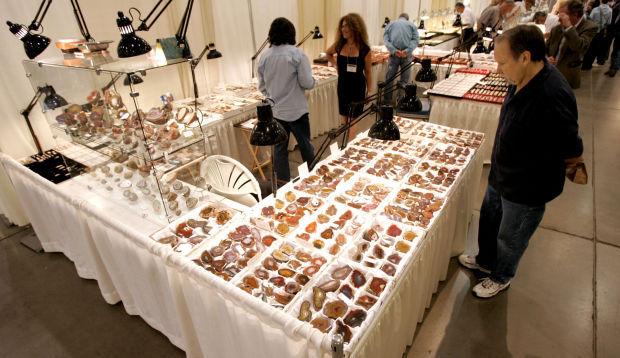 Tucson Gem, Mineral, and Fossil Showcase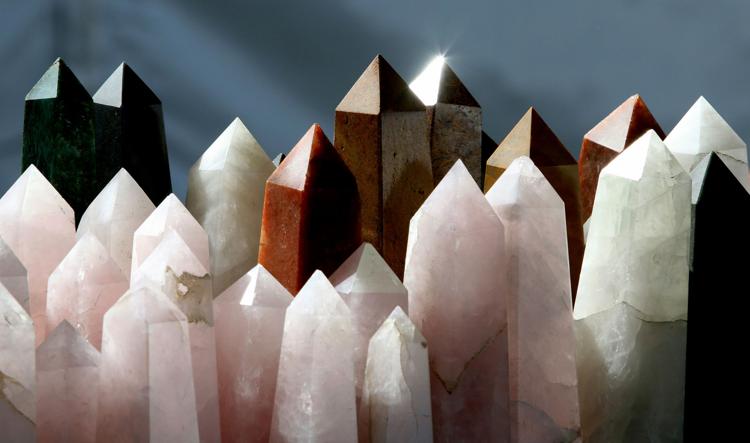 Tucson Gem, Mineral, and Fossil Showcase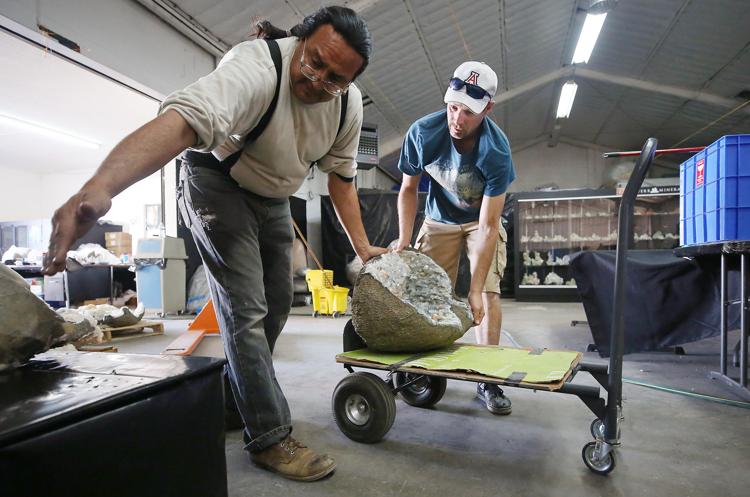 Tucson Gem, Mineral, and Fossil Showcase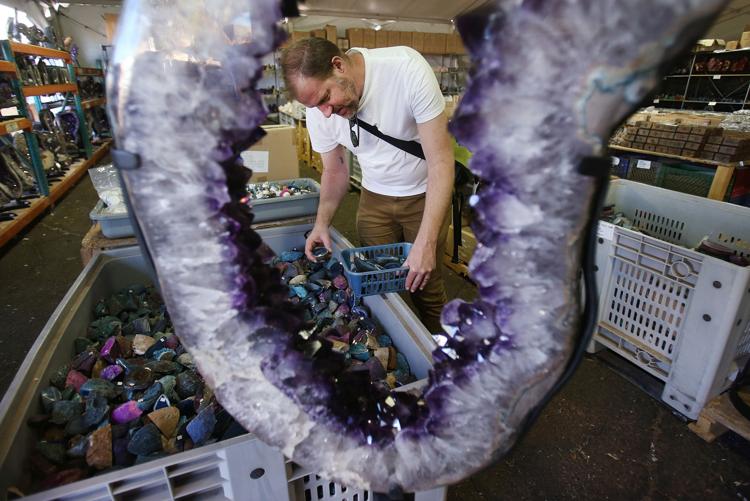 Tucson Gem, Mineral, and Fossil Showcase
Tucson Gem, Mineral, and Fossil Showcase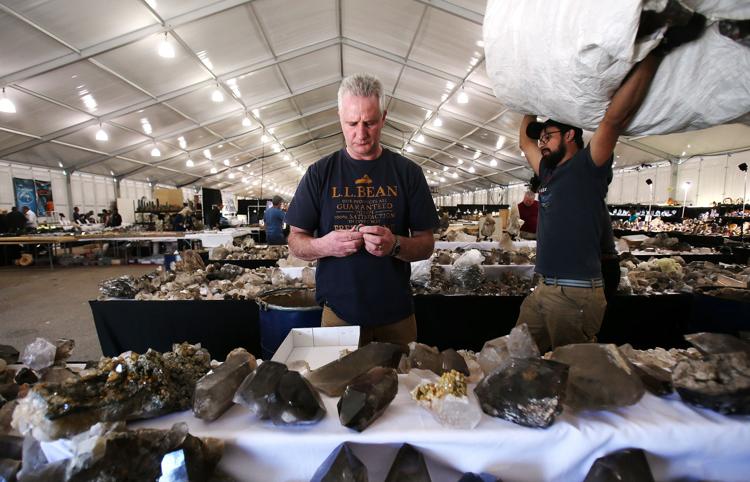 Tucson Gem, Mineral, and Fossil Showcase
Tucson Gem, Mineral, and Fossil Showcase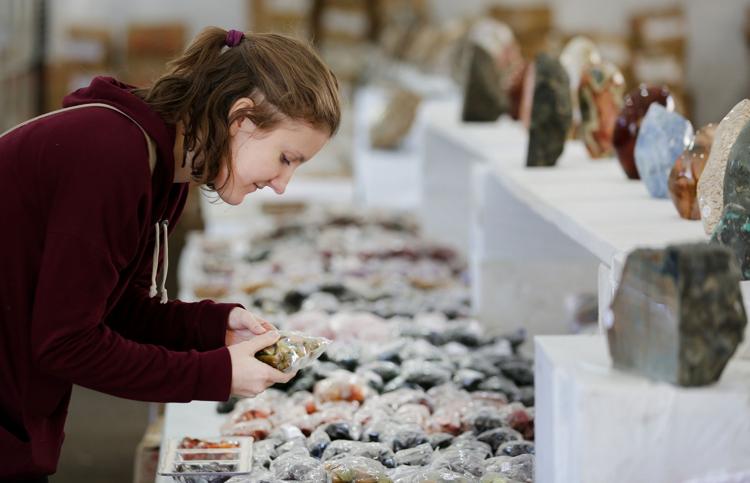 Tucson Gem, Mineral, and Fossil Showcase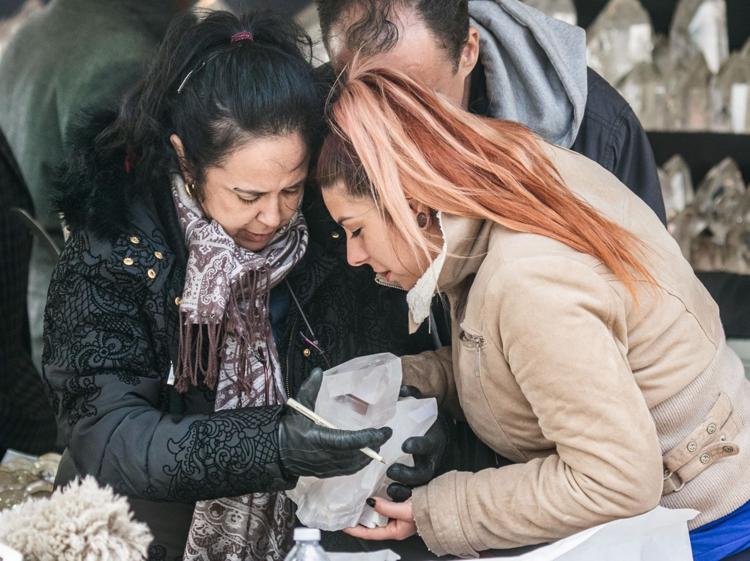 Tucson Gem, Mineral, and Fossil Showcase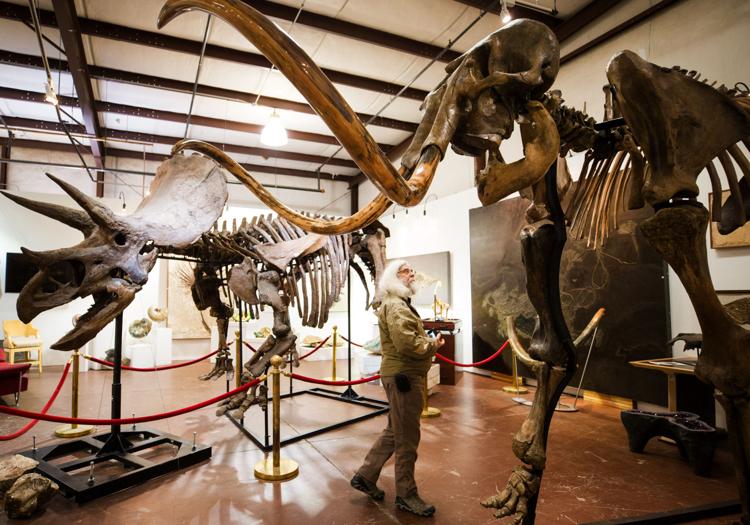 Tucson Gem, Mineral, and Fossil Showcase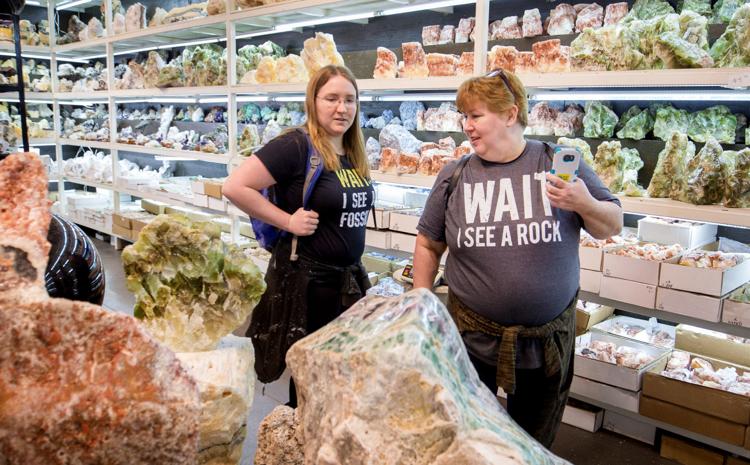 Contact reporter Gloria Knott at gknott@tucson.com or 573-4235. On Twitter: @gloriaeknott