Craft beer lovers on the northwest side don't have to hop on the freeway to explore Tucson's growing obsession with homegrown brews.
In the past couple years, Marana has started carving out its own beer identity. The town of roughly 45,000 has welcomed two breweries and four taprooms; next year its getting an outpost of the beer-centric burger and pizza joint Serial Grillers in a new plaza being built off Interstate 10 and Cortaro Farms Road.
Here's a roadmap to our own version of Beer Town, in alphabetical order: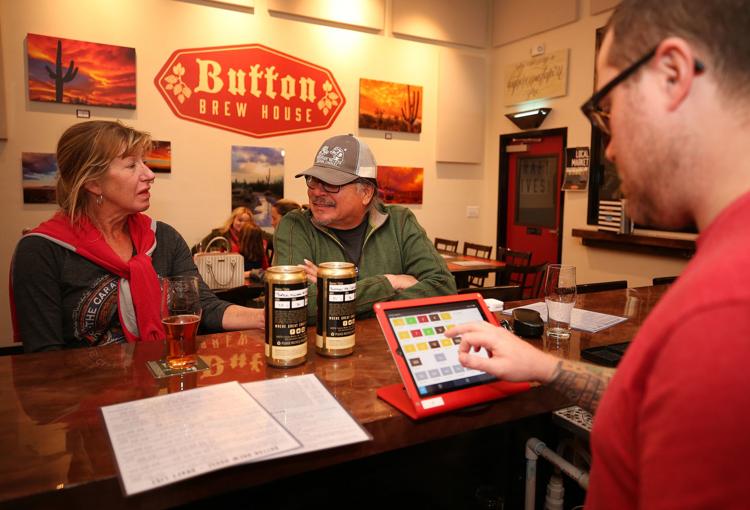 BUTTON BREW HOUSE
Hours: 3 to 8 p.m. Mondays, Tuesdays and Thursdays; 1 to 6 p.m. Wednesdays; 2 to 10 p.m. Fridays; noon to 10 p.m. Saturdays; and 11 a.m. to 6 p.m. Sundays.
About them: In the roughly 14 months since husband-and-wife Todd and Erika Button opened their microbrewery, they have found some far-flung homes for their inventive brews. You can get Button on tap at dozens of restaurants and taprooms in Tucson and Phoenix, and in cans at retailers including 10 Total Wine & More stores around the state, two of them in Tucson. By Erika Button's count, they are up to 50 spots and growing, propelled in part by a couple key local blind-taste test competitions that honored Button's house IPA, its All Souls Stout and full-bodied dark beer One Helluva Caucasian, inspired by the cult film "The Big Lebowski."
"Button IPA is our best seller," Button said, ticking off a list of ingredients that her brewmaster husband has employed in their beers including the super spicy Sonoran chiles used in their Chiltepin Red Ale. "We just have fun with our beers and try to make really good beer. We're doing it."
On tap: They have 14 beers on tap including the blonde ale Tucson Traveler; Gosler, their German style sour ale; Darth Muerto, their double black IPA; and Tropical Monsoon #5, an India pale ale crafted in the classic northeast style with a mild bitterness balanced by a medium body. They also play mix-and-match, blending several varieties including the All Souls Stout with the Chiltepin Red to create Sonoran Hot Chocolate.
Bites: Food trucks are regular visitors to the brewery.
Where: 3830 W. River Road, at the corner of West Orange Grove Road, 441-9943; capsandcorksaz.com
Hours: Noon to 10 p.m. Mondays, Wednesdays and Thursdays; noon to midnight Fridays and Saturdays; 10 a.m. to 8 p.m. Sundays; closed Tuesdays.
About them: Two brothers — Ty and Tad Hammett — and their wives — Elyse and Dulce, respectively — loved beer so much that they decided to turn it into a family business. Initially, Elyse recalled, they imagined opening a brewery — Ty's a pretty terrific home-brewer — but that's a big leap. So they took baby steps and opened Caps & Corks taproom in late September in a strip plaza that's home to Sprouts market and a mix of national retail outposts, medical offices and fast-food joints. They quickly found an enthusiastic audience.
"Everyone that has come in has been extremely excited that we're here," Elyse said. "They are excited that there is something this close to their homes."
In addition to beer, Caps & Corks also hosts live music several nights a week and a weekly trivia night on Wednesdays.
On tap: They have 25 taps pouring brews from Tucson's own 1912 Brewing Co., Button Brew House, Borderlands Brewing Co., Pueblo Vida Brewing Co. and Crooked Tooth Brewing Co.
Bites: Some of Tucson's most popular food trucks pull into the parking lot four nights a week. There also are a couple fast-food restaurants in the plaza.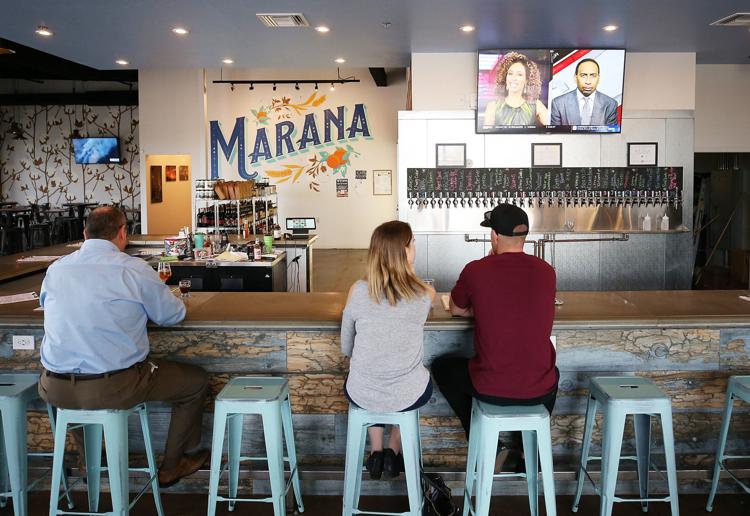 CASA MARANA
Where: 8225 N. Courtney Page Way, off Interstate10 and Cortaro Road, 505-4870; casamarana.com
Hours: 1 to 11 p.m. Mondays through Thursdays; 1 p.m. to 1 a.m. Fridays and Saturdays; 1 to 10 p.m. Sundays.
About them: Owner Kyle Schwab opened Casa Marana in late June in a spot that anchors a retail plaza off Interstate 10 and Cortaro Road that includes Native Wings and Grill, Nana's Mexican restaurant and Sushi Cortaro. The taproom was Schwab's maiden solo venture after he helped his mother and uncle open Casa Film Bar inside the family's longtime Casa Video store on East Speedway.
"The people in the area have really taken to it," said Schwab. "It's a perfect fit."
On tap: Tucson breweries make a strong showing among the 33 beers on tap including 1912 Brewing Co., Crooked Tooth, Catalina Brewing Co. and Dragoon. Several California microbreweries also make the cut including Mason Ale Works out of Oceanside and San Diego's Belching Beaver Brewery.
Bites: Located in a plaza with three restaurants, Casa Marana encourages people to carry in. They also have food trucks pull into their parking lot Wednesday through Saturday nights.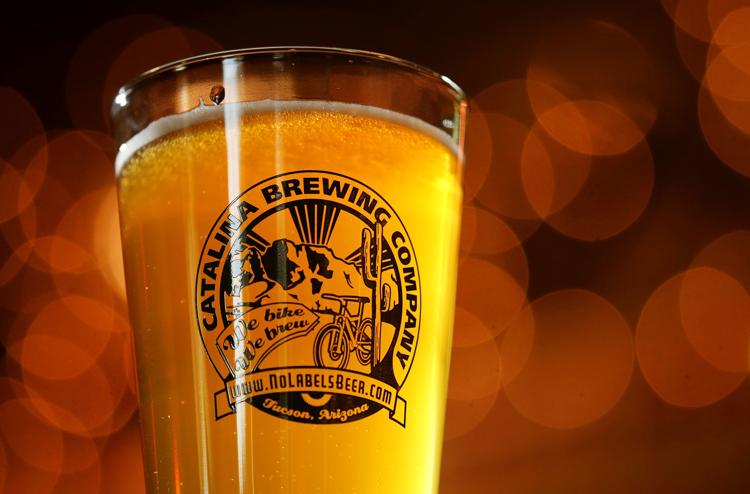 CATALINA BREWING
Hours: 4 to 8 p.m. Mondays; 4 to to 9 p.m. Tuesdays through Thursdays; 2 to 10 p.m. Fridays; noon to 10 p.m. Saturdays; and 11 a.m. to 5 p.m. Sundays.
About them: Buddies and avid cyclists Brian Vance and Hank Rowe were sitting around a campfire drinking some of Rowe's home-brewed beer. It was about 2 in the morning and Vance recalls thinking, "Man, that's a god beer."
Campfire talk turned into a "what if" conversation, then some serious outreach to investors and a search for a location. Three years ago, Rowe and Vance started brewing in their industrial park brewery. It's been a rocky journey at times with the road construction on Interstate 10 and West Ina Road. But Vance said fans of the beer, many of them cyclists, manage to find their way around the closed roads — usually cutting through Cortaro Farms Road or West Orange Grove then shooting down North Thornydale Road to Ina.
On tap: You can find 10 beers on tap on any given day, rotating between 24 recipes that Rowe curates in small batches incorporating local flavors including mesquite agave, agave sugar, prickly pear fruit and pecans. Their beers also are distributed to a dozen or more local restaurants and taprooms including Growler's USA in Oro Valley, Caps & Corks and Saguaro Corners. One of their most popular beers is their 0200 IPA, the same beer Vance and Rowe were drinking around the campfire.
Bites: Food trucks routinely park in the lot and customers are invited to bring in their own carry out from a variety of nearby restaurants.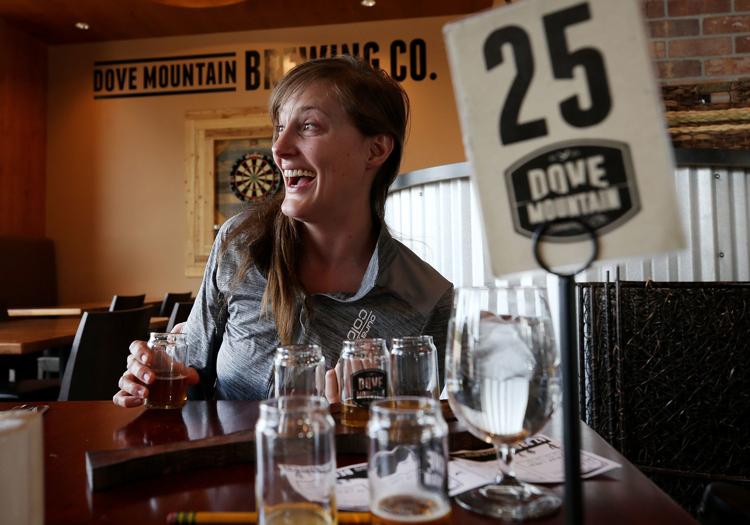 DOVE MOUNTAIN BREWING CO.
Hours: 11 a.m. to 10 p.m. daily.
About them: In fall 2016, owner Kinney Johnson ditched his Mexican restaurant concept Lo Esencial and launched the brewpub Dove Mountain Brewing Co. Before Lo Esencial, which he ran for three years, Johnson ran Dove Mountain Grill out of the space for nearly five years.
"We only serve Arizona beer," said Executive Chef and General Manager Erik Savin. "We think we have the only place like that in (the greater Tucson area). We view ourselves as an opportunity to taste all these beers before you drive out to all the breweries themselves and experience their taprooms."
On tap: They take Tucson craft beer seriously. The taproom's stated mission: to seek out "the tastiest, most diverse LOCAL beers we can find," even ones that aren't on anyone's radar. Among the 36 taps: 1912 Brewing Co., Barrio Brewing Co., Borderlands Brewing Co., Button Brew House, Catalina Brewing Company, Crooked Tooth Brewing Company, Dillinger Brewing Co., Dragoon Brewing Co., Sentinel Peak Brewing Company, Ten Fifty-Five Brewing and Thunder Canyon Brewery. They also serve several beers from breweries in Flagstaff and the Phoenix area.
Bites: The brewpub dinner menu focuses mostly on sandwiches, burgers and bar snacks, but they chef it up with a slightly spicy cajun shrimp pasta, braised beef short ribs and pan-seared salmon.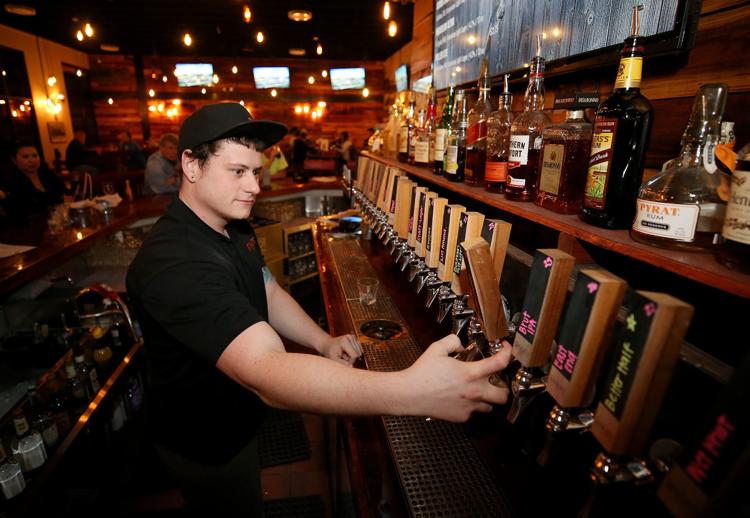 GROWLER'S TAPHOUSE
Hours: 11:30 a.m. to 10 p.m. Sundays through Thursdays, until 1 a.m Fridays and Saturdays.
About them: The family-run restaurant taproom opened in August 2017 after an extensive buildout of the 3,000-square-foot space that included hand-crafting the tall tables and bar stools and laying the penny floors in the restrooms coin by coin.
In the year since they opened, they've attracted a core group of regulars who defy the owners' initial thinking that their demographic would skew 30 to 50. Soon after they opened, they realized that craft beer has no age limit and doesn't fit into any socioeconomic box.
"They are all walks of life," said Dawn McMillan, who owns Growler's with husband Lee Fabrizio and son Dustin McMillan, who runs the taproom. "I think that we've been welcomed and well-received. We have customers who are cowboys, businesspeople. We're hosting a bike night."
On tap: Thirty craft beers mostly from Arizona breweries including Tucson's own Crooked Tooth; Historic Brewing Co. and Mother Road Brewing Co., both out of Flagstaff; Four Peaks from Tempe; Lake Havasu's College Street and Mudshark Brewery; Prescott Brewing Co. from Prescott; and Scottsdale's Scottsdale Beer Co.
Bites: Growler's has a scratch kitchen with a full menu of sandwiches, meal-sized salads, bar snacks and entrees including smoked ribs. They also have a kids menu.