In December, much of the country is buried in snow and hunkered down for the holidays beside a warm fire in their homes.
We do things differently out here.
Come December, we have luminarias in abundance, snow gently falling in a shopping mall and goodies flying out of burst pinatas.
So, leave the heavy jacket at home, gather up some cheer, and indulge in the holiday season Tucson-style:
Lighten up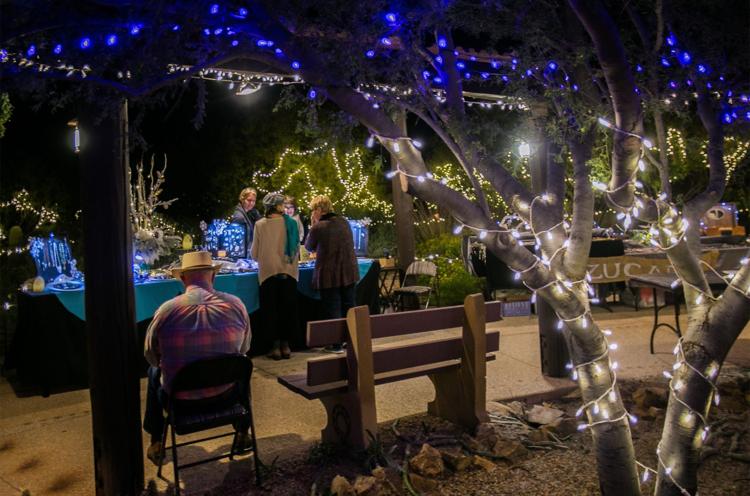 The folks at Tohono Chul Park claim to have a million twinkling lights brightening up the annual Holiday Nights, and that's not hyperbole says the park's Jo Fall. "We have hundreds and hundreds of strings, and hundreds of thousands of lights," she says. "Very close to a million." The lights wind around the trees year-round, though it's December when most are aglow. Staff stays busy making sure pack rats haven't chewed through cords, but it's volunteer Jim Pfafflin who has spent the last 10 years seeing that the lights stayon. "He has made it his goal in life to be our light doctor," says Falls. "He calls himself Dr. Brownout. He is the force behind the stringing of the lights." Wandering through the pathways guided by the glow of those lights is sort of a breathtaking experience. It happens 5:30-8:30 p.m. Friday and Saturday nights through Dec. 16. $16. 742-6455, tohonochulpark.org.
Luminarias — more than 2,000 of them — line the walks at the Tucson Botanical Gardens, 2150 N. Alvernon Way. The annual display could put Santa Fe, famous for its Christmas season luminarias, to shame. Will Holst, head of marketing at the gardens, says volunteers come in after the regular closing time, fill the paper bags with sand and candles, and then light those candles before Luminaria Nights open at 5:30 p.m. Then they patrol the grounds until closing time to make sure any candle snuffed out is relit. It's happening Dec. 8-10. $12. 326-9686, tucsonbotanical.org.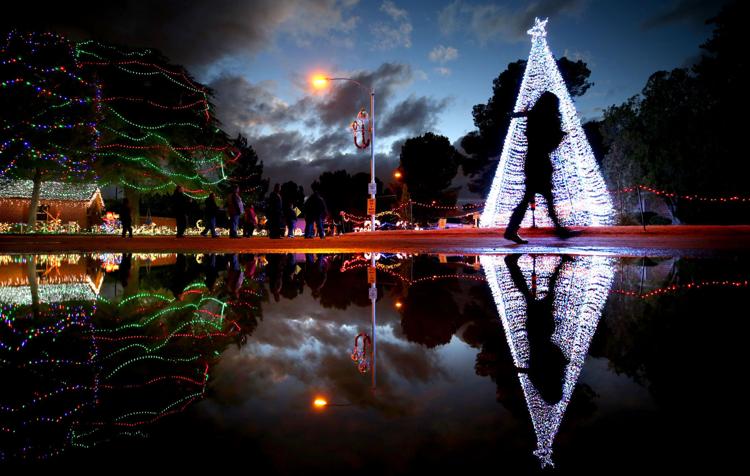 It's the 68th year for the Winterhaven Festival of Lights — and the Brown family has been doing up its home on Christmas Avenue for 53 of those. You can't miss the house — it's right near the center-of-activity island. Jeffrey Scott Brown grew up in that house and his parents still live there. And they all still love to deck the yards. "It brings joy to people," says Brown. "An important lesson Mom and Dad taught us is to do things for others, for the community." The house used to be one of the more elaborately decorated ones, but they've scaled back a bit. And the past six years, they've added a little extra: A concert by the Jovert Steel Drums from Tucson High Magnet School. The steel drum band — made up of about 40 students — beautifully bangs out holiday music as big crowds gather in front of the house. That'll happen at 6:30 p.m. Dec. 23. The Browns are just one of the Winterhaven households that go all out. In the past, displays have included a landing strip with Santa bringing his sleigh in, a Bellagio-type fountain that dances to changing lights and holiday tunes, and faux snow that flies out of a machine and drifts gently to the ground. The Festival of Lights shines from 6-9 p.m. daily, Dec. 9-26. The 26th is the only night that cars can cruise through. The neighborhood is bordered by East Fort Lowell Road, North Tucson Boulevard, East Prince Road and North Country Club Road. It's free, but they are collecting canned food for the food bank.winterhavenfestival.org.
The animals won't just be in the enclosures during Reid Park Zoo's annual Zoo Lights. You'll find them sculpted out of colorful lights around the grounds, too. There's the shape of a peacock here, a fierce looking tiger there and a gentle hummingbird seemingly floating in the air. There are some mighty creative displays going on at the zoo. And there's more: thousands of twinkling lights, falling snow, live music and, of course, good ol' St. Nick. Oh, and a s'mores station, too. It's happening from 6-8 p.m. Dec. 7-Dec. 23, then returns — sans Santa — for an encore at the same hours, Dec. 26-30. It's $10 for adults, $6 for children 2-14. Reid Park Zoo is at 3400 Zoo Court. 791-3204, reidparkzoo.org.
Imagine a snowball fight in the middle of downtown. Hey, it's possible at the Parade of Lights Festival Dec. 16. The Downtown Tucson Partnership, which hosts the event, is trucking in 15 tons of ice, which will be shaved to make the snow. There are about 70 entries to the parade, which will wend its way through a new downtown route. And downtown is going to be pretty impressive: Close to 40 buildings will have the lines of their roofs lit up, illuminating the skyline; more than 150 street trees will be wrapped in white lights; a window-decorating contest means some spiffy holiday decor will be on display and there will be poinsettias popping up all over. Of course, you don't have to wait until Dec. 16 to see much of this, and if you head to Jacome Plaza at North Church Avenue and East Pennington Street between 5 and 8 p.m. Fridays, you can hang with Santa and have your photo taken with him. The parade is 6:30 p.m. downtowntucsonholidays.org.
The Christmas story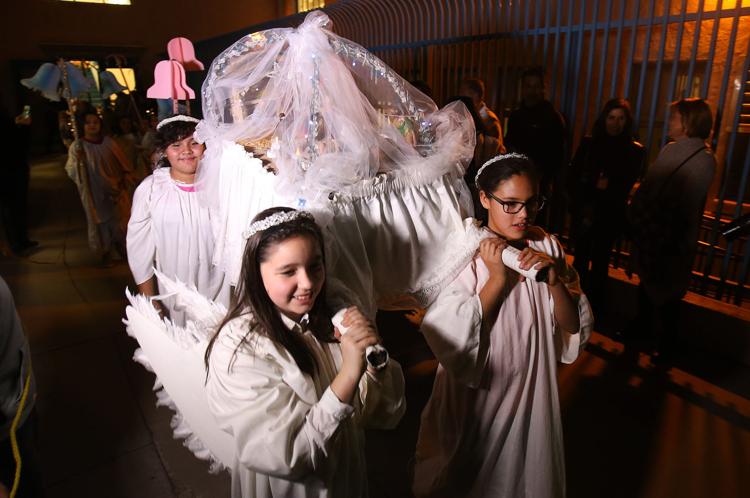 Every December, the students at Carrillo K-5 Magnet School in Barrio Viejo set out in search of lodging. Called Las Posadas, it is a re-enactment of Mary and Joseph's journey through Bethlehem looking for a place to stay on the eve of their son's birth. The procession stops at homes and is rejected, until finally they are invited into one. The students, many in costumes and angel wings, pile in with the nativity scene they've been carrying, and music and celebrations commence. Las Posadas — the inn — is a nearly 400-year-old Latin American tradition. The Carrillo procession is 81 this year. According to the Southwest Folklife Alliance, it was started in 1937 by a Carrillo teacher named Marguerite Collier, who was looking to involve parents in the school and to honor the students' culture. While Las Posadas in Latin America is a nine-day event, the Carrillo procession takes just a few hours. It starts at 5 p.m. Dec. 15 with music and performances at the school before the children begin their journey. Carrillo is at 440 S Main Ave.
Borderlands Theater opens its annual "Pastorela." It's the story of the shepherds' journey t…
Borderland Theater's annual "A Tucson Pastorela" is 21 years old now. It follows the tradition of pastorelas around the world: The story of the shepherds' journey to Bethlehem is peppered with topical news and references, is written in rhyme and the shepherds are constantly being tempted by Lucifer and his pals. Milta Ortiz wrote the Borderlands' script. The play is designed for the whole family, and carols in both English and Spanish are part of the production. So are lots of humor, delicious devils and a piñata at the end. Borderlands stopped doing the pastorela for a year or two, but fans convinced the theater to bring it back. And it's come back with just as much life and joy as in the past. Performances are 7:30 p.m. Dec. 14-16, with 2 p.m. matinees Dec. 16 and 17 at the Leo Rich Theater, 260 S. Church Ave. Tickets are $10-$27. 882-7406, borderlandstheater.org.
Radio madness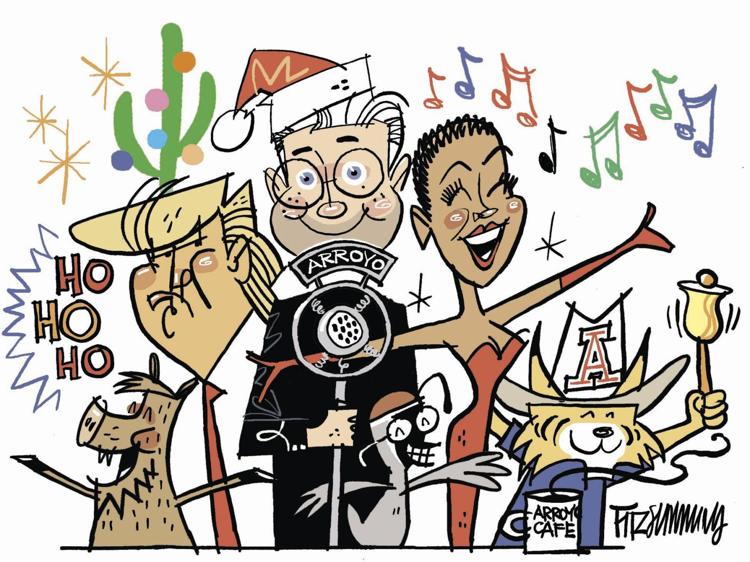 You can search the world over but we are sure you won't be able to find anything like this Tucson tradition: The Arroyo Cafe Holiday Radio Show. Star cartoonist David Fitzsimmons is behind this annual event, which draws Tucson's famous and not-so-famous together to do an old-timey radio show packed with groanable jokes, wonderful music and pretty hilarious storytelling. Helping Fitzsimmons bring on the cheer will be Crystal Stark, Bobby Rich, Elliot Glicksman, Jay Taylor, Nancy Stanley and Reveille's "Grandsons of the Pioneers," among others. That's a lot of musical and comedic talent there. And there's a bonus: the event benefits Reveille, AZPM and Owl & Panther, which works with refugee families that have resettled in the Tucson area. $15. It's 1 p.m. Dec. 16 at the Rialto Theatre, 318 E. Congress St. 740-1000, rialtotheatre.com.
Let it snow
Sure, we're sweltering here. But we've got snow, too. Many of the light festivals detailed in this story will have the white flakes. You can also catch it at La Encantada. The mall's faux snow floats to the ground at 6 and 6:45 p.m. Fridays and Saturdays through Dec. 23. There will be music and hot chocolate, too. And it's free. It's in the courtyard of La Encantada, 2905 E. Skyline Drive.
You'll also find the white stuff at Pantano Christian Church's December Night. There's a live nativity scene and gingerbread house decorating, too. The snow falls outside at 6, 7 and 8 p.m. — or continually at the church's indoor Winter Wonderland. It's 5:30-8:30 p.m. Dec. 9 and 16 at 1755 S. Houghton Road. Free. 298-5395 or pantano.church.
Get crafty
Arts and crafts fairs are in abundance this time of year, making the holiday shopping easier and more fun — and the gifts more unique. You can find a whole slew of them at Tucson.com/calendar. One in particular has come to define the holiday season in the Old Pueblo: The nearly-50-year-old Fourth Avenue Winter Street Fair. It is a paradise for shoppers looking for unique gifts. You'll find textiles, ceramics, jewelry, sculpture, musical instruments, clothing — just about anything you could want. And these are hand-crafted and the artisans are usually right there, willing to tell you whatever you want to know about their works. This year, more than 310 artisans are bringing their wares to the fair. This event is like a weekend-long, multi-block party. Besides the art, there will be close to 50 food vendors and more than 30 musical acts performing on two stages. The Street Fair extends down North Fourth Avenue from East University Boulevard to East Eighth St. Dec. 8-10. fourthavenue.org.
The way of the old west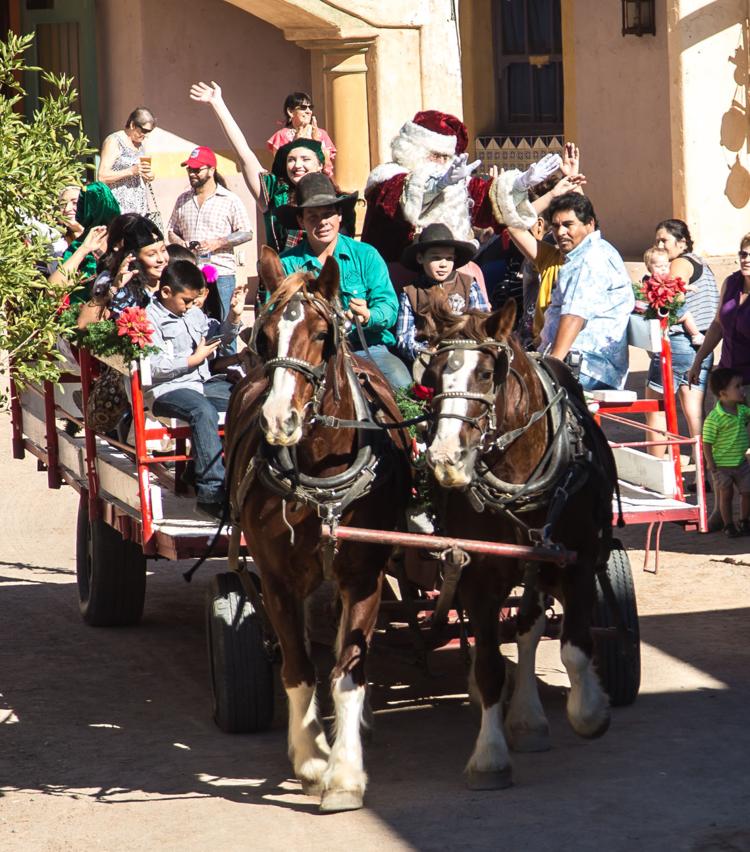 Sure, you can find Santa everywhere this time of year. But Old Tucson puts him in the middle of a cowboy town straight out of the long-ago past. Santa rolls in on a horse-drawn wagon at noon Fridays through Sundays, and he'll stick around until 3 p.m. to get the young'uns wish list. Starting Dec. 18, he'll be there daily during the same hours. The last day to catch him is Dec. 23, as Old Tucson is closed Christmas Eve and day. Of course, there's lots more to do while you are there: stunt shows, music and amusement park rides. Old Tucson is at 201 S. Kinney Road. 883-0100, oldtucson.com.
Contact reporter Kathleen Allen at kallen@tucson.com or 573-4128. On Twitter: @kallenStar