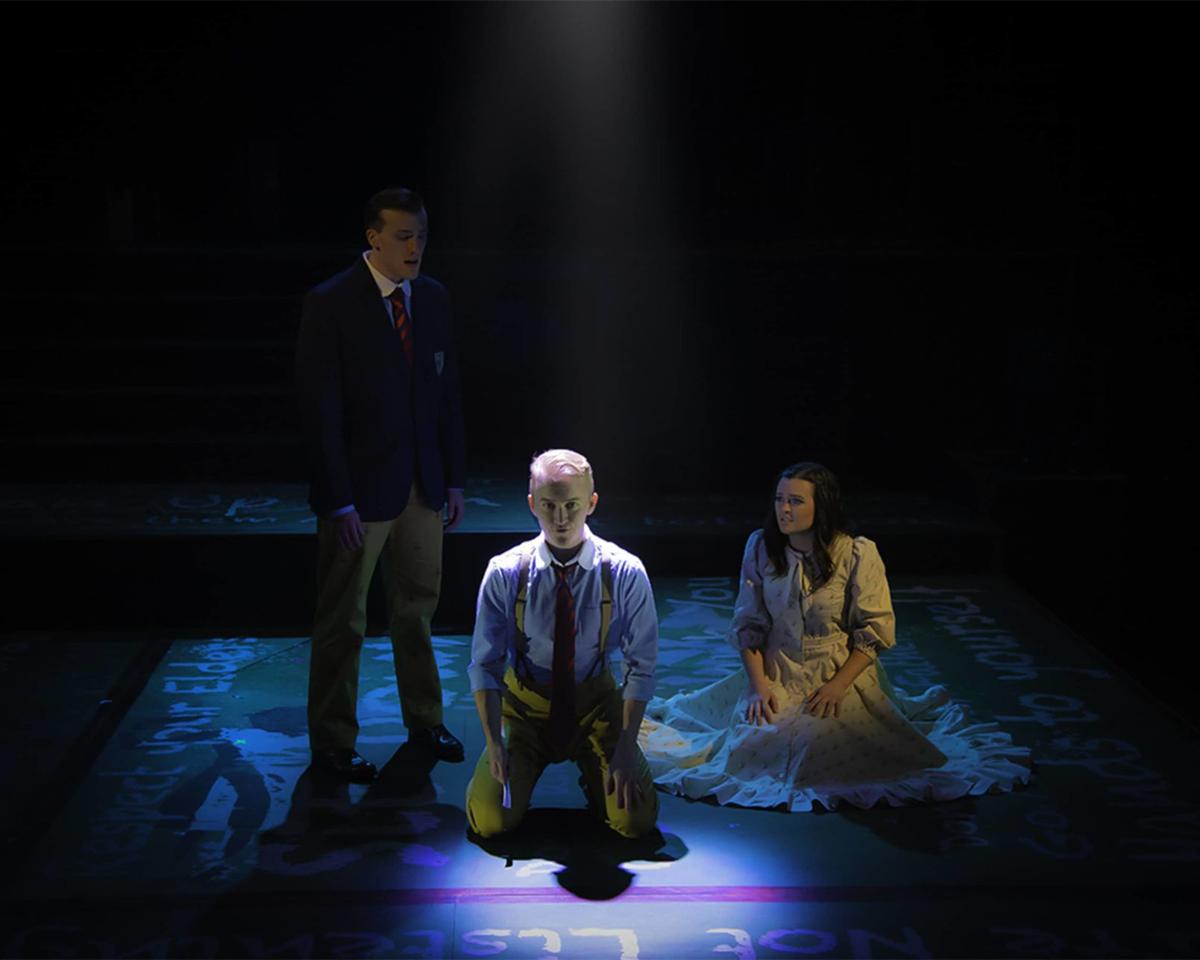 Be forewarned: You are likely to relive all the insecurities, confusion and angst that marked the hormone-heavy teen years at Arizona Repertory Theatre's "Spring Awakening."
The production is so vivid, so quivering, that it's impossible not to feel as though you are in the thick of it once again.
This Tony-winning musical is among the best staged by the University of Arizona theater. The organic acting, the powerful singing, the gorgeous harmonies, Hank Stratton's sensitive direction, the brilliant lighting from Tori Mays, the rock-solid band led by Jamie Reed, the OMG choreography by Christie Kerr — they all added up to a staggeringly satisfying evening of theater.
Here's what's strange about that: There is little subtly in this musical, no heavy message. It only pours out on the stage teens' confusion about sex, God, Goethe, oppressive rules and overbearing parents.
"Spring Awakening" is a musical based on an 1891 play by Frank Wedekind, written to challenge Germany's repressive society.
Steven Sater and Duncan Sheik kept the story in 19th-century Germany, jiggered it some and added raw rock 'n' roll. It follows a group of young teens who are just discovering sex and don't know what to do about these itchy feelings and erotic dreams. They also struggle with abusive parents, molestation, heartless school teachers and the meaning of life.
The trio leading the ensemble cast of University of Arizona theater students was fierce. Michael Schulz plays Melchior, the one who knows all about sex, reads copiously and has a rebel spirit. Schulz embodied the character, giving him a swag and an earnestness that seemed perfect for a 14-year-old. Zach Zupke's Moritz is a troubled student, bored by the Latin he must learn, terrified that he won't get passing grades and will have to face the wrath of his father, and bewildered by the sex dreams that consume his nights. Zupke made the character's fear and confusion palpable.
And Rachel Franke's Wendla, an innocent who begs her mother — to no avail — to tell her about sex, and can't quite figure out what's going on with her body, made us feel every emotion, every perturbation.
Rounding out the immensely talented cast were Gabriela Giusti, Tony Moreno, Xander Mason, Camryn Elias, Jared Machado, Luke Gaff, Courtney Blanc, Carly Natania Grossman, Conner Morley and Tatumn Zale. Many of them are underclassman; we can not wait to watch their talent grow.
This isn't a show for kids. But it is a show for those who love good theater.
Contact reporter Kathleen Allen at kallen@tucson.com or 573-4128. On Twitter: @kallenStar