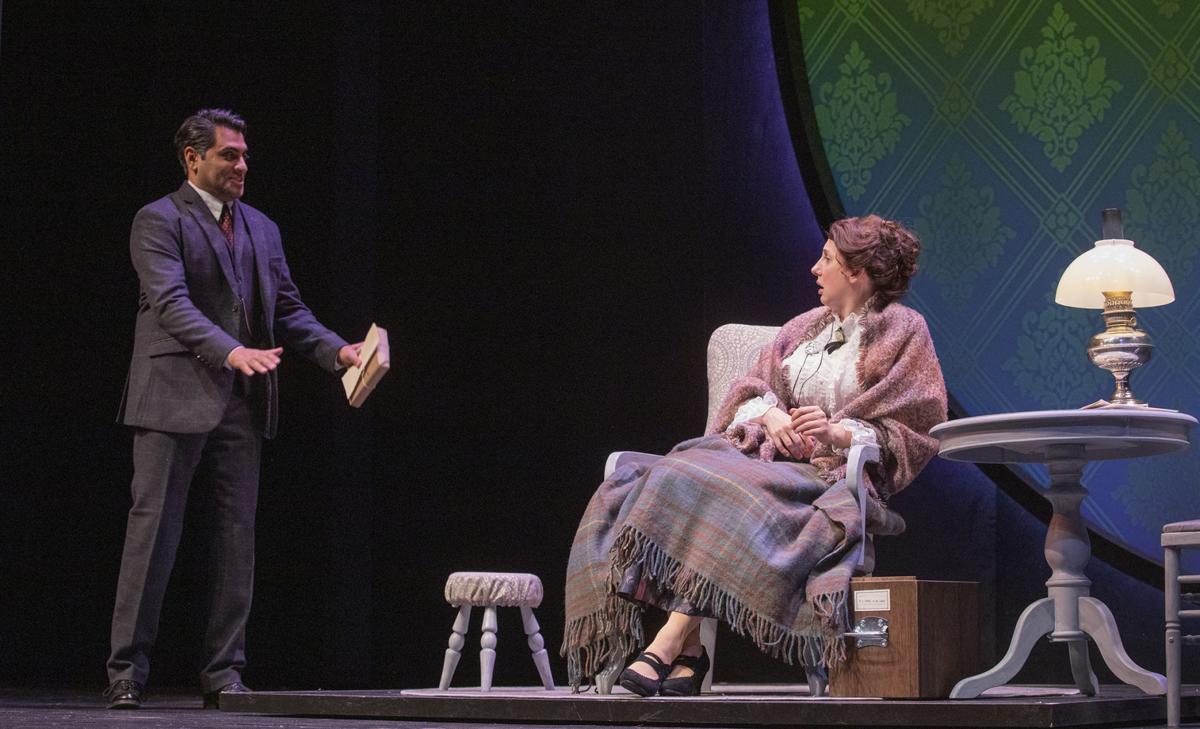 Walk out tonight, move away from the streetlights, and look up at the stars.
Then say a prayer of thanks to Henrietta Leavitt for giving us a deeper understanding of them.
Leavitt, the subject of Lauren Gunderson's play "Silent Sky," now in a knockout production at Arizona Theatre Company, discovered that pulsating stars can be used to measure distance in space.
That was a monumental discovery and was the basis for subsequent astronomical breakthroughs. Of course, there was no fanfare for her, but plenty for the men who built on what she uncovered, including Edwin Hubble.
Gunderson has fictionalized Leavitt's story, but this aspect was all too true: At the turn of the last century, women were marginalized. Where Leavitt worked at the Harvard College observatory, she and her co-workers, Annie Cannon and Williamina Fleming, were relegated to studying the images of the stars on glass. Their job was to measure and catalog their brightness. This was a job for women because they paid attention to detail and worked for a lot less money than men.
In the play, this is how Fleming described the job to Leavitt: "At present, we're cleaning up the universe for men and making fun of them behind their backs. It's worked for centuries."
The trio of women uncovered many mysteries of the skies, all without being allowed to look through Harvard's massive telescope. That's man's work, don't you know.
Gunderson, however, doesn't want to beat us over the head about the long injustices toward women. She knows a good story, and Leavitt's is a good one. The playwright is also a master at taking what could be a complex and dry subject — astronomy — and making it accessible and fascinating.
This ATC production is led by Veronika Duerr, who gives Henrietta Leavitt a deep-seated curiosity and a warm humor. Her aha moment when she realizes the pulsating stars are telling us something is wonderfully giddy and gorgeous. It was impossible not to feel her excitement.
Inger Tudor gave full life to the deeply committed and sometimes strident Annie Cannon and Amelia White was a delight as housekeeper-turned-computer (that's what the women were dubbed) Williamina Fleming.
Director Casey Stangl made what, initially, seemed an odd choice: The first act was primarily presentational, with the players looking out at the audience more than at each other.
But the second act, post Leavitt's discovery, the connection between them all was much more intense, as though they discovered that they, like the stars, are interconnected. It made for a powerful end to the play.
The Jo Winiarski-designed set was a simple one save for a large circle on the backdrop. Images in that changed to reflect the scene: the interior of a refracting telescope; Victorian wallpaper, the skies. Jeffrey Elias Teeter's projection designs added nuance and understanding to the piece.
This season and last, Gunderson's often women-centric plays have been the most produced in the country, and she and ATC Artistic Director Sean Daniels have been friends for years. She has agreed to develop a new play for the company, as well as a musical, Daniels announced before Friday's opening performance.
If they are half as intriguing and smart as "Silent Sky," we are in for a treat.
Kathleen Allen has covered the arts for the Star for more than 20 years.