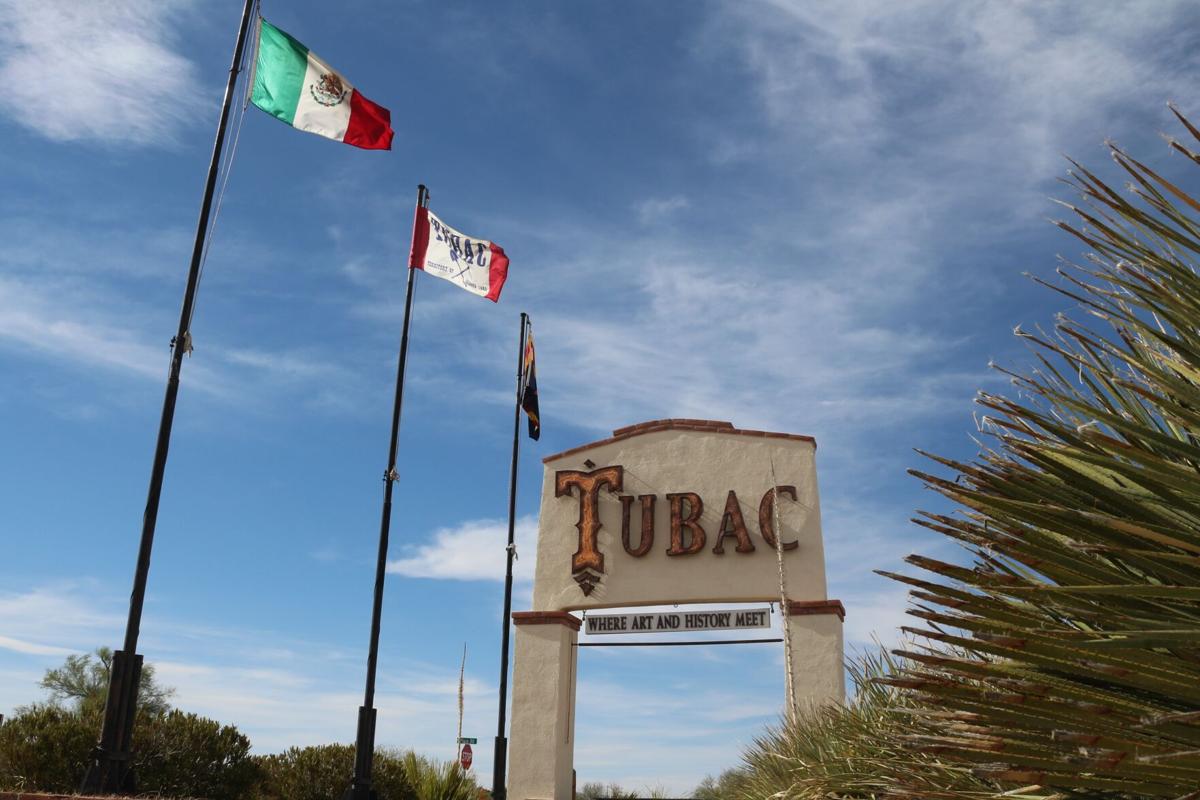 Etching prints, watercolor, fused glass and canvas prints are some of the mediums that artists in the "Following the Stars" exhibit used to show their appreciation for Arizona's night skies.
The special exhibition, in the Tubac Presidio State Historic Park and Museum about 45 miles south of Tucson, features 11 artists from different backgrounds and regions who have made a special connection with the Sonoran Desert.
Among them is the work of lifelong printmaker Andrew Rush, an internationally renowned artist who has called Tucson home since 1959. The exhibit contains four of his latest pieces. There are also canvas prints of nighttime photography, howling coyotes over star constellations, a depiction of an Aztec moon goddess and a drizzle of cosmic dust over glass.
"When we explore the connection between artists and the night sky, we see that humans have been inspired by the stars and planets for many centuries," said Rosemarie MacDowell, an artist herself and the co-organizer of the exhibit with the Tubac Heritage Alliance.
"If Arles, France, in 1889 had been as polluted by light as most of our Earth is today, Vincent Van Gogh would never have been able to create his starry night paintings," she said.
The alliance and the Tubac Presidio are in the process of applying for a dark-sky designation for both the town and the State Historic Park — a recognition the International Dark-Sky Association gives to sites that demonstrate a commitment to preserve and protect night skies. The exhibit is part of their outreach efforts to promote dark-sky awareness and educate about the impacts of light pollution.
MacDowell is not only worried about losing the ability to see stars because of light pollution, she's also concerned about the environmental damage it causes throughout the world, such as a reduction in sea turtles nesting and hatching, alteration of bird migration and disruption of sleep in humans, among other things. She says that learning about light pollution has been an eye-opener.
"I have a lot of concern and a lot of respect for the environment. And I think we live in such an extraordinary location that it's important to preserve what we have," said MacDowell.
Light pollution also has a direct effect on astronomical research, something that has been addressed with special outdoor lighting codes by Tucson and Pima County as early as 1972.
Shannon Stone, executive director for the Tubac Presidio State Historic Park and Museum, says efforts to point lights to the ground instead of to the sky help protect important work done at Whipple Observatory, up in the Santa Rita Mountains.
"We are so passionate about this cause; it is so important. I just hope that as far as from Tucson to Nogales, we are able to get these designations," Stone said.
The art exhibit will be open until Sept. 30 at 1 Burruel St. in Tubac. Museum hours are Wednesday through Sunday from 9 a.m. to 5 p.m. There will be a closing reception for exhibiting artists and the public in the fall.
Admission to the park is $7 for adults and $2 for kids (7-13 years old).
Clara Migoya is a University of Arizona journalism student apprenticing with the Arizona Daily Star.