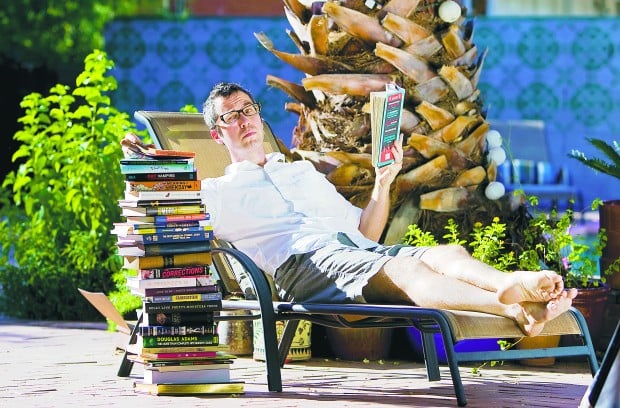 Summer reading conjures up thoughts of sand, the ocean and a really comfy chair. When it comes to Tucson, two out of three aren't bad.
"I really hunker down and read all the things I've been meaning to read the rest of the year," said Elena Schwills, a 24-year-old Pima Community College student.
"I don't take classes in the summer, so I can grab all sorts of stuff from the library and the used-book stores to enjoy," she said.
Tricia Clapp, co-owner of Mostly Books, 6208 E. Speedway, understands the appeal.
"It's so hot outside and there's nothing else to do," she said. "People who read read all the time - they don't slow down."
Searching for further literary guidance in our first summer without Oprah, we also spoke to six local authors to find out what they enjoy reading in the summer and what they're working on now.
ADAM REX: ILLUSTRATOR-WRITER READILY DRAWN TO CHILDREN'S BOOKS 
Adam Rex is a kid at heart. It comes in handy for the 38-year-old when it's time to write and illustrate books that attract kids of all ages.
Rex illustrated his first children's book, "The Dirty Cowboy," in 2003. Three years later, he wrote and illustrated "Tree Ring Circus."
"It's all I ever really wanted to do," said Rex, who was born in Ohio and grew up in a north-central part of Phoenix called Moon Valley.
He moved to Tucson in 1991 to study art at the University of Arizona. After graduating, he stuck around Tucson and met his wife, Marie.
The two left for Philadelphia in 2001 so Marie could earn a doctorate in physics and returned to Tucson a couple of years ago.
Rex has had at least 15 books published, in addition to the books he illustrated before writing his own.
His 2006 picture book, "Frankenstein Makes a Sandwich," was a New York Times best-seller.
It's not all about picture books, however. Rex's first novel, "The True Meaning of Smekday," came out in 2007. His second, a book for teens and adults called "Fat Vampire," came out last year.
"Fat Vampire" is about 15-year-old Doug, an unpopular boy who's short and a little doughy - "not the normal person who gets turned into vampire," Rex said.
When Doug becomes a vampire "sort of by accident," he finds his star begins to rise at school.
Rex still illustrates other authors' books, too. One of his favorites is Mac Barnett.
"Every time he sends me a manuscript, I kick myself for not thinking of it," said Rex, who met the San Francisco Bay Area resident through his agent.
In October, the duo's third in a series of Brixton Brothers mystery novels is slated for release.
Called "It Happened on a Train," it stars 12-year-old Steve Brixton, who fancies himself quite the sleuth. In fact, he starts his own detective agency.
"Steve stumbles into a ring of international car thieves while traveling on a train to Model U.N. in San Diego," Rex said. "He is thrown into matters of espionage and has to solve the mystery to save his name."
Another book by the two, "Chloe and the Lion," will come out sometime in the winter.
"It starts out as a perfectly ordinary story about a little girl menaced by a lion," Rex said. "Mac and I are actual characters (in the book). Mac fires me and gets a new (fictional) illustrator named Hank Blowfeather."
The two eventually reconcile.
"It's a very meta book," said Rex, who illustrates the two real-life characters as puppets.
Rex is open to inspiration.
"The ideas just come from a combination of everything and anything I've heard, seen, watched and talked about," Rex said.
"One novel that I wrote ('Fat Vampire') ... the idea came to me because I misread a banner ad online," he said. "I thought it read 'My Dork Embrace,' and it was really 'My Dark Embrace.' "
He writes and illustrates every day in his West University-area home.
Rex taught figure drawing at Pima Community College in the 1990s, and the human figure remains his favorite thing to draw.
He started oil painting when he was about 11, taking classes at a framing store owned by the mother of a friend. "I was always the art kid growing up," Rex said.
Nowadays, he does a lot of digital painting on the computer.
"Writing's harder for me," he said. "I always could draw. The writing's always more of a tightrope walk."
He reads constantly, which includes a lot of kids books. "I do genuinely love picture books."
He's also reading Shakespeare plays for research on upcoming projects.
He's working on a trilogy of novels for 9- to 12-year-olds, à la the "Harry Potter" readership.
"It's about an evil breakfast cereal company trying to take over the world," said Rex, who wants certain characters to speak in Elizabethan iambic pentameter.
"Apparently I'm reading all the works of Shakespeare for what may end up being all of five pages of a novel for kids who won't recognize iambic pentameter when they see it," he said.
"But I always write for me first and foremost. I find that when I do, there's a certain kid who will appreciate it as well."
• "A Supposedly Fun Thing I'll Never Do Again" by David Foster Wallace (Little Brown, 1997). "I'm going to read it as research for a cruise I'm taking with my parents in August to Alaska," said Rex, adding that it's his first cruise.
• "Consider the Lobster" (Hachette, 2005) and the "The Broom of the System" (1987), both by Wallace. "It's so thrilling reading somebody who's so much smarter than you are."
• "The Yiddish Policemen's Union" by Michael Chabon (HarperCollins, 2007). "I love the way he writes - he's whip smart. It's an interesting premise."
CAROL COSTA: THE PLAY'S THE THING FOR PROLIFIC, MULTI-GENRE WRITER 
With 16 books in print and three more coming out in the next couple of months, Carol Costa is what you'd call a prolific writer - and reader.
"I usually read every day," said Costa, 70. "I have a Kindle now - I love it. I have bad eyesight, and I can make the fonts and the prints as large as I want it to. It will even read it to you."
Costa has been writing professionally since 1980, when she was a correspondent for the Phoenix Business Journal. Her books range from romance and mysteries to accounting.
"The Secret of Eastman Springs," a book geared to young adults (Open Books Press), comes out this month. In it, the ghost of a missing girl approaches a teen and asks for help.
"The Seventh Messenger," a historical novel, will be out in July. It is based on the true story of the House of David, a religious colony in Benton Harbor, Mich.
Costa has written seven or eight plays, too. The third book in her mystery series, "When Nothing Else Was Right," is the title of a song from her first published play, "The Last Decent Crooks."
Costa wrote that play in 1987, and it has been produced in high schools and off-off-Broadway.
"You really don't have to do a lot of description with plays," she said. "You just set the scene and start writing the dialogue between characters."
Costa doesn't miss the days when playwrights had to print out their scripts, put them in a binder, and send the package with return postage to dozens of places in hopes of making a sale. Sometimes it took two or three years before she'd hear back.
"It's like throwing them in the ocean - you never hear from them again," she said.
Now it's all about electronic submissions.
Then she hooked up with Big Dog Plays, a division of Norman Maine Publishing, which mainly deals with high school markets.
Costa, who grew up on Chicago's South Side, has a business and accounting background. She moved to Tucson in 1973, where she attended the University of Arizona and later worked in certified public accounting firms.
In 2000, she wrote her first accounting book for Penguin. She wrote four more, the last one, the "Complete Idiots Guide to Starting and Running a Thrift Store," in January 2010.
She loves to write because "it just takes me away from all the problems in my life - not that I have a lot.
"When I was going through therapy for breast cancer in 2003, I took one of my screenplays ('Under Suspicion') and converted it to a novel called 'Lost in the Shadows.'
"It is the world I control."
• "Caught" by Harlan Coben (Delacorte Press, 2010).
"He's great - I read most of those Myron Bolitar books."
• "I'll Walk Alone" by Mary Higgins Clark (Simon and Schuster, 2011).
"I've read all of her books. I love the way she moves the books along, I love her story lines, the way she gives description. She can tell you in one sentence everything about the character."
CHRIS IMPEY: ASTRONOMY PROF TELLS STORIES ABOUT GALAXIES FAR, FAR AWAY  
Chris Impey isn't just reaching for the stars - he's become one.
The University of Arizona professor and deputy head of the astronomy department has written two books, including 2010's "How It Ends: From You to the Universe," which recently came out in paperback.
His other, "The Living Cosmos," was published in 2007.
In the late '80s, Impey found the largest and most diffused galaxy known to date, which he described as about 10 to 20 times the mass of the Milky Way. It was named Malin-1, after the astrophotographer who took the first picture.
Growing up in Edinburgh, Scotland, Impey became interested in astronomy through physics, since he "never got to see a sky."
He originally wanted to be a farmer and an architect, with the latter being "the perfect mix of art and science.
"It wasn't quite like that in practice," he said.
His writing style comes from his experience while earning his doctorate in Edinburgh.
"You just tell stories," said Impey, 55. "In Edinburgh, you write your research like a story."
When he reads, it's a combination of fiction and nonfiction, including Martin Amis, Margaret Atwood and Don DeLillo.
"I read more fiction in the summer," Impey said. "In some small cubbyhole in my brain, I'm on a beach."
He's finishing writing a book on beginnings called "How It Began."
He's also starting a book on Buddhist monks and cosmology called "Humble Before the Void."
Impey has taught the Dali Lama's monks about the universe over the past three summers.
"He wants his monks to be prepared in the 21st century," said Impey, who will be going to the Himalayas again in January for three weeks. "He's ahead of his troops."
Chris Impey describes his unread books as "the usual little pile staring at me balefully."
• "You Are Not a Gadget: A Manifesto" by Jaron Lanier (Knopf, 2010). "It speaks to the problems we have with technology. We think we're masters of it, but really it's the master of us.
• "Cleopatra: A Life" by Stacy Schiff (Little, Brown and Co., 2010). "It's a biography that's a lot of fun. I like history in general."
• "The Grand Design" by Stephen Hawking (Bantam Books, 2010). "I don't always read the top science books, but I get asked so often about them," Impey said. "It's a little ironic and tongue in cheek. You have to mock it a little bit. He's kind of like a Borscht Belt comedian."
• "How I Killed Pluto and Why He Had it Coming" by Michael Brown (Spiegel and Grau, 2010). Impey's thoughts on Pluto becoming de-planetized: "I'm heartless. If you want to let Pluto back in, you have to let three more or eight more in."
JUDE JOHNSON: BLENDING WELL-RESEARCHED HISTORY WITH FICTION, ROMANCE  
Jude Johnson was one of those kids who read everything. "I read the back of a cereal box, encyclopedias, everything," said Johnson, a writer who recently turned 53.
She was born in Grove City, Pa., and moved to Tucson in 1981.
"I came out to see what it was like, because my mom had always talked about it," said Johnson, whose mom was from Nogales, Sonora, and graduated from Tucson High. "It just felt like home."
She attended Dickinson College in Carlilse, Pa., and finished chiropractor school at Sherman College in South Carolina. She has been in practice for 30 years.
She started her writing career on a "double-dog dare" in 2002.
"I was in an Internet-formed book club," said Johnson, whose website is jude-johnson.com. "The challenge was to write a Western, because Westerns basically had disappeared."
So she wrote "Dragon and Hawk," which she first published independently in 2004. It was re-published in April as an ebook by Champagne Books of Alberta, Canada, and came out as a paperback June 1.
"Dragon and Hawk" is about a young Welsh immigrant who meets a mysterious Mexican healer.
The book gets its Western classification because it's set in 1880 in Arizona territory. It's a historically researched book, with a little American Indian spirituality.
"I call it a Western historical fiction and romance," Johnson said. "There are no vampires."
Right now, she loves where her writing career is going.
" 'Dragon and Hawk' has been No. 1 for three weeks (on Fictionwise.com)," Johnson said two weeks ago. "I'm doing the happy dance."
The "big history buff" pens historical fiction for Fictionwise eBooks.
She's also written "Celtic Fire, Desert Rain" and "Dragon's Blood." She hopes to publish two more in the series.
Johnson has a short story coming out in July that's set in Cornwall and Wales, but so far, everything has been set in Southern Arizona.
Her novella, "Within the Mists," will come out as an ebook in July. It's about a lieutenant in the Napoleonic wars who's rescued by a selkie, a creature who is a woman on land and a seal in the sea.
Johnson writes mostly after work, between 10 p.m. and 3 a.m., and usually writes "some little bits every day."
Those bits might include contributions to three blogs, including her own, wordsthatremain.blogspot.com The blog is her take on writing and a way to encourage other writers.
When it comes to sitting down and writing, Johnson is nothing if not practical.
"I get all my research together first, and then I blitzkreig," she said. "I write nonstop as much as I can.
"My husband will tell you I burn the hell out of dinner when I do that," she said, laughing.
Johnson has been thinking about writing nonfiction. The Foothills resident is starting to compile research for a book on Welsh immigrants in Southern Arizona.
"We had a lot of movers and shakers that actually were from Wales," she said.
She's also doing research for a Revolutionary War book, based on a friend's ancestor's real life.
She hopes to finish the yet-untitled book by the end of the summer.
• "Fart Proudly: Writings of Benjamin Franklin You Never Read in School," edited by Carl Japikse (Enthea, 2002). "It's the writings of Ben Franklin that you never read in school."
• "Shadow Fox" by Ashley J. Barnard (Champagne Books, 2010). "It's a dark fantasy series," she said. "I just read the second book - I stayed up all night to read it. It grabs you by the throat. She has very disturbing characters that you just want to smack.
• "Dangerous Deceit" by Rosemary Gemmell (Champagne Books, 2011). "It's a Regency novel set in 1820s by Scottish writer Rosemary Gemmell. It's a romantic spy novel."
JANNI LEE SIMNER: MAGICAL THINKING MORPHS INTO FANTASY, COMING-OF-AGE TALES 
Janni Lee Simner's house is very quiet. That's because on many evenings, the fantasy author and her husband, a technical writer, enjoy reading.
"We get each other," said the Long Island, N.Y., native who moved to Tucson in 1993. "It's kind of just what I do in the evenings."
She met her husband, Larry Hammer, on a cruise along the Mississippi River as a freshman at Washington University in St. Louis. They've been married 13 years and together 18.
The 43-year-old author of seven young-adult novels released "Faerie Winter" in April.
It followed the award-winning "Bones of Faerie" and is the second in a trilogy. She'll turn in the third later this summer.
The first two are set in a post-apocalyptic world after a magical war.
"It's how my brain works," she said. "When I start thinking of a story, I try to think of the magic.
"I wrote 'Faerie Winter' during a Tucson summer," she continued. "It harkens a little to the ballads where fairies are not cute little winged creatures but a little closer to elves."
She's currently reading "a whole bunch of different things."
"I like to read epic stuff. I'm trying to finish 'The Illiad.' I haven't read it since high school. And I just picked up a book about seahorses in San Diego. My 'to read' pile is larger than anything else.
"I still read 'young adults' for fun," she continued. "It won't take away your grown-up license if you read young-adult books."
And it's OK if she's not a fan of everything she reads.
"Sometimes if I like (the book), I'll be sad if I'm done," she said. "If I don't like it, I'll argue with it inside.
"I think people not liking books is good for them. It's fun whether people love them or hate them."
Fantasy remains her favorite genre. She grew up loving authors such as Madeleine L'Engle and still calls a favorite "A Swiftly Tilting Planet," part of L'Engle's quartet that includes "A Wrinkle in Time."
As with most authors, Simner's career didn't take off immediately. She spent 10 years selling short stories before her first novel was released in 1996.
And she noticed a difference in rejection notes. Her adult-book submission rejections usually arrived as form letters, while her teen book rejections were more encouraging.
"I finally stepped back and realized how I had always loved coming-of-age stories," Simner said.
• "Extraordinary" by Nancy Werlin (Penguin Putnam Inc., 2010). "It's a fairy book that's all about friendship and women and self-confidence."
• "House of the Star" by Caitlin Brennan (MacMillan, 2010). "The author lives in Vail. It's a lovely magical horse book for kids. My inner horsy girl loved it."
• "Huntress" by Malinda Lo (Little, Brown Books, 2011). "It has a high fantasy feel about winter not ending."
DEANNE STILLMAN: 'DISCONNECT WITH THE LAND' INSPIRES NARRATIVE NONFICTION  
Deanne Stillman loves the desert. "My beat is the desert," said the narrative nonfiction writer, who moved to Tucson in October after a long stint in California. "Having wandered the Mojave for many years, I decided to investigate the Sonoran (Desert)."
Stillman, who is originally from Cleveland, is the author of "Mustang: The Saga of the Wild Horse in the American West," "Twentynine Palms: A True Story of Murder, Marines, and the Mojave" and "Joshua Tree: Desolation Tango."
"My work in general deals with modern war," said Stillman, whose website is deannestillman.com
"It all comes with a disconnect with the land."
"Twentynine Palms," a true story about two girls killed by a Marine after the Gulf War, was published in 2001 and 2008.
The late Hunter S. Thompson was a fan, calling that book "A strange and brilliant story by an important American writer."
Best-selling author Tony Hillerman was one of her journalism professors at the University of New Mexico, where she finished her anthropology degree. "He was a great guy," she said. "I had the sense from being in his classes that I could follow this path."
She has combined writing with her lifelong devotion to horses.
"They've represented freedom from Day One," she said. "They represent truth."
She remembers as a child, when her mom exercised horses at a Cleveland race track, she was "struck by the service of horses."
"I noticed day in and day out they were running their hearts out for little or no reward, ... and they were providing my family with a living," she said. "I always wanted to repay the favor, and I knew it would involve some kind of writing."
Her chance came in 1998, while finishing "Twentynine Palms."
She heard that wild mustangs were being killed, and two of the accused were Marines.
"It became clear to me it was time to tell the story of the wild horses," she said.
"The big question I ask is, 'Why are we, a cowboy nation, destroying the horse we rode in on?' "
"Mustang: The Saga of the Wild Horse in the American West" was 10 years in the making and took her across ranges of the West.
Of the three men on trial, one eventually pleaded guilty to a misdemeanor. "Back then, it was not a felony to kill a wild horse on state lands," Stillman said. "Now it is."
In addition to writing every day, Stillman teaches online classes in the MFA creative-writing program for University of California, Riverside-Palm Desert.
And she still writes a monthly column for truthdig.com called "Letters From the West."
She also blogs on The Huffington Post and has written for television and film, adapting "Twentynine Palms" for Tristar.
Stillman recently learned that "Mustang" is in development with the Hallmark Channel and will star Wendie Malick. Stillman will serve as producer.
"I wrote Mustang to try to head off a disaster at the pass," she said. "I wanted to bear witness to what may be an end to wild horses, but I of course was hoping that was not the case.
"It's really kind of taken on a life of its own."
• "We Need to Talk About Kevin" by Lionel Shriver (Harper Perennial, 2003). "It's about a child who has carried out a mass murder in a high school. ... It's written out in the form of a letter from the mother to the father."
• "The Great Arizona Orphan Abduction" by Linda Gordon (Harvard University Press, 1999). "I love to read about history and in particular history of the Southwest."
• "Star of the Sea" by Joseph O'Connor (Harcourt, 2003). "It's about a 19th-century voyage and its cast of characters, including a murderer."