Arizona Opera mounted Puccini's tragedy "Tosca" when Laura Wilde was a member of the company's Marion Roose Pullin Opera Studio program in 2013.
She was a mezzo back then and the title character Tosca is one of the great soprano roles in opera.
But during her two years with the Arizona Opera program from 2011-13, Wilde took the advice of her mentors and switched to soprano voice.
This weekend, she will make her role debut in "Tosca" at Linda Ronstadt Music Hall, where it will be for two performances Saturday, Jan. 28, and Sunday, Jan. 29, as part of the Tucson Desert Song Festival.
"It feels like the perfect place to do it," Wilde said during a phone interview days before the show opened in Phoenix last weekend. "Between my two years in the program was when I decided to switch to soprano from mezzo and there is something kind of neat about coming full circle, getting to do one of the most iconic soprano roles at the house that helped me make that decision."
"Tosca," a story of deception, jealousy, lust and love, has been at or near the top of most opera fans' most beloved operas almost since it premiered in Italy 123 years ago. A long line of famous sopranos including Maria Callas have sung Tosca's signature Act 2 aria "Vissi d'arte" ("I lived for art"), creating historical templates for how to perform the role.
Wilde said she approached the role, instead, as she would a more obscure Janácek character without the historical baggage on which to refer.
"One of the things that I personally wanted to find in her is her vulnerability," Wilde explained. "I think we really only get Act 1 to discover her love relationship with Cavaradossi before everything sort of falls apart in Act 2."
Tosca has an impossible choice: submit to the will of the corrupt Police Chief Baron Scarpia, who has long lusted after her, or see her lover Cavaradossi, who helped a political prisoner escape, be killed.
"I think as strong as she is and as strong as she finds herself to be, there is a real tender side to her and a deep faith that I think sort of gets broken in Act 2," Wilde said. "She pleads to God and realizes the person she's on her knees begging to is Scarpia, who sort of represents evil because God is not showing up at that moment. It's fascinating. I think she is complex. She's not one thing; she's a whole bunch of things together."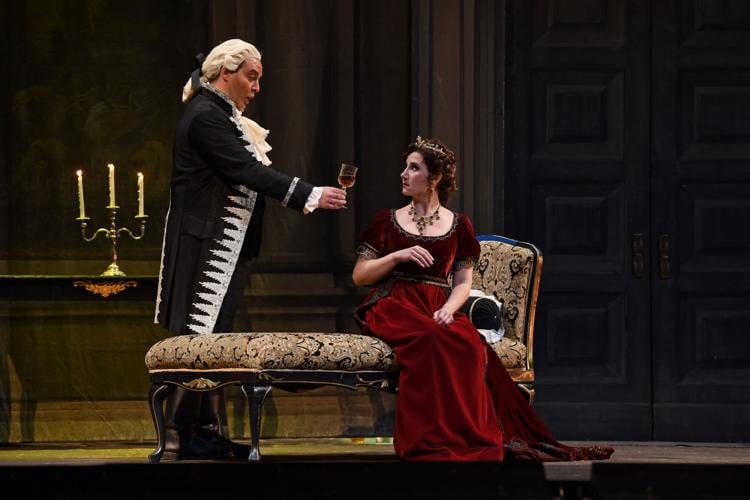 "I think the big poignant thing in Act 2 for me is she is trapped between a rock and hard place in a most devastating way," Wilde said when asked how today's audiences can relate to "Tosca." "There is no easy way out and I think those moments of putting people against a wall in the corner, it's like what is the right choice? They almost have to make the wrong choice because that's the only thing available to them. And I think we can all sort of identify with this feeling of wishing that there was a simple and easy choice to make at the moment when it feels that all of the choices are wrong."
"Tosca" is the fourth production Wilde has done for Arizona Opera since finishing the training program. She was in "Riders of the Purple Sage," "Das Rheingold" and "Shining Brow."
Returning to the familiar landscape of Arizona "feels like coming home," she said.
"It's a really nice feeling," said Wilde, who is now based out of Chicago.
On New Year's Eve, Wilde added one more Arizona footnote to her personal biography: She got engaged to Jonathan Porter at the Desert Botanical Garden in Phoenix.
"It's an exciting time for me on many levels."