"Hamilton" didn't just jump on stage fully formed.
It started with a book, segued into creator Lin-Manuel Miranda's desire to make a hip-hop concept album, which led to his appearance at the White House and singing — for the first time in public — "Alexander Hamilton." At that point, it was the one and only song he had composed for the planned album. Six years later, a fully-formed revolutionary musical about, well, the American revolution, became a massive hit.
Now, Broadway in Tucson is bringing the show to the Old Pueblo. It runs Nov. 17-Dec. 5.
We took a deep dive into Miranda and Jeremy McCarter's book about the creation of the musical, "Hamilton the Revolution," and snooped around the internet. Here's some of what we discovered:
The source
Miranda was headed for a vacation in Mexico when he picked up Ron Chernow's best-selling book, "Alexander Hamilton."
He was fascinated. And in his head, Hamilton's story was hip-hop. When he returned, he invited Chernow to see the hit musical, "In the Heights," which Miranda had created. It was on that night that he asked the historian to be the historical consultant on this story he planned to tell about Hamilton.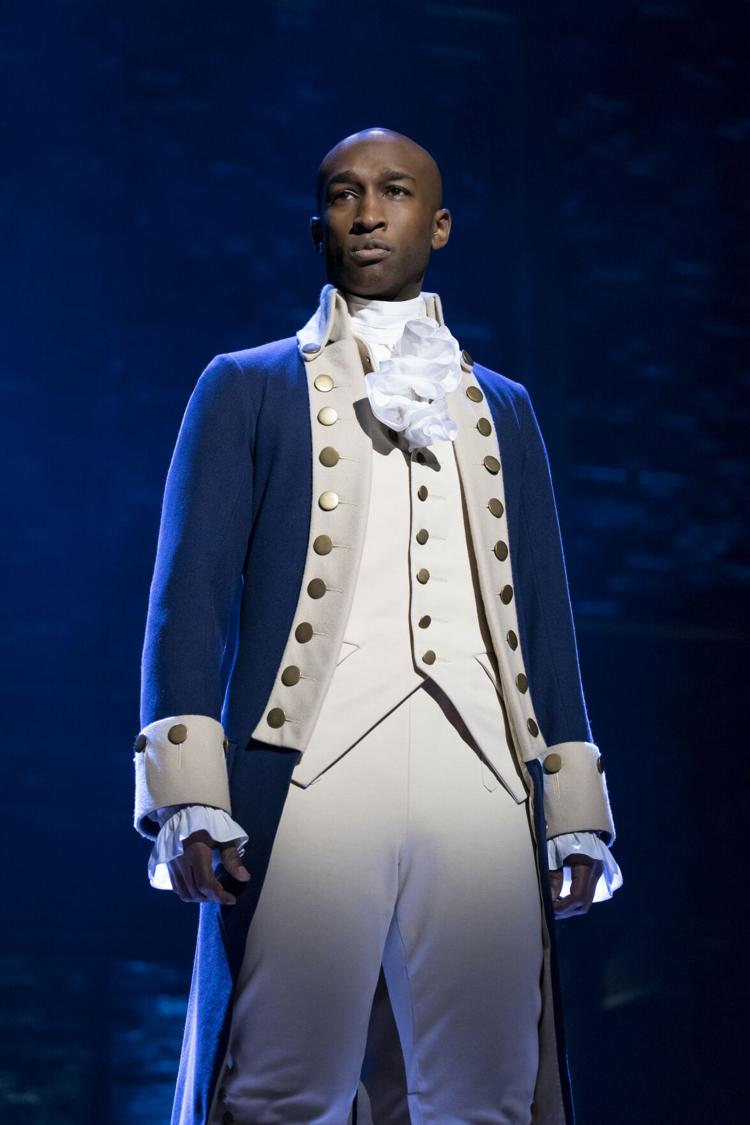 He agreed, and they kept in touch. A few years later, Miranda invited Chernow to hear a sing-through of act one.
He was shocked to see Black and Latino actors portraying the white founders. But within five minutes of listening to the first act, he was convinced that it did not matter.
But he did have a concern that, in the song "The Story of Tonight," Miranda was bringing together characters that actually would not have met until years later. Miranda pointed out why, artistically, they had to come together in that song to further the story. Chernow got it and withdrew his objection.
The orchestration
Miranda doesn't write music down; he records on a computer program, usually tinkling out the tunes on a piano, which he doesn't play that well.
It's orchestrator Alex Lacamoire who brings it to full sound.
Lacamoire said in an interview with the Star this week that he decided a 10-piece band, rather than a full Broadway orchestra, is what "Hamilton" cried out for.
"Early on, we had a pop rhythm section with a string quartet," he recalled.
Other instruments were considered, and sometimes inserted into the songs. But nothing seemed right.
"That's when I knew I was going in the right direction," he said.
He also inserted electronic sounds into a few songs, which underscore an emotion or emphasize the chaos or importance of a scene.
"It was the best way to express the music," he said. "The music is rooted in hip hop — there are lots of electronics in hip hop. And there are definitely sounds that are best replicated by computers."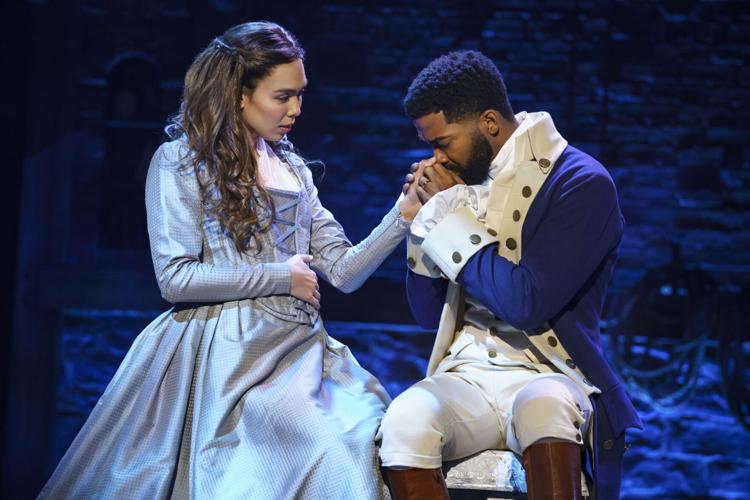 The homages in 'Hamilton'
Miranda let his love of hip-hop, musical theater and New York City shine through. A sampling:
In the second song, "Aaron Burr, Sir," the phrase "show time" was a nod to the subway breakdancers in New York City, who start their shows with that declaration. And in the song "My Shot," Burr says, "You've got to be carefully taught," a line from the Rodgers and Hammerstein musical "South Pacific."
Other homages or inspirations were pulled from the likes of Tupac; Jay-Z; Mobb Deep; Ja Rule; The Notorious B.I.G.; Big Pun; Pharrell; Stephen Sondheim's "Merrily We Roll Along;" the Beatles; and Gilbert and Sullivan's "The Pirates of Penzance."
The set
There are very few set changes in "Hamilton." There would hardly be time — one scene slips seamlessly into another.
So it made sense to set designer David Korins that what would work best would be the images of construction — the play is, after all, about building America. When the play opens, the stage is packed with building items, such as scaffolding and the hull of a ship. There are coiled ropes and wooden beams with burn marks meant to portray the aftermath of sawtooth friction. It's a world that would be familiar to that era of America. As the story goes on, the city continues to be built around the actors — you can see ensemble members doing just that in the background.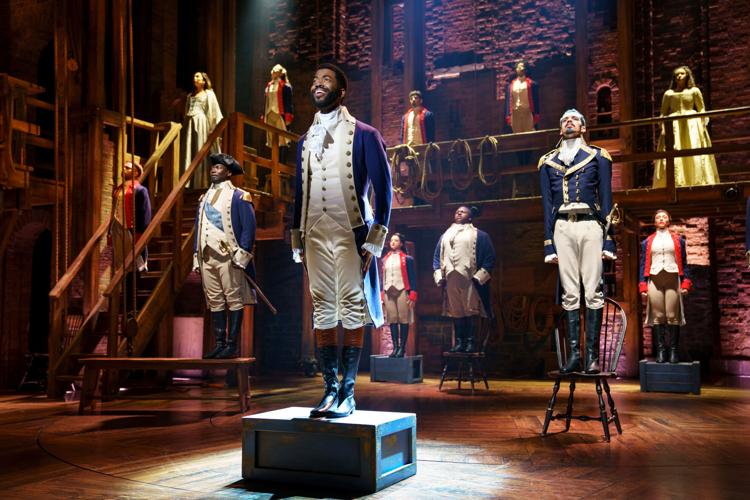 The main characters
Miranda pulled faithfully from history — his characters existed, and oftentimes, are quoted accurately from historical text. Among them:
George Washington: In the song "One Last Time," Miranda included actual lines from the president's farewell speech.
Aaron Burr: He serves as the narrator of the play and Hamilton's chief antagonist. As he says of Hamilton in the first song: "I'm the damn fool who shot him."
The Schuyler sisters — Angelica, Eliza and Peggy: Although Angelica sings in one song that there are no sons in the Schuyler family, that was Miranda taking poetic license; in reality, their father, Philip Schuyler, sired several sons. Also poetic license: a romantic flicker between Angelica and Hamilton. It just worked well for the plot.
John Laurens: The close friend of Hamilton longed to form a regiment of Black soldiers. He was an outspoken critic of slavery.
Hercules Mulligan: He was a tailor and an important spy for the colonists.
King George III: King of Great Britain and Ireland. He is often referred to (though not in the musical) as "Mad King George" because he suffered from mental illness.
Maria Reynolds: Hamilton's mistress and at the heart of the first great sex scandal of the republic.
Phillip Hamilton: The eldest child of Alexander and Eliza Hamilton, he was killed in a duel when he was 19.
Marquis de Lafayette: A Frenchman who fought in the American Revolution.
Thomas Jefferson: One of the founding fathers, he and Hamilton had political differences but were not the enemies portrayed in the musical. The original actor playing him, Daveed Diggs, gave Jefferson a bit of a limp. That was from the character's hip-hop swagger, not an injury, Diggs once explained.
The Bullet: That's right, there's a non-speaking character called the "Bullet." It telegraphs death, influences characters who cause another character's death, and is a near-constant companion to Alexander Hamilton. You might first notice the character as an actor seems to be carrying a slug toward Hamilton, swerving at the last moment. Keep an eye on that character.
Why the double casting
Some actors portray one character in the first act, another in the second. Here's how Miranda explains it in the book: "Of course, the actors who play Mulligan and Lafayette fight with him (Hamilton) as friends in Act One and fight with him as his enemies in Act Two. It's also true of Laurens/Phillip, who 'dies for him' in both acts. I was very proud of myself for the double meaning."
The accolades
In addition to loud praise from critics, "Hamilton," which premiered in 2015, racked up a dizzying number of awards. A sampling:
10 Lucille Lortel Awards, which honor off-Broadway productions
11 Tony Awards, which honor on-Broadway shows
A Grammy Award for the cast album
And the Pulitzer Prize for Drama
Kathleen Allen has written about the arts in Tucson for more than 32 years.