Next week marks the grim one-year anniversary of the COVID-19 pandemic, a year that challenged the community in unfathomable ways.
Restaurants and bars were among the hardest hit and the most challenged. Many struggled to adapt to remaking their businesses after local and statewide government shutdowns forced them to close their dining rooms and offer only takeout.
The impact was devastating; we lost dozens of restaurants and bars including the iconic Café Poca Cosa downtown, Rincon Market near the University of Arizona and the blues-centric Chicago Bar on East Speedway.
But 2020 also proved to be the year of the pivot, when restaurants reinvented themselves to meet the challenges, and, against all odds, newcomers with fresh ideas jumped in with both feet.
So as we look back on a year we wouldn't wish on our worst enemies, we look ahead to the force of the human spirit that shined a bright light on an otherwise dark time.
A cross-country pivot from Philly to TucsonRestaurant survival during the pandemic has required one important talent: The ability — and willingness — to pivot.
And when it comes to pivoting, possibly no one has Emato Johnson beat.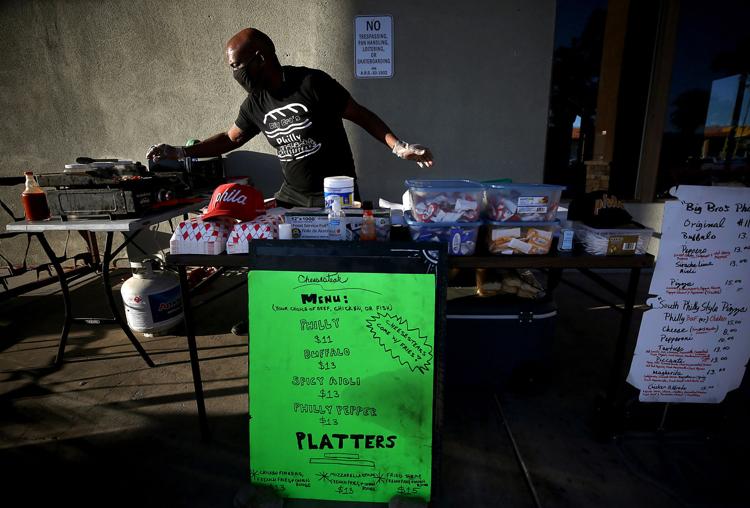 He had hoped to start off with a food truck and had pledges of financial backing.
But those backers backed out, so Johnson pivoted again.
His food truck is now a mobile operation that he sets up four days a week on the patio of Craft A Modern Drinkery at 4603 E. Speedway, which invites food trucks and vendors to provide food on weekends.
"He's a great guy," said Craft manager Parker Martin, who admitted he's a fan of Johnson's piccante pizza, made with a chunky garlic-studded tomato sauce. "I ate the whole thing before I got home."
Johnson, 52, had retired from a 30-year cooking career and was working in retail management last summer when he took a trip to Tucson. When a friend asked him to cater an event, Johnson drew on his hometown and made Philly cheesesteaks. But these weren't your run-of-the-mill sandwiches; unlike his Philadelphia brethren who often skip seasoning the thin, chopped steak, he added his signature Big Bro's seasoning.
"That is the difference in my steak. With a piece of beef or chicken, what they are tasting is a salt-free seasoning that I created," Johnson explained with a chuckle.
He also kicks up the classic Cheez Whiz — which, he is quick to note, is not a staple of cheesesteaks in Philly — with a little chile oil, a trick he borrowed from his time helping out at Rollie's Mexican Patio on the south side last summer.
"People love flavor out here," he said. "In Philly, our cheese sauce is just cheese sauce. Here it has to have flavor."
The result is a layer of flavor sans the heat, he said.
It seems Tucson has also influenced Johnson's pizza offerings, with a birria topping as an option, along with carnitas.
His sandwiches come with beef or chicken and are served with fries. The menu also includes a Philly fish sandwich, crispy chicken hoagie and Philly Famous Buffalo fries drizzled with buffalo wing sauce and ranch dressing.
You can find Johnson and his Big Bro's Philly Steak at Craft from 2 to 6 p.m. most Saturdays and from 4 to 8 p.m. Mondays through Wednesdays. Follow him on Facebook at tucne.ws/bbpsk.
Opening up shop with pandemic pies Sydney Adams was studying for the nursing school exam the summer after earning her public-health degree from the University of Arizona in 2017, but she found herself distracted by the image of her grandmother baking pies.
"She was the pie queen," said the 26-year-old Adams, who picked her grandma's brain for her crust recipe — a tender, flaky masterpiece of flavor, texture and tradition.
Once she confidently nailed the crust, Adams was all in. She put aside nursing school ambitions and, using her 90-year-old grandmother's recipes that date to the 1940s, she started baking pies for family and friends from her east-side home. Her Costco co-workers were fans; over the holidays in 2018 she had orders for 30 pies.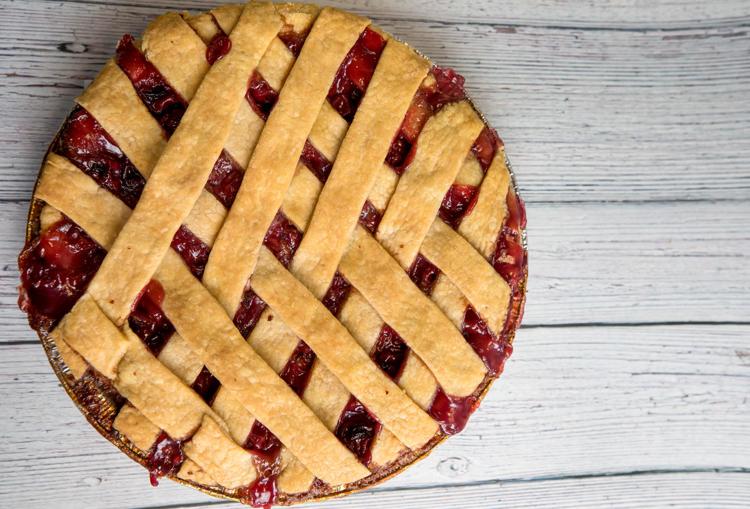 Last year, she graduated from home baker to the Cook Tucson community kitchen, increasing her output and enabling her to take her pies beyond her small circle of fans to farmers markets and El Corral and Garrett's Steakhouse, which featured her pies on their dessert menus.
When the pandemic hit last spring and the restaurants shuttered their dining rooms, Adams flipped the switch and joined Tucson restaurants in offering delivery.
"People loved the idea of a pie at their front door," the Tucson native said.
Last summer, as the spotlight locally and nationally turned to black-owned businesses, Adams saw an uptick in pie orders.
"People wanted to support a black-owned business," she said, and as her pies grew in popularity, she and her business-partner father started looking around for a brick-and-mortar.
"I figured if I'm going to jump in on a brick-and-mortar, I'm going to jump in with both feet," Adams said, even if the timing was in the middle of a pandemic. "Crazier things have happened. I definitely knew it was risky, but I knew how good my product was and how well it was going before the pandemic. I was ready to take on that risk."
They found the perfect spot, a 10-minute drive from home, in the Bear Canyon Shopping Center, 8969 E. Tanque Verde Road. It was almost a turnkey operation; the space had been home to a Russian restaurant and a bakery.
"Once we saw it, we knew this is where we were meant to be," Adams said.
Soon after she opened Sydney's Sweet Shoppe in October, she baked a multitiered wedding pie for a couple, then settled into the Thanksgiving and Christmas holiday seasons.
"We made over 400 pies in our two ovens. It was fantastic," she said. "We are told all the time when people come in, 'We're so glad you're here in the neighborhood.'"
COVID-19 collabs help keep businesses goingTucson Hop Shop was on a roll before COVID-19 struck last spring.
It had food trucks lined up for a spot to serve the popular beer garden's customers.
With the state shutdowns last March and the ebbs and flows of the rising COVID-19 infection rates throwing a world of uncertainty into the works, the food trucks became less consistent.
"A bunch of our trucks either found other spots during the pandemic at other breweries or other places and quite a few of them just went out of business," said owner David Zugerman. "It's been a little bit of a struggle to maintain our level of food trucks. But we're starting to see some new ones, which is nice, and we're starting to see a little bit of a bounce back."
The arrangement is a win-win for the food trucks and the beer garden. The food trucks have a place to set up and a built-in audience for their fare while Tucson Hop Shop has an added incentive for people to stay longer. The food trucks also promote themselves on social media, bringing their customer base along with them.
"And that's really helpful," Zugerman said. "Definitely having a food truck helps people want to stay at the bar."
Gabe Ceniceros credits breweries and bars like Tucson Hop Shop for making his 7-year-old hot-dog centric Blacktop Grill food truck as popular as it has become.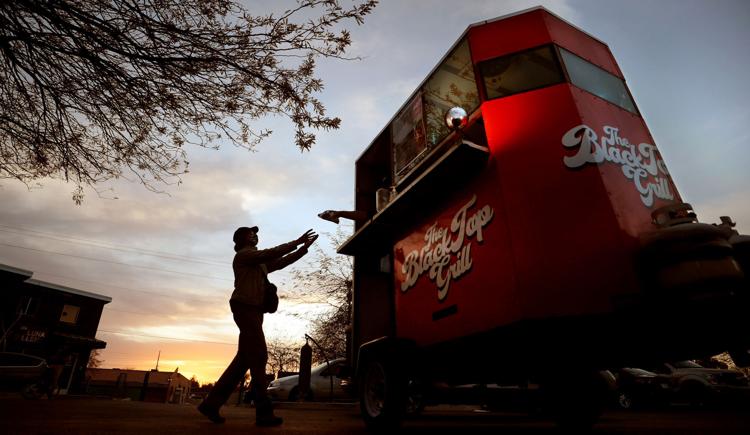 "All these breweries popped up and we started getting this platform and we built our reputation," he said.
After a couple of years of flirting with the idea of opening a brick-and-mortar location, Ceniceros took the plunge last fall, opening the Blacktop Grill at 8300 N. Thornydale Road in November.
"I think people are amazed by the fact that we opened up in the pandemic, and the support from everybody, it's just been a great ride since we opened our doors," he said. "Business has been fantastic. It's pretty amazing."
Initially the plan was to retire the food truck and focus on the restaurant, but Ceniceros said the reaction from his longtime customers convinced him to keep the truck.
"During the last couple of months we just realized how special the food truck was for people. ... It was very humbling," he said.
And being at Tucson Hop Shop a couple of times a month helps him stay connected to his east-side customers, who make the trip to support him, he said.
Tucson Hop Shop, 3230 N. Dodge Blvd., is open from 2 to 8 p.m. Sundays through Thursdays and until 10 p.m. Fridays and Saturdays. The Blacktop Grill is open 11 a.m. to 8 p.m. Mondays through Thursdays, until 9 p.m. Fridays and Saturdays and 11 a.m. to 4 p.m. Sundays.
Switching gears with ghost kitchensAn evolution of the COVID-19 era has been the advent of so-called ghost restaurants — eateries that operate out of an existing kitchen offering an entirely different menu.
That's what the mother and son team of Linda and Ramon Gonzales did back in September when they launched a burger joint out of their Fat Noodle ramen restaurant at 811 E. Wetmore Road.
Rae's Classics Burgers, Fries & Pies, modeled after the long-closed and much-loved Shari's First Ave. Drive-In, gave the Gonzaleses some breathing room as sales of ramen dropped in the early days of the pandemic. The downturn for the 2-year-old restaurant tucked into the Seasons student housing complex was largely due to the absence of students after the UA stopped in-person classes last spring. The restaurant, near the Tucson Mall, also lost its lunchtime customers who came from neighboring office complexes, whose staffs have mostly not returned since last March.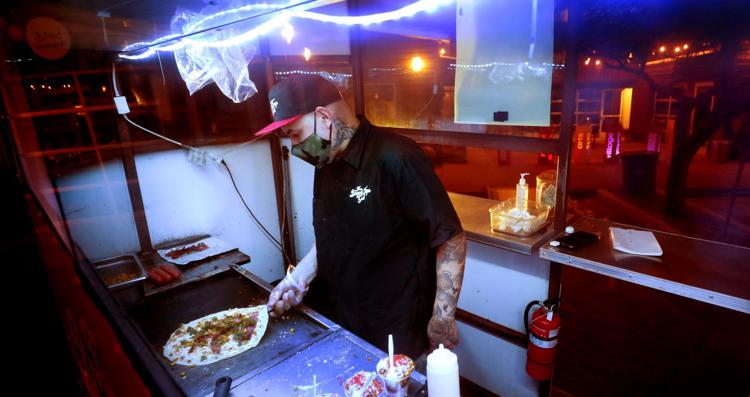 Ramon Gonzales said Rae's Classics helped Fat Noodle make ends meet early on, but business in recent months has been inconsistent.
"Business lately comes in waves," he said. "One week will be really good. One week will be absolutely horrible. We're surviving, but it's definitely not a booming success."
But it's been successful enough to convince the Gonzaleses to explore turning Fat Noodle into a dual restaurant. Ramen, he said, pays the bills, but students, who make up a large part of their customer base, are comfortable with the lower price point for the burgers.
Meanwhile on Tucson's east side, Garrett's Family Steakhouse at 9431 E. 22nd St. has rolled out a dozen or so homegrown concepts out of its kitchen.
Garrett's tiptoed into the ghost kitchen arena last fall, offering recipes from several virtual restaurants including Wiz Khalifa's HotBox by Wiz. Earlier this year, the restaurant dropped the national company it was working with and launched its own "Tucson Food Court" app offering chicken and ribs to rice bowls and Mexican fare.
"We are still doing (the ghost kitchen), but we are doing it ourselves and not having to pay somebody 55%," said owner Michael Lopuszynski.
In addition to Garrett's, Tucson Food Court has 17 other concepts including Exotic Burgers, Something's Fishy, Bad Miquels, Outlaw Steak & BBQ, Nick's Pizza and Gourmet Mac N Cheese. All orders for the concepts are made through the app, and the food is prepared in Garrett's kitchen. The Tucson Food Court app can be found in the Apple Store or Google Play.