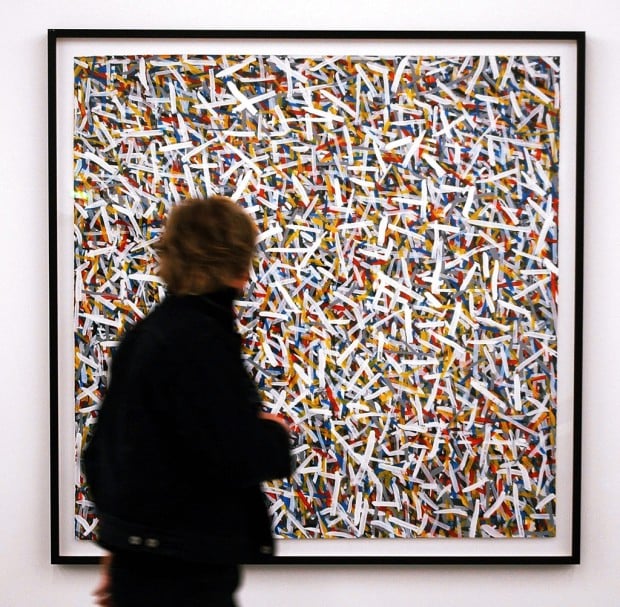 Teams of local artists will spend much of summer constructing Sol LeWitt's creations into an exhibit that will remain on display at the University of Arizona Museum of Art into October.
Widely regarded as a founder of both minimal and conceptual art, LeWitt stressed the ideas behind his work over the execution, and often invited other artists and students to help him in making his installations.
When he died in 2007 at the age of 78, LeWitt was praised in The New York Times as "a lodestar of modern American art" for his "deceptively simple geometric sculptures and drawings and ecstatically colored and jazzy wall paintings."
Starting next Thursday, the first of the six teams will start working on the designs during regular museum hours so that the public can watch the progress and talk with them.
LeWitt was unique among 20th century artists for creating blueprints and then allowing others room for interpretation as they create his works, said Lauren Rabb, the museum's curator of art. "There's something very communal about doing something that people have done before, and will do after, but every single time it is unique."
This is the first time the museum has issued such a broad-based invitation to the community to come in and watch art being created on the wall, she said.
"Sol LeWitt Days" will be integrated with an exhibition of New York-based artist David Headley's monumental abstracts. Both exhibits open next Thursday and will be on display through Oct. 21.
The eco-surrealist artwork of Josh Keyes opens Monday at The Joseph Gross Gallery.
"Above and Below" is the first solo exhibition in Arizona for Keyes, a 43-year-old artist based in Portland, Ore. It will run through Aug. 30.
The gallery's description: "(His) paintings emerge as dioramas of an almost post-apocalyptic urban landscape abandoned to the elements."
The gallery, at 1031 N. Olive Road, is open 9 a.m. to 5 p.m. Mondays through Fridays. Admission is free.
• What: "Sol LeWitt Days" and the David Headley exhibit open with a free public reception with Headley and the Tucson LeWitt Teams.
• When: 5-7 p.m. next Thursday in the museum's main gallery. The reception is free and open to the public.
• Where: UA Museum of Art, 1031 N. Olive Road.
• Museum hours: 9 a.m.-5 p.m. Tuesdays through Fridays and noon-4 p.m. on Saturdays and Sundays. It's closed on Mondays and holidays. Admission is $5; free for children, students with ID and active military with ID.
• Starting May 24: The Construction Crew: Leon McNeil, Jake Hunnicutt and Jon Howe with LeWitt wall drawings #815 and #1097.
And the Magnificent Five: Carolyn Sotelo, Mano Sotelo, Meredith Mistead, Diane Crenshaw and Lily Noble with LeWitt wall drawings #103 and #869C.
• Starting June 2: Le Ladies of Witt: Suzanne Hesh, Loren Dawn, Ann Tracy Lopez, Stella Lopez and Alice Vinson with wall drawing #797.
• Starting June 8: Alfred Quiroz's UA School of Art Summer Session I Class with wall drawing #394.
• Starting June 15: Pima Downtown team led by Tom Plazibat with LeWitt wall drawing #1180.
• Starting July 2: Tucson Art Brigade team led by Michael Schwartz with wall drawing #960.
The museum encourages calling ahead to verify the work schedule - 621-7567.
Stay up-to-date on what's happening
Receive the latest in local entertainment news in your inbox weekly!