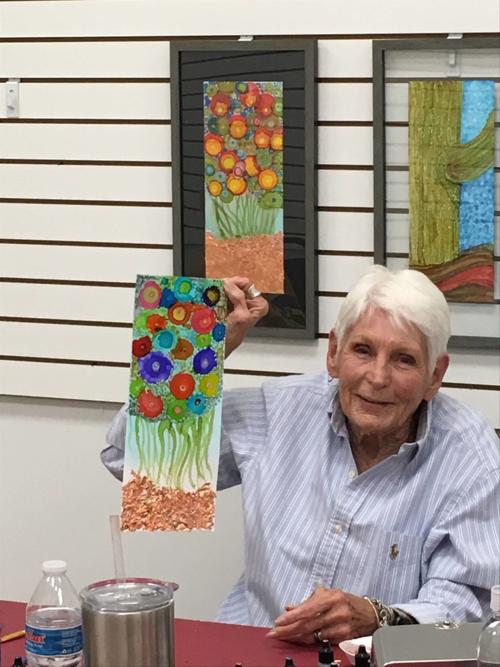 If you are ever moved when looking at a beautiful objet d'art, a visit to the Southern Arizona Arts Guild might elicit a few joyful tears. For it is here, in a 3,000-square-foot venue that a carousel of 80-plus Tucson artists display and sell their creations.
A reception I attended a few weeks back at the gallery was another reminder of the talented community of artists we have in the Old Pueblo. I was anxious to know more about SAAG, and board member and art teacher Theresa Poalucci was happy to provide details.
The idea for SAAG came about in February 2002, when an artist of many genres, Diane Loving, was in conversation with another artist about the solitary nature of their work. Loving ran a little blurb in the newspaper inviting similar creative spirits to a breakfast meeting. Forty showed up. The guild was officially born the following April.
Starting in 2013, SAAG opened the first of two galleries in Casas Adobes Plaza.
"We had great talent in the group, but not enough space for everyone who wanted to sell," Poalucci explained. "So, we took a leap of faith in 2019 and moved to a 3,000-square-foot venue in La Encantada. The community has embraced the gallery and sales have surpassed our expectations."
SAAG is celebrating its second year in La Encantada this month. Next year is the guild's 20th anniversary. Operating as a nonprofit, SAAG counts more than 200 members, working in a variety of artistic endeavors including ceramics, jewelry, paintings, textiles, and home and garden.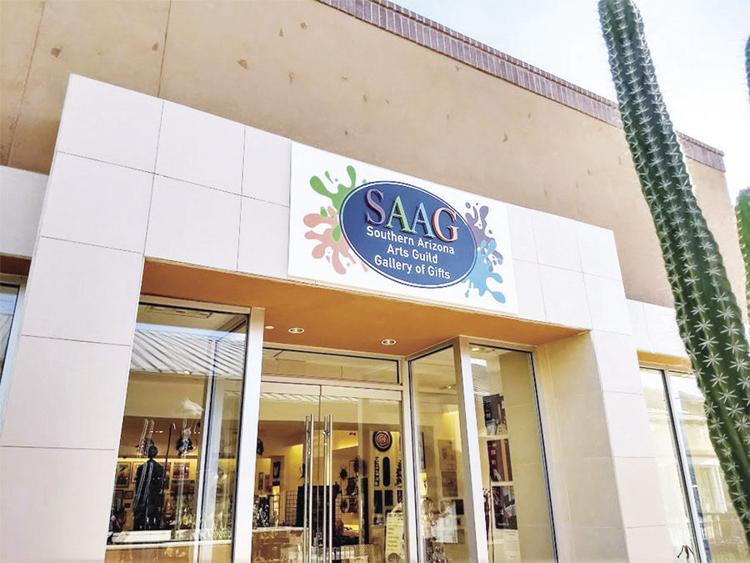 Not all members are interested in exhibiting and potentially selling their art in the gallery. For those who are, the process is straightforward.
"A member who wants to exhibit lets management know they are interested," Poalucci said. "We then make a decision based on quality of the art and whether it's over- or underrepresented."
To give maximum exposure to the artists chosen, SAAG organizes receptions from time to time at the gallery. Even if not selected, an artist has other opportunities to display and sell their work, including at SAAG's ongoing show at the Overlook Restaurant at the Oro Valley Community Center.
Every exhibiting member pays rent for their space as well as a commission on any pieces sold. In addition, each chooses a job at the gallery — everything from working the cash register to helping with member services to perhaps one of the most important: being the first person to greet visitors at the door and answer questions.
This volunteer work presents an opportunity for artists to get together and schmooze about various art-related subjects. Also, beginning in March, SAAG will resume a monthly talk that had been put on hold because of COVID-19, with a professional in the art world invited to share their expertise in a certain field. All members of the guild will be invited to these talks, whether or not they work in the same medium.
Another way members interact with others is through classes they teach to community members.
"The goal for each class is for the student to walk away with a finished product or in the case of photography a new set of skills," Poalucci said. "Each teacher sets a price, based on their time and materials provided."
If one of your New Year's resolutions was to let your artistic genie out of the bottle via a class, check out SAAG's offerings. To give but a few examples, classes in mid- to late February will include:
beginning paper quilling
painting with alcohol inks
DSLR photography
SAAG will limit classes to eight participants who will be required to wear masks and socially distance. Classroom space will be sanitized.
So, whether you're a budding Picasso or like me, whose artistic forte is generic stick figures living in a generic stick house, a visit to SAAG will uplift you. And a positive outlook, especially in these topsy-turvy times, is more valuable than an original Renoir — actually, it's priceless.