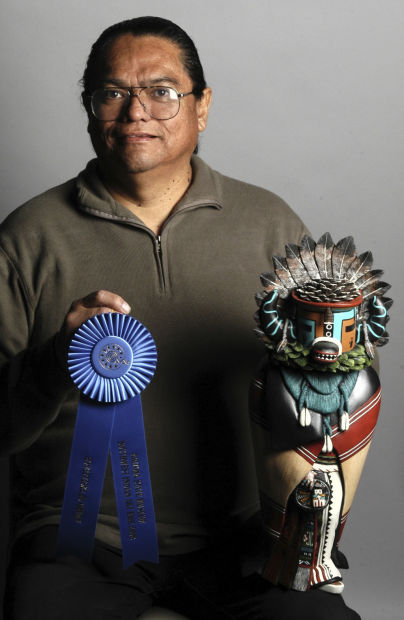 From ice carvings for Hollywood's elite to Hopi katsina dolls, Gerry Quotskuyva has an artist's touch.
For nearly 20 years, Quotskuyva has carved katsina dolls, using cottonwood roots to artistically represent the Katsinam, or Hopi spirit beings.
As the featured artist at this weekend's Arizona State Museum's Southwest Indian Art Fair, Quotskuyva will showcase some of those carvings, along with his bronze sculptures and paintings.
"This is my culture, and I've been dancing around it for years," the 53-year-old said in a telephone interview. "I finally started doing it."
Quotskuyva, also of Yaqui and Hispanic heritage, spent summers on the Hopi Reservation in Northern Arizona with his grandfather.
However, he grew up in Winona, near Flagstaff.
When his sixth-grade teacher asked him to draw something important to him, Quotskuyva drew a city and smokestacks.
Quotskuyva leaned toward the arts in junior high and high school but ended up studying electrical engineering at the University of Arizona. He got into catering as a way to fund his education.
The young chef became known for his intricate ice carvings. He bounced between California and Arizona, brushing shoulders with Steve Martin, Clint Eastwood and Chevy Chase, among others, at functions he catered.
When he moved back to Arizona in his mid-30s to finish his degree, his mother asked him to help her with craft fairs. His artistic side reawakened, and Quotskuyva decided to open an art shop, which he eventually closed to more fully pursue art.
"I lived close to a river and would pick wood and whittle on it," Quotskuyva said. "And then people would say, 'If you carve a (katsina) doll for me, I'll buy it.'"
Although some katsina dolls now sit on fireplaces as art, they still hold religious and ceremonial significance in Hopi culture.
Carvers whose dolls are used for ceremonial purposes must adhere to certain craft traditions. Quotskuyva's dolls are not used for ceremony.
To avoid crossing any lines, Quotskuyva took his first dolls to his grandfather, who also carved. His contemporary interpretation of Corn Maiden, first as a carving and later as a bronze, was not a katsina. Still, his grandfather loved it.
"He turned it over in his hands, sliding it back and forth," Quotskuyva said. "The third time, he dropped it, I had to say, 'Give it back to me.'"
The idea for Corn Maiden came to Quotskuyva in a dream.
"I had a dream of corn, and the husks turned into the robes of the katsinas as they were flying away," Quotskuyva said.
The Hopi revere corn, and Quotskuyva's bronze of Corn Maiden is not a katsina. Hopi edicts about katsinas are strict, and Quotskuyva said stories of hardship surround artists who ignore them.
Quotskuyva continues to straddle the gap between worlds. He and his wife, artist Debbi Menig, live in Rimrock, near Sedona. He has met only one other Hopi there.
"I hear about things through Facebook and the reservation's radio station," Quotskuyva said. "My heritage is not far away."
The Southwest Indian Art Fair started as a pottery festival in 1993 - part of a celebration for Arizona State Museum's centennial. More than 50 artists from around the Southwest showcased their pottery.
Today, textiles, baskets, katsina dolls, and other forms of native art join pottery as more than 200 artists are expected to converge on the Arizona State Museum's front lawn for the two-day festival.
Last year, about 6,500 visitors attended the fair to see and buy slices of culture.
"It's a very personal thing to take objects into your home," said Darlene Lizarraga, the museum's marketing coordinator. "How much more valuable is that object in your home if you know the person who made it and that it has a 1,000-year history behind it."
The artists receive 100 percent of the proceeds from art sold. Admission fees support the fair itself.