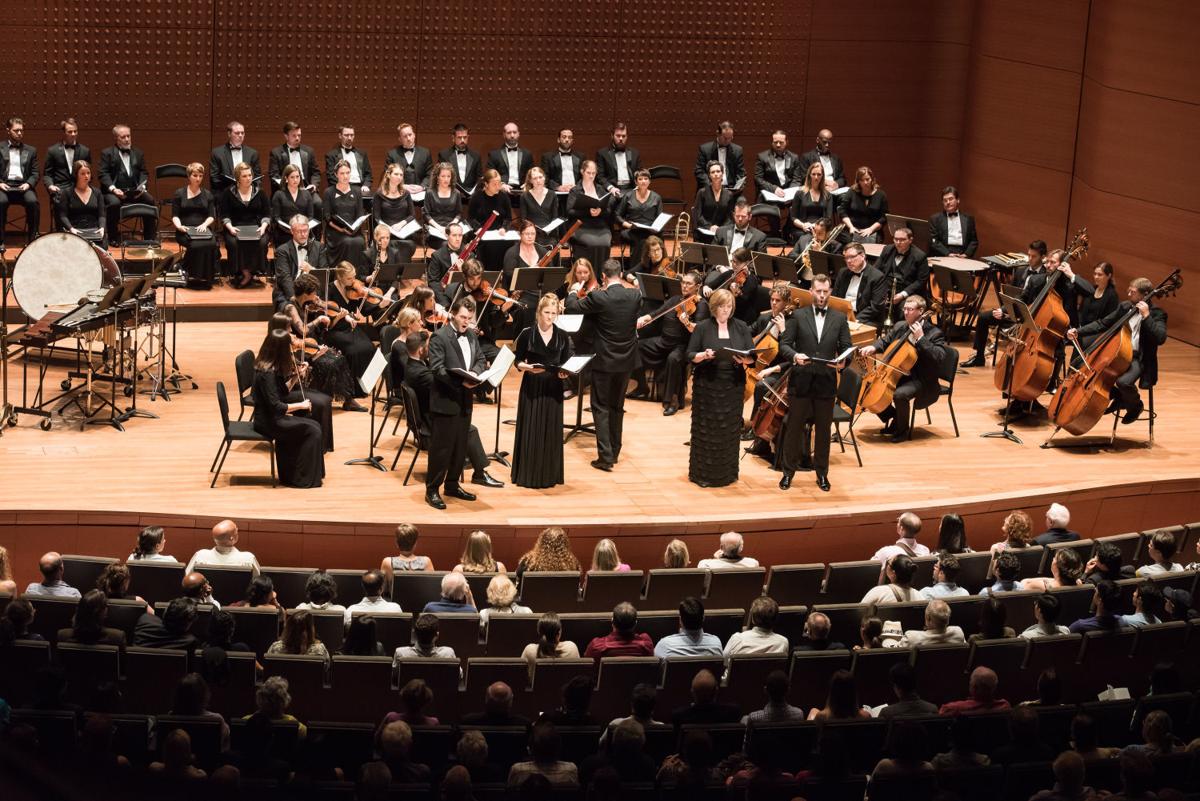 True Concord Voices & Orchestra has had quite a year — a nationally released CD that made it to No. 5 on the Billboard charts; a New York City debut, and two Grammy nominations.
And this weekend, they will put an exclamation mark on their remarkable season with the world-premiere of what could be the first choral work featuring the Tohono O'odham language.
The ensemble, led by Conductor Eric Holtan, will perform the premiere of nationally known and Tucson-based composer Sheldon Curry's "Concerto Sonora." It's a work that Curry, who moved to Tucson from Nashville years ago so that his son could attend BASIS school, had initially composed as a marimba concerto for Tucson Symphony Orchestra percussionist, Homero Cerón. When Cerón played the piece for Holtan, the True Concord founder imagined how it would sound with voices.
Holtan said True Concord commissioned Curry to rework the piece. Curry has two Grammy nominations to his credit and composed one of the biggest selling church anthems of all time — "Down to the River to Pray" from the movie "O Brother, Where Art Thou."
Curry, the music director of St. Andrew's Episcopal Church, incorporated texts from poems into the three-part work, beginning with Ofelia Zepeda's poem "Ñeñe'I Ha-sa:gid" in the native O'odham language, and Octavio Paz's "Piedra Nativa," which is in Spanish.
The work closes with a pair of Keats poems sung in English. The idea was to represent the cultures of Tucson's Sonoran Desert, from O'odham and Mexican influences to the Anglos.
As far as Curry and Zepeda can tell, "Concerto Sonora" is the first work that actually uses O'odham language that is written down. Most O'odham songs are passed along orally from generation to generation, with no written record.
"He wanted the language to be represented," said Zepeda, a longtime University of Arizona linguist who wrote a landmark book on her native Tohono O'odham language. "It was kind of experimental. I think in the end it's all going to come together. On my end it's another innovation for the language. ... which is always a good thing."
Curry has spent 30-plus years composing everything from gospel to country songs and conducting church choirs in Tennessee, Texas and Arizona, but he said "Concerto Sonora" is a first for him in expanding into a language that is foreign to most listeners.
"I've never seen or heard anything like it," he said. "Out-of-the-box stuff seems normal to me. It's unusual but I didn't ever think this should never be done."
Curry said the music has references to the Tohono O'odham ceremonial and traditional dances. It also employs a specially made instrument made by an O'odham craftsman.
Cerón will be center stage in the piece and throughout True Concord's "American Rhythm" concert, which the ensemble performs four times beginning Friday, April 1.
"We started off in our season proper with music for choir and brass, and then it was strings and dance, and then we had concerts focused on voices and a concert with Guy Whatley and the organ," Holtan explained. "And now we're doing percussion with voices. It's showcasing our versatility of what we do."
"American Rhythm" includes works by Leonard Bernstein, Samuel Barber and Aaron Copland. The choir also will perform superstar choral composer Eric Whitacre's "Cloudburst," which Holtan described as a "musical depiction of a thunder storm."
"It's really cool," he said, describing how the song builds with big cluster chords and arpeggiating piano. Rumbling percussion creates clapping thunder that explodes in a hard rainfall effected by finger snapping.
"It's a major effect that really works," Holtan said. "It doesn't seem contrived as a listener. You really get the sense of rain hitting the rooftops."
Contact reporter Cathalena E. Burch at cburch@tucson.com or 573-4642. On Twitter @Starburch