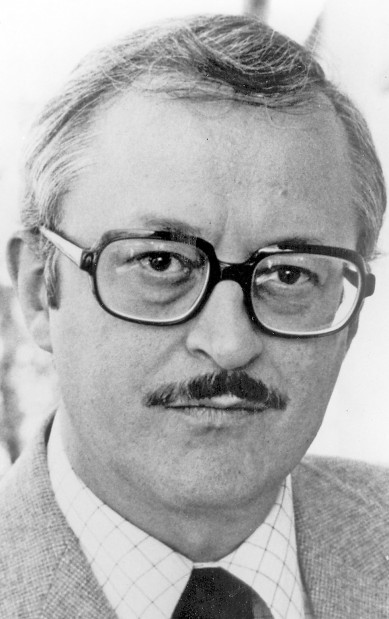 Robert Muczynski got the leukemia diagnosis six months ago.
It was not good news, but Muczynski, a renowned 20th-century composer and longtime University of Arizona teacher, seemed to take it in stride.
"He said to me: 'If I had gotten this diagnosis when I was 40 or 50, I would have felt cheated. But I'm 81, and I did what I wanted to do in my life. I did what I wanted to do in my career,'" his sister, Gloria Muczynski, said Tuesday, a day after she and friends held services for Robert Muczynski. He died on May 25.
"His music was his legacy," she added. "He was so wrapped up in music his whole life."
That legacy, longtime colleagues say, will live on in his 50 solo piano, chamber and orchestra works that borrow from contemporary 20th-century conventions, including jazz and pop.
"He was a very American composer to the extent that he assimilated what was happening in our culture in those years," said UA piano professor Rex Woods, who studied piano under Muczynski as an undergraduate student in the late 1970s.
"The music itself is just full of rhythmic vitality. It's like Prokofiev in that there is light melody, harmonic writing and clever assimilation of jazz influences."
UA flute professor Brian Luce agreed.
"He was able to convey the rhythms, the energy," said Brian Luce, who never met Muczynski but recorded his 1961 Sonata for Flute and Piano with Woods in 2008. "I have a great deal of fun whenever I play his repertoire. It's a very forthright, honest, American voice."
Muczynski, who was born and raised in Chicago, was drawn to music from his youth, inspired by a performance of Tchaikovsky's "The Nutcracker" while in grade school, according to the Chicago Sun-Times. His working-class parents reluctantly supported him.
"He was a Depression baby, and things were not that great," recalled his sister, who moved to Tucson 18 year ago after retiring from her textbook-editing career. "We didn't come from a wealthy family."
Muczynski attended DePaul University and was an early composition student of Russian emigré Alexander Tcherepnin. He later taught at DePaul and several colleges before arriving at the UA in 1965 to head the composition department and be the composer in residence.
In his 23 years at the UA - he retired in 1988 - his students included eclectic composer-performer Paul Schoenfield.
During his UA tenure, Muczynski composed his Pulitzer Prize-nominated Concerto for Alto Saxophone and Orchestra, which is among three works that are regularly played by American orchestras. The others are his Flute Sonata and "Time Pieces" for clarinet and piano, which he wrote in 1984 for world-renowned clarinetist Mitchell Lurie.
"Everybody plays the Flute Sonata. Everybody plays 'Time Pieces.' Everybody plays the Saxophone Sonata. His stuff is standard," said UA piano professor Paula Fan, whose late husband, the critically-acclaimed clarinetist John Denman, played the BBC premiere of "Time Pieces" in London.
Muczynski, who made his Carnegie Hall debut at age 29 performing his original works, also wrote dozens of solo piano compositions. Orchestras including the Chicago Symphony and the Tucson Symphony Orchestra have performed his works.
"His music is recognized all over the world. It was a great big voice, and a vibrant voice and an energetic voice - and a very distinctive voice," Fan said.
Which is in contrast to the man, she said.
"He was very quiet. He was very soft-spoken, but his letters (to her and to friends), they just crackled with the same energy that his music does," said Fan, who last saw Muczynski about four years ago. "It was a very interesting juxtaposition of a quiet personality and a very vibrant and literary voice."
"When I would come to my lessons, he was very calm, and he would often be gazing out the window," said Woods, who has taught at the UA since 1988. "He had dark glasses on. He would make a few observations, and he might show me something he was working on. He was very low-key. Very nice and very congenial."
Muczynski's final composition was the 1996 solo piano work "Desperate Measures" (Paganini Variations).
"He said he had written everything he had wanted to write," Gloria Muczynski said. "He just kind of enjoyed life, I'd like to think."
In addition to his sister, the Chicago Sun-Times lists as a survivor his longtime companion, documentary filmmaker Harry Atwood.