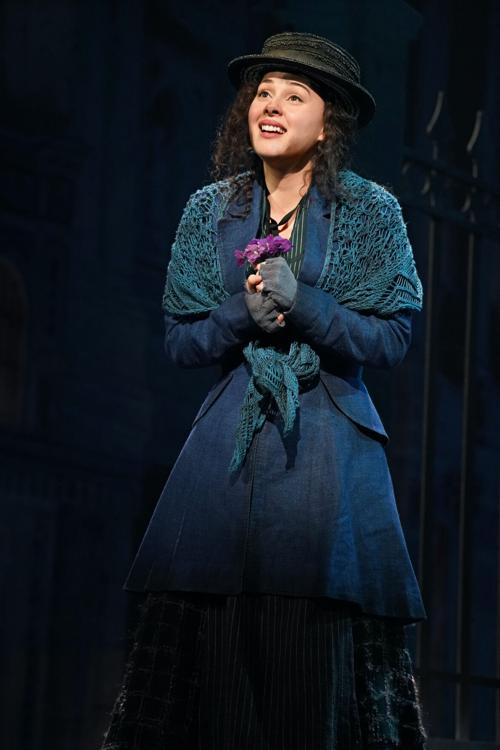 Centennial Hall's stage was transformed into the early 20th century streets of London, where the downtrodden often intersect with the well-to-do in Lerner and Loewe's classic "My Fair Lady."
But in the Bartlett Sher directed revival, which Broadway in Tucson is hosting through Sunday, Jan. 9, Shereen Ahmed's Eliza Doolittle takes her cues from the #MeToo movement, standing up more forcefully to Laird Mackintosh's Professor Harry Higgins than past iterations of the poor flower-selling Cockney-accented street girl from the wrong side of the tracks.
Ahmed delivered a powerful and entertaining performance when the award-winning musical opened for its five-day run on Jan. 5. From the opening scenes when she encounters Higgins and Colonel Pickering (delightfully played by Kevin Pariseau), Ahmed brought an edge to her character that let you know her version of Eliza wasn't going to put up with Higgins' abuses unchallenged.
"My Fair Lady" is the story about a bet: Higgins, a know-it-all phonetics expert and all-around snob, bets the equally snobbish but far more tolerant Pickering that he can transform Eliza into a proper lady by changing the way she speaks. He goes as far as to predict that he can pass her off as London nobility.
Eliza agrees to his help, not knowing of the bet; she just wants to improve her speech so that she can sell her flowers in a shop instead of a bucket on the street.
With each lesson, from Mrs. Pearce (Gayton Scott) scrubbing Eliza of the street dirt smudging her face and clothes to Higgins forcing Eliza to repeat "the rain in Spain falls mainly on the plain" until every word is perfectly enunciated, we see Eliza grow more confident. And with that confidence comes a determination to challenge his verbal taunts and putdowns.
Ahmed shatters the image we've long held of Eliza as the petite waif willing to surrender to Higgins's demands, demonstrated most forcefully as she storms through rooms of Higgins's mansion — a turntable set that allowed the performers to go from room to room as the set turns — raging "Just You Wait" as more of a promise than a threat to be her own woman.
Mackintosh was perfectly obnoxious as Higgins, but his vulnerability when he confessed "I've Grown Accustomed to Her Face" gave him a glimmer of redeeming humility.
"My Fair Lady" has wonderful tunes from the street chorus "Wouldn't it Be Loverly" and the swooning "On the Street Where You Live" to the iconic "I Could Have Danced All Night," whose melody is repeated by the orchestra throughout the nearly three-hour performance.
Conductor John Bell led the ensemble, which included a handful of Tucson musicians mostly from Tucson Symphony Orchestra and the University of Arizona Fred Fox School of Music.