The first time photographer A.T. "Tom" Willett ever chased a tornado, he drove toward a horizon streaked with lightning in the dead of night.
Partnering with fellow photographer Warren Faidley, the two hurtled into the storm in Faidley's Honda. It was 1987, and they had no radar, no laptops and no cellphones.
"You're just getting closer and you know there has been a tornado there, and there is not enough information to know that there is not a tornado there now," said Willett, now 50.
Storm chasing is a puzzle.
So is photography. Willett's interest in imagery developed with his first batch of photographs.
He traces his interest to a family vacation in SeaWorld when he was about 12 or 13. He had snapped photos of leaping dolphins with a damaged Kodak Instamatic, and a light leak splashed a red flair across the finished images. Willett was intrigued.
"He always liked to see how things were made and would take things apart like vacuum cleaners and motors to see how they worked," said his mother, Judith Willett, 75.
Willett joined the yearbook staff at Sabino High School and then took photography classes at Pima Community College. He initially planned to pursue landscape photography, then changed his focus to people. He started building his portfolio and decided to go after a job at the Tucson Citizen.
"I would just go out and give myself assignments," Willett said. "It's just like the newspaper, but I would just look through the newspaper and they had a column that said what's happening today. I would go in there and circle the things that looked interesting."
Today most people know him for his storm-chasing work, but like any good puzzle, Willett's career has many parts, from freelance work to a current film project on love.
For a May show at the Wee Gallery, 439 N. Sixth Ave., Willett hauled out his work from the 1980s, including images taken as a staff photographer for the Tucson Citizen and later during a year in New York City. All of them capture moments from individual life stories.
It was shooting stock photography — taking photos for commercial use — that led Willett to storm chasing. They sold well, and in those early years, not many people chased severe weather.
"Tornado chasing became this puzzle of all the information, and 'Let's see if you can solve this puzzle and get an interesting photo,'" Willett said. "It was a challenge."
Today, Willett sees people take unnecessary risks, even with so much information available about dangerous weather. He sets up cameras and keeps his eyes on the storm.
Although he began storm chasing in 1987, he did not see his first tornado until 1991. With little information to go on, Willett and Faidley would spend hours in cable company lobbies in small towns, taking advantage of the lobby television's access to the Weather Channel. They would go for a month at a time.
Willet first encountered tornadoes as a child living in Illinois. He remembers his parents herding him, along with his two sisters and brother into the basement to wait out a tornado until the AM radio crackled the "all clear." When Willett was about 7, the family moved to Tucson, where he discovered monsoons, another fascination.
All of it — even tornadoes, lightning and thunderclouds — connects to people.
"Storm chasing is like 1 percent what you experience when you're out there, and a lot of what you experience is talking to other people and meeting other people," Willett said.
Here are some excerpts from a conversation with Willett about his career, his photography and some harrowing escapades with severe weather.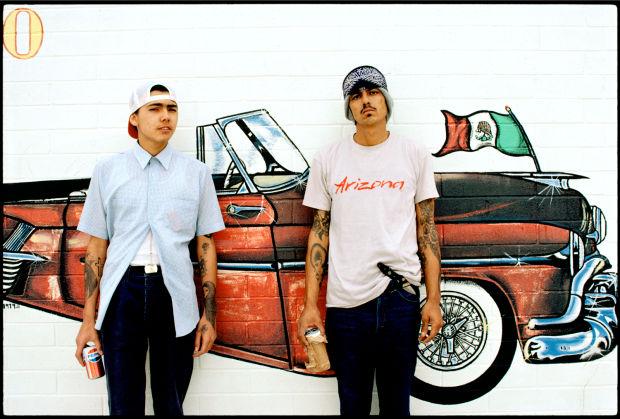 "Vatos, West 29th Street," 1983
Willett took this photo as a Pima Community College photojournalism student bulking up his portfolio to apply for a job at the Tucson Citizen. The mural by Luis G. Mena is now painted over. Later, when the photograph was published, Willett received a critical email from someone who thought he completely staged the photo. Willett sees these early years and his Tucson Citizen days as training.
"This was shot before I worked at the paper. That was shot because I had gone down the street, and I had always wanted to do something interesting with the mural, and I didn't know what it was until I saw those people walking down the street, and I asked them if they would pose for a picture."
As a Tucson Citizen photographer "I would photograph five to eight things a day, and you would get all these assignment cards, but it was also really cool, because you would meet all of these people that you don't know and learn about their little snippets of life."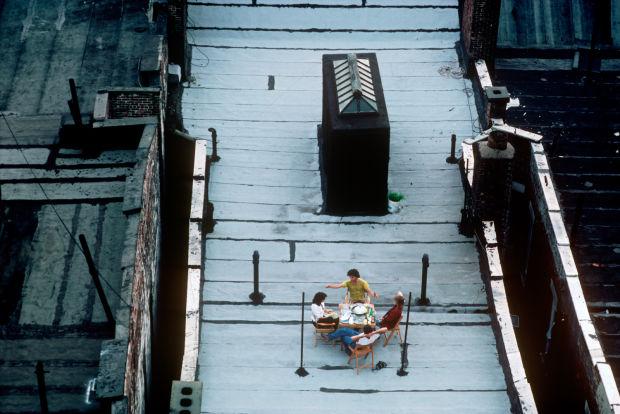 "Rooftop Dining, New York City," 1986
After working as a photojournalist for the Tucson Citizen for two years, Willett, only 22 at the time, moved to New York City with plans to shoot fashion. He shot this photo from his bedroom in the apartment he rented with a Jewish school teacher. He got several assignments from USA Today and continued his practice of circling and shooting the day's events based on publications such as The New Yorker. He stayed for about one year before moving home to Tucson.
"It was so difficult. I would talk to all those people and take my portfolio to all the magazines like Newsweek, Time, Rolling Stone, Esquire, Vanity Fair and Forbes, and the thing is, all of them said, 'If you lived in Arizona, we could use you, but here in New York, we have a lot of photographers.'"
"My bedroom was like six feet wide, so the bed would fit from end to end on one end of the bedroom, but when I would lift my head, there were two pillows there, so I would be looking out over lower Manhattan, and I could see the World Trade Center and all of that. Everyday, I would just lift my head up and stick my head out the window."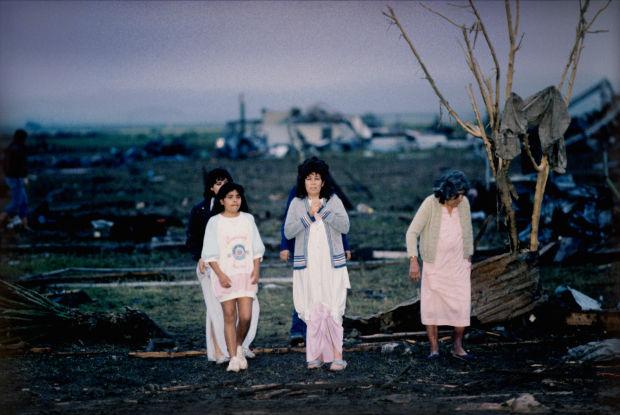 "Dawn at the Saragosa Tornado Disaster," 1987
Faidley and Willett met photographing a trailer fire in Tucson. They set out on their first tornado chase after watching a National Geographic program about storm chasing.
One evening, they hopped in Faidley's car at 6 p.m. and drove through the night to Texas. They picked up a transmission on the AM radio at around 10 p.m about a small town ravaged by an F4 tornado. Many of the 30 killed were in a community hall for a preschool graduation.
"You're thinking you're going to see a tornado lit up by the lightning as the lightning flashes, and we're on the road between El Paso and south of Midland, and it was just this little farming community of Saragosa, Texas. We got there at 1 o'clock in the morning, and on the freeway you could see where the tornado crossed the freeway and tore the pavement off the freeway..."
"It's pitch black and they have these piles of rubble that were houses, and there's all these firefighters digging through this rubble looking for survivors. This was our first tornado chase. We weren't even there for a day to adjust to being in Texas or driving down the roads. It's just instant disaster."
"(This family) came back to where their house was before...and they had left with their pajamas on, and there was nothing left of their house, and they're just standing there in their pink pajamas so completely dazed, so I'm trying to think of what to shoot. There were full-sized pickup trucks that were completely smashed flat where the tornado threw them a mile and a half, tumbling over. You look at that and go, 'There is no way to survive that inside of a car,' so it was a really good wake up call. It was a rude awakening about how dangerous things were."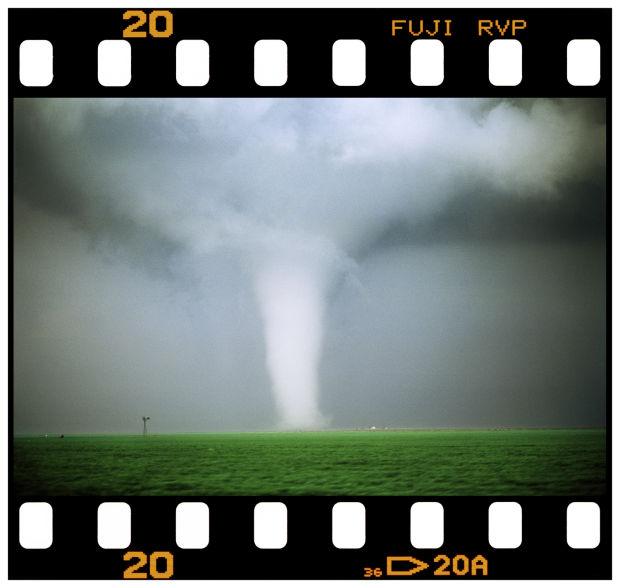 "Gruver Texas Twister," 1993
Willett and Faidley saw seven tornadoes form out of this same storm.
"We're driving 70 miles per hour down this road and winds are going 70 miles per hour into the storm, and I'm like, 'I see this windmill coming up,' and I say that would be a good thing to show scale, so I grab my camera and just go click click click and got three photos of (the tornado) and this ended up being the best photo."
"I'm driving down this road that was closed off because they were repaving it. It had these big 'road closed' signs, and I'm driving like 60 or 70 miles per hour down a 55 zone … I look in my rear view mirror and there's a cop with flashing lights behind me, and I'm like holy s---, and the cop goes around me and passes me, and he was just following the storm, too, because he reports back to the (National) Weather Service and the emergency people, but you're so focused on the storm, you don't even realize there's a cop following you for the last 10 miles and you're speeding. And that same day, that same storm, they actually arrested some storm chasers and threw them in jail, and it was in that county."