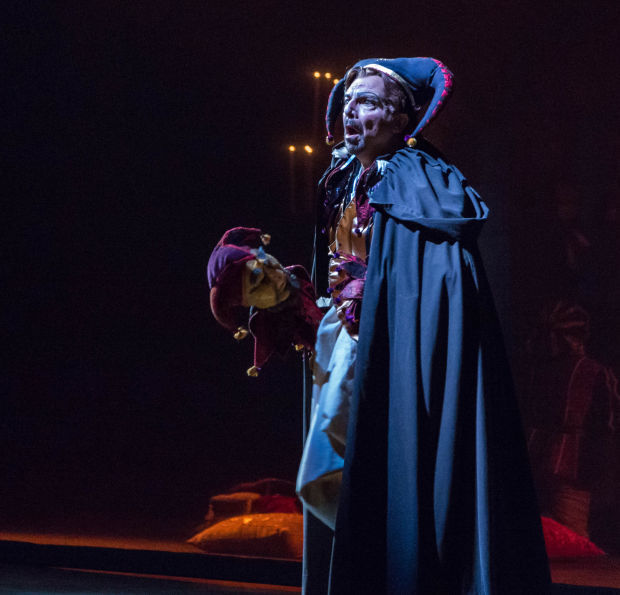 Bronx-born baritone Michael Corvino has sung the title role of Verdi's "Rigoletto" so many times in the past 17 years that he sometimes forgets where he ends and the character begins.
Oklahoma-based soprano Sarah Coburn has grown up vocally in the role of Rigoletto's daughter Gilda.
Together, the two create what could easily be described as a star-studded cast for Arizona Opera's production of "Rigoletto" this weekend.
"It's really fun to sing with (Corvino)," Coburn said last week as the pair prepared to open the production in Phoenix. "It's rare to find a male voice like that, a low voice, where your voice fits together so well. I do notice when we're singing duets that the kind of overtones, the harmonics of our voices, work really well together. You can feel the vibrato working together. … I found a real groove in our voices lining up together."
Witnessing that chemistry will be exciting, but seeing the two sing roles that have become their signatures will be worth the nearly three hours spent at Tucson Music Hall.
"A lot of people think they can sing Rigoletto because they can sing all the notes. It's never about that. It's about embodying the character and giving it life," said Corvino, a father of one who came to opera in his early 30s after spending more than a decade working blue collar jobs to support his family.
Rigoletto is in his skin. It was the first role he sang as a professional opera singer in 1997 with New York City Opera. It was a no-brainer that he had the vocal chops to sing Verdi.
"It was easy because my voice was mature and I was a certain age so I was cast in the Verdi stuff. So I skipped a lot of that early stuff that most baritones sing — the Mozart, the Donizetti and the lighter repertoire. I just sort of migrated into 'Rigoletto' and Puccini and verismo opera like 'I Pagliacci' and 'Cavalleria Rusticana',"he said. 
"Verdi baritones are a scarcity so it's a good thing to be," he added, explaining that a Verdi baritone has an extension on top that's close in range to the dramatic tenor. "In order to sing Verdi you need to have a great command of your upper register. And it just fit me well."
Coburn first sang Gilda in 2004. She was 27 and single, finding her opera voice and her way in the world. She has sung it seven times since then, growing in the role as she has grown in her life; she married and had two young daughters, life events that have helped her better understand the role of Gilda.
"She has such a discovery and it is one of those roles that requires a different voice or technique throughout the night. You really have to approach it real lightly in the first act and then you approach it a little more forcefully in the second and third because she's lost her innocence. That veil had been lifted … and she has truly become a woman by the end," Coburn said. "Vocally I think it is challenging probably in different ways than it was back then. The more lyrical starts to get easier as you get older."
Coburn said she is thrilled to be sharing the stage with Corvino.
"He's so fantastic in this role. … It is in his blood," she said. "He knows the score backward and forward and you can really inhabit a character that way, when you have it so memorized that you can let go and there's nothing to think about. You become the character. And his voice is fantastic. His technique is perfect. It's bright, it's flexible while at the same time robust. It is a fantastic, fantastic, portrayal."
"Verdi and I, we identify with each other," Corvino said. "I think everyone has their own niche; this is mine."