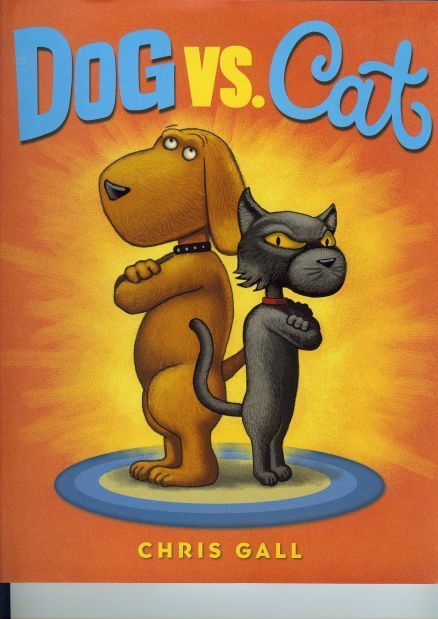 Division of space, neatness (or lack thereof), personal hygiene differences, questionable behaviors and annoying bathroom habits are a few of the conflicts that Chris Gall addresses in a new children's book, "Dog vs. Cat," a parable on learning to cooperate.
Tucsonan Gall is an award-winning author and illustrator who has created images for publications like Time, Newsweek, People, Fortune and Arizona Highways magazines, commercial illustrations for major companies such as Pepsi, and drawings in the New York subway system, on a Bollywood movie poster and on outdoor billboards for an ice cream parlor in Vienna, Austria.
His powerful, muscular images usually incorporate fantastic, whimsical and surreal themes along with a sense of surprise that leap from the pages of his children's books.
Gall's books have out-of-this-world quality, like "Dinotrux," in which mechanical monsters instill fear and wreak havoc in prehistoric times, and "Substitute Creacher" in which trouble-making students learn about following the rules when a substitute teacher, er, creacher arrives.
A departure from Gall's pulled-from-his-imagination characters, "Dog vs. Cat" takes two household animals and builds a colorful, comedic story around their mischievous antics and relationship.
Here are a few things Gall has to say about his new book:
The impetus
Sharing a room with a brother and learning how to cooperate were part of his inspiration for "Dog vs. Cat."
Gall, who grew up around dogs and has owned cats, also says he had long wanted to write an animal-centric book. Combine that with his observations of dog people versus cat people, and, voilà, Gall's anthropomorphic characters were set in picture-book motion.
The characters
"Dog vs. Cat" is "less of a fairy tale and more of a true-to-life parable," Gall says.
He wants his books to engage little people and give them lessons in growing up and appreciating people. He also wants to pique their imaginations as they mature, and to engage their parents.
"I want them to laugh away," he says.
The surprises
Gall's attention to detail and embedded surprises give children and parents something to discover each time they read his book.
Gall grew up reading and was enthralled by Richard Scarry  books, which he says were "chockfull of rooms to find something special."
Such surprises paint "a more complete picture," Gall says. The parent can enjoy the book on one level and the child on another.
"Everyone should enjoy the reading experience."
Stay up-to-date on what's happening
Receive the latest in local entertainment news in your inbox weekly!