"Birkenstock Blues" by Jefferson Carter.
"… [M]y life partner / (the woman formerly known as my wife)." The "flexible, adroit" soft palate. The naked, wide-legged forward yoga bend: These are all stuff of Tucson poet Jefferson Carter's latest (11th) poetry collection. Quirky, irreverent, often poignant, these poems deal with domestic life, aging, politics, love, the environment, cats, swearing off writing about cats, and more cats…. "Whatever catches my fancy, I write about," Carter says. The poetry of the retired Pima College writing department Head is eminently accessible. Starting with that "whatever" that caught his fancy, his poems morph into a universal, an observation, a declaration. Praise of the soft palate, for example, morphs to neighbors "Mr. & Mrs. / MAGA & their septic / yard signs…." But it's the practical, unromanticized love poems that touch you: "When I shift her head / because she's snoring," he writes about his wife, "it's heavy / as a kettlebell…" morphs to "Who knows what a soul / weighs? I know love weighs a ton."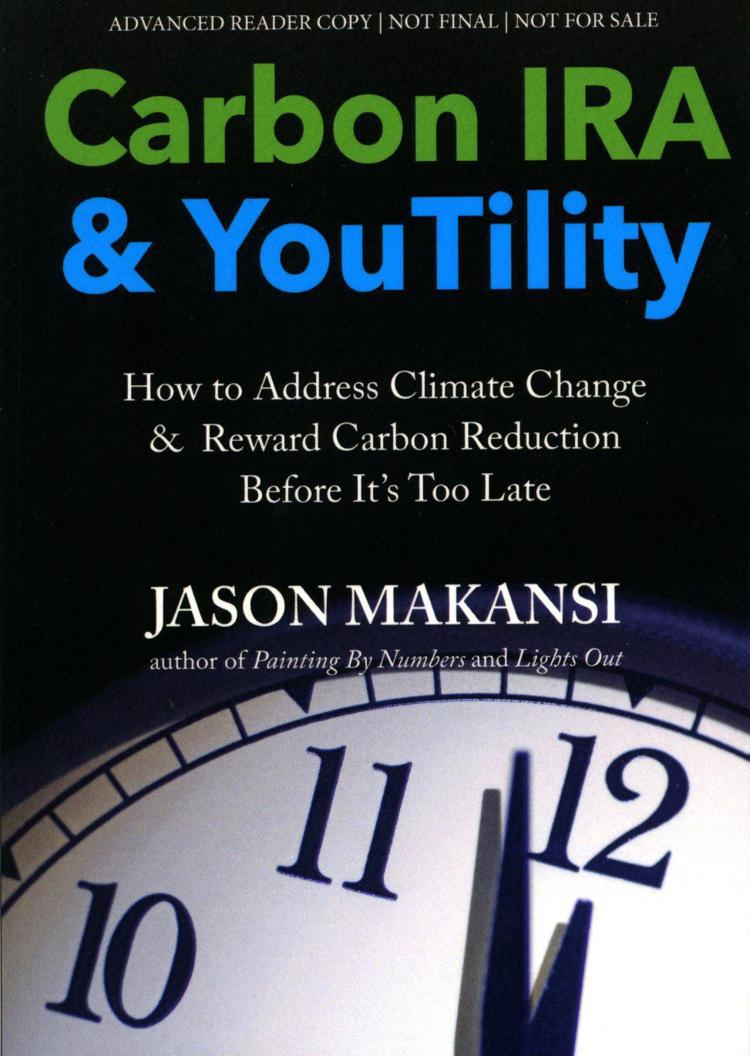 "Carbon IRA & YouTility: How to Address Climate Change & Reward Carbon Reduction Before It's Too Late" by Jason Makansi.
Layla Dog Press. $14 paperback; $9.95 e-book.
Twelve years. That's how long electricity-specialist, power industry writer Jason Makansi says we have to reduce the world's carbon footprint to save the planet. That is enough time, however, Makansi argues, if we take action now. Since transportation and electricity production make up two-thirds of the human-caused carbon leading to global warming, Makansi contends we must replace the fossil fuel that runs them with renewable energy. He says we already have the necessary technology; we just lack the impetus to change fundamental behavior and policy. And what could inspire it? Profit, natch. For consumers, he would create Individual Retirement Accounts for units of carbon dioxide not consumed. For utility companies, he would relax regulations and encourage them to invest in renewable energy sources. Part of Makansi's plan involves personalizing energy consumption (the "You" in "YouTility"). His plan is complicated, but why not take a look? After all, what besides the Earth have we got to lose?
"No More Deaths: Humanitarian Aid is Never a Crime, Saving Lives of Migrants" by Sue Lefebvre.
For anyone who would ask why a respected Arizona State University geography instructor would risk going to prison for aiding migrants lost in the desert, this new book has an answer. At the writing of this review, Scott Warren has been found not guilty, in federal court in Tucson for acts of conscience. In "No More Deaths," Sue Lefebvre, wife of Gene Lefebvre, one of the founders of the humanitarian aid group of that name, chronicles its 15-plus years of existence, and Warren is one of many gutsy workers who stand up for social justice. In 2004, horrified by the spike in migrants dying in the Southern Arizona desert, a group of faith leaders founded No More Deaths. Since then, hundreds of volunteers have joined them. They map the desert, leave water and food along trails, seek migrants in distress, and search for lost crossers and dead bodies; they treat injured, hungry, and threatened deportees; they document abuses, return confiscated belongings to the deported, and assist family contact.
Others have written about their personal experiences with humanitarian aid in the Arizona sector, but Lefebvre's is comprehensive, incorporating the efforts and voices of many local social justice activists. At 646 pages, it's hardly a beach read, but it's interesting, and it makes a significant contribution to the conversation about social justice and immigration in the U.S.
"Pawns of the Wall: A Love Story" by Derrik Woodbury.
Current U.S. political and social divisions show up in this novel by physician and writer Derrik Woodbury. In "Pawns of the Wall," burned-out doctor Robert Harper has left New England to take a stint at an Indian clinic in Patagonia, Arizona. He promptly falls in love with the clinic's beautiful nurse, Mary Durant, and they begin an easy romance. The book is set on the contemporary U.S. border — with traditional cross-border relations broken; the area overrun by Border Patrol, National Guard, and militia types; children separated from their parents; townspeople shouting at each other across the left-right divide. And into that steps Dylan Kermer, a U.S. government security consultant. Younger, brasher and sexier than Harper, Kermer immediately catches Mary's eye. Kermer doesn't pose just a romantic threat, however; on a secret, rogue mission, he poses a local and national security threat, and Harper gets caught up in it.
Woodbury describes the Patagonia area with familiarity and affection, and he incorporates border issues knowledgeably and engagingly into his storyline.
"Behind the Robe" by Barbara Sattler.
BookBaby. $14 paperback, $9.99 Kindle.
With just eight years under her belt as a public defender, Lourdes Velasquez is gobsmacked by her appointment to an Arizona Superior Court judgeship. A Latina Democrat without political connections, she hadn't seriously entertained this as a possibility when, pressured by her husband, she applied for the post. She isn't even sure she wants to be a judge — she identifies as a public defender, not as a token in the majority conservative, Anglo male judiciary. But the die is cast, and Lourdes gamely embarks on a judge's steep learning curve, juggling daily professional challenges with personal worries about her imploding marriage, aging parents, and a newly sober friend's struggle to stay on the wagon. Lourdes is a likable, thoughtful character — smart, yet vulnerable — and it's easy to care about her. But it's the behind-the-scenes look at the legal system that makes this such an enjoyable read.
A 30-year veteran of the courts as a criminal defense lawyer and judge, Tucsonan Barbara Sattler is an expert witness when it comes to a richly detailed courtroom portrayal, right down to the cost of a justice's robes (pricey, but the first one is free). The Tucson setting, filled with local landmarks, will please Old Pueblo readers.
"Memoir of a 2G: Story of Secrecy and Resilience" by Patricia C. Bischof.
Patricia C. Bischof. $15.95.
"I was brought up with the best possible intentions," writes Patricia Bischof, but hers was an anxious childhood. Her parents, Jewish war refugees who fled the Nazi regime, faced challenges adapting to the American way of life and raising their children in an unfamiliar culture. After two years in Dachau, her father was scarred physically and emotionally, and although her mother did not share his concentration camp experience, she too struggled with the loss of home and family. They kept their past lives shrouded in secrecy, never openly discussing their ordeals: they often spoke to each other in German to keep their conversations unintelligible to their children. It was a choice, says Bischof, that effectively robbed her of her heritage and exposed her to trauma without giving her the tools to understand or work through it. Her determination to piece together their experiences and comprehend its long-term effects gives readers a unique perspective on the children of Holocaust survivors. Despite her troubled early years, Bischof's book demonstrates the pride she takes in her parents' resilience, a trait that she feels she inherited and that has served her well in her journey to self-awareness.
"Playing in a Big Boy's Sandbox: Asarco's Mission Mining Complex" by Billy M. Williams.
When Billy M. Williams decided to write a history about the Mission Mining Complex, Asarco's retired chief engineer took a deep dive into the company's archives and databases. He found that, when he combined his findings with his personal mining collection, there was so much information that he divided the book into chapters covering both underground and open pit mines. Each chapter is rich in background material, including historical documents and photos pertaining to all the individual mines that originally operated throughout the 15,000 acres of the present-day complex, located 20 miles south of Tucson. An additional chapter dedicated to stories and anecdotes lends a human element to the mining story, and the concluding sections focus on geology and mineral specimens with lavish, color photos that will delight collectors. Digital claim maps and plats are included on a supplemental CD. The author clearly knows the mining business and the finer points of mineral collecting, but he's also an able and precise historian as this well-organized, indexed, and meticulously referenced volume demonstrates.
"Queen of the Night: The Night-Blooming Cereus" by Elaine A. Powers. Illustrated by Nicholas Thorpe.
Elaine A. Powers. $14.95.
A perk of Sonoran Desert living is the one-night-only appearance of the night-blooming cereus, a much-anticipated summer event for Tucsonans who rely on predictions from experts to know precisely when the tiny window of opportunity will open on the floral extravaganza. How in the world do the experts know? And what causes a cactus to behave this way? With this picture book, Elaine Powers demystifies the mysterious bloom, explaining — in rhyming couplets no less — the life cycle of the plant, how to predict its flowering (when the buds reach 170-230 millimeters, stand back!), why they all flower simultaneously, and other bits of botanical lore about this intriguing plant, which spends most of the year looking like an undistinguished stick. Written for children, Powers' book will charm and edify cactus lovers of any age. Lush illustrations by Nicholas Thorpe are a splendid accompaniment: look for his very stern javelina on Page 12 — he's delightful. A former laboratory biologist, Powers, who makes her home in Tucson, now writes science-based children's books.
Helene Woodhams retired from Pima County Public Library, where she was literary arts librarian and coordinator of Southwest Books of the Year, the library's annual literature review.
Christine Wald-Hopkins is a former educator and occasional essayist. Wald-Hopkins has long been a book critic for national, regional and local newspapers.
If you are a Southern Arizona author and would like your book to be considered for this column, send a copy to: Sara Brown, 4850 S. Park Ave., Tucson, AZ 85714. Give the price and a contact name. Books must have been published within a year.