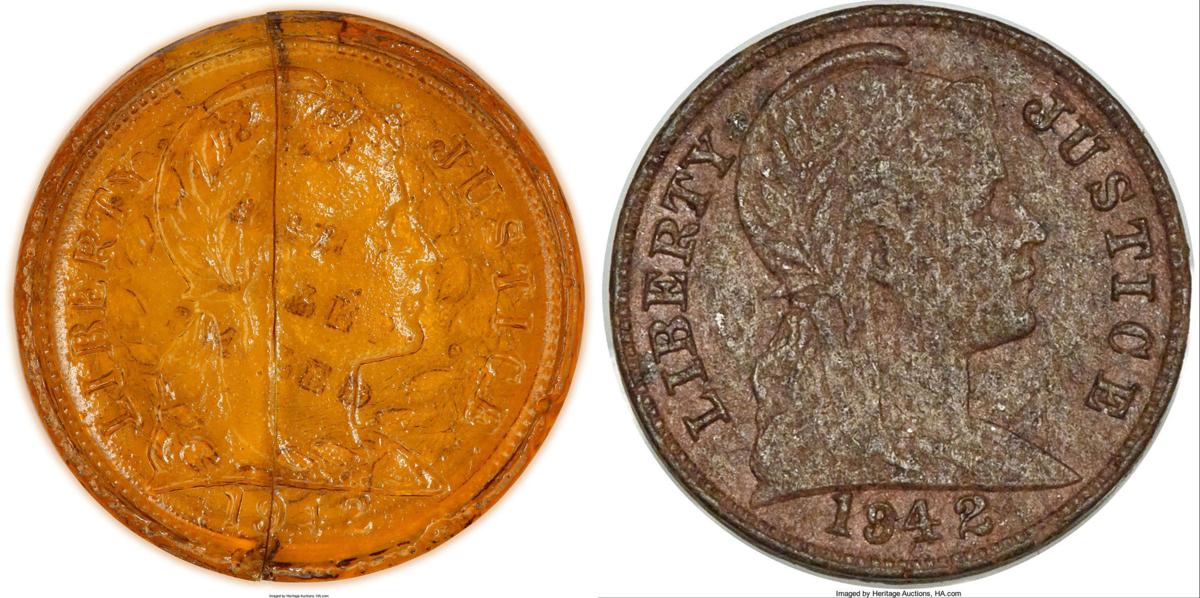 WHAT: Readers who know not to take wooden nickels are instead advised to hunt for experimental pennies of the 1940s; some pay off big time. With copper scarce due to World War II, alternative ways of minting U.S. coins, especially the copper penny, were solicited.
At the American Numismatic Association (ANA) convention early this month, Heritage Auctions sold a number of uncirculated experimental cents, including the two shown with this column: An amber glass cent from 1942 sold for $25,850 and a pressed paper experimental penny brought $8,225.
MORE: In January 2017, Heritage sold a glass cent for $70,500. The more recently sold example, from the family of a manager at Tennessee's Blue Ridge Glass Corporation, was a test piece for impact strength, hence the clear break. The impregnated paper cent is thought to be a Colt product made by the firearms giant.
SMART COLLECTORS KNOW: Copper pennies were first made by the U.S. Mint in 1793 and have been made and used since that time. During the World War II copper shortage, steel cents coated with zinc were made. Called "steelies," they were in circulation for only a year.
HOT TIP: Prototypes of manufactured objects often sell high, especially if there is a significant back story. After Heritage sold the big-bucks penny in January, the floodgates opened. One collection sold in August came from a family whose father collected trial impressions. Another rarity, in plastic, sold at $15,275.
BOTTOM LINE: Coins and numismatics are big business. Heritage's August sale in conjunction with the ANA cashed out at $30.8 million for U.S. coins, world and ancient coins, and U.S. currency.